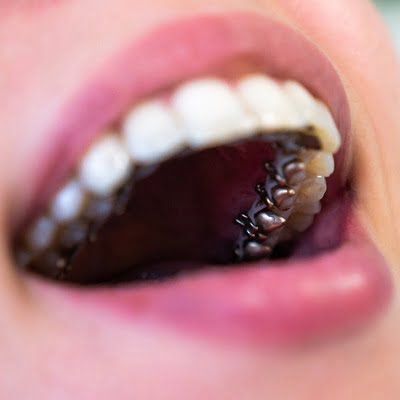 Get Straight Teeth, Smile Confidently
Everyone is fascinated by the confident smile. This reason is inspiring thousands of people every year to get orthodontic braces. They are usually visible from outside as you smile. Hence, many people do not even like the look of braces. People do not correct there teeth because they fear embarrassment in the public. If you are also the one who fear ignominy in public while wearing traditional metal braces then Lingual Braces in Islamabad is a perfect option for you.
What are Lingual Braces?
Instead of being visible on the front of the teeth like typical "train tracks," incognito braces are a new generation of custom-made braces that are discreetly hidden on the backs of the teeth. These lingual braces are ideal for people who prefer to carry on with their regular activities without feeling self-conscious about their braces.
Ideal Candidate:
Anyone and of any gender can wear incognito braces. These are equally effective for children, teens and adults
Those who can wear traditional metal braces, can wear lingual braces in islamabad as well.
Only your orthodontist can decide that whether you are an ideal candidate for braces or not.
If you want to straighten your teeth but also want to maintain your professional look.
You are perturbed about the look of your face with braces.
Traditional braces would be inconvenient for you if you play a wind instrument.
Lingual braces are safer if you play contact sports.
To achieve an even bite if you do not want to have bite correction surgery.
How Do Lingual Braces Work?
Exactly the same as conventional braces, lingual braces function in the same way. They are made of same material hence, they work to solve the same dental issues. Your orthodontist will make an appointment for you every six to eight weeks to make adjustments and assist in the movement of your teeth into their ideal locations.
Your orthodontist might take a dental imprint of your teeth or scan them if you opt to have lingual braces. You will need to wear the braces for between 18 and 24 months, depending on the severity of your dental issues. They are customized specifically for each patient's teeth.
Results of Lingual Braces in Islamabad:
Following pictures depict the best results of our patients. Dr. Usama Hayat Ghauri is the best dentist in islamabad who will restore your fcial expressions and self confidence.
Types of Lingual Braces:
Following are the types of lingual braces:
Incognito Braces:
These are the type of braces that are customizable.  Depending on each patient, archwires and brackets are both designed and made. Two of the system's biggest problems are the length of time needed to build the appliance and the difficulties in rebonding broken brackets.
Suresmile® Lingual:
Orthodontists may digitally arrange the course of therapy thanks to this clever, entirely digital approach. The dentist then moves the teeth into their proper locations using robotically bent wires.
AliasTM Lingual Bracket System:
These are the world's first passive self-ligating square slot lingual bracket. Straight lingual wires make up the system. The basic tenet of this technique is that there are little to no bends in the lingual wires, which could result in shorter sessions.
Procedure of Installation of Lingual Braces in Islamabad:
The bracket system installation is the most important phase of the treatment. This installation requires precision and accuracy.
In the first step, the plaster model of the patient's jaw is made.
Then they are instantly transferred to the patient's teeth with the aid of a special silicone cap.
This procedure decreases the amount of time needed in the dentist's office to adjust the braces. These are still being incredibly accurate and comfortable for the patient.
The patient is required to go to the dentist's office once every month.
Every six months, a professional cleaning is required.
Hygiene and cleaning is the key to prevent infection of any type inside the mouth.
Oral cavity must be cleaned diligently and on regular basis.
Advantages of Lingual Braces:
Following are some of the important advantages of lingual braces in islamabad:
Invisibility:
These braces are invisible as all the materials that are used to make them are mounted on the back of the teeth. The brackets, wires, and elastic bands are used for formation. Hence, they are invisible. These are invisible unless you open your mouth wide.
Fixed:
Lingual braces work similarly to labial (traditional) orthodontic devices in that they are fastened. When tooth movement is required, the archwires are modified and the brackets are bonded to the teeth's chewing surfaces.
No need to worry about removing, cleaning, or storing:
There is no risk of losing your orthodontic appliances, such as clear aligners like Invisalign, because you don't need to worry about taking them out, cleaning them, or keeping them in storage.
Efficient:
For those who lead busy lives, lingual braces are a good option because they require less upkeep than clear aligners.
Quick and well ordered:
Lingual braces greatly outperform clear aligner therapy in terms of efficiency for some tooth motions. These fixed appliances can move teeth rapidly and effectively since they are positioned beneath the teeth.
Cost of Lingual Braces:
One of the important question regarding lingual braces is that what is the cost of invisible braces in islamabad? The cost of Lingual Braces in Islamabad may vary but it is usually higher than traditional braces. It costs a lot of money to wear lingual braces. The appointments to alter the wires take longer since they need intricate wire patterns and a high level of technical expertise. Many patients think that it is still well worth the expense when everything is taken into account. The number of orthodontists who offer lingual braces is quite small because they are less frequent than other orthodontic solutions. Hence, this will also impact the price.
Your orthodontic treatment may be partially covered by health insurance. To find out what is covered before scheduling an appointment with your orthodontist. You can cal us directly or fill out the form give below in order to get the proper estimate of cost of lingual braces in islamabad.
What Can I Eat With Lingual Braces?
People become conscious about their diet immediately after receiving these braces. But don't worry. You do not need to avoid all food rather there are only some preventive measures which you should take before eating. Your best dentist in islamabad advises you for:
Pancakes
Puddings
Rice
Pasta
Bread
Mashed potatoes
Soup
Cheese
Foods to Avoid With Lingual Braces:
It's important to stay away from firm, chewy foods that could break a bracket in order to prevent unexpected trips to the orthodontist. While eating dental braces in islamabad, You are prohibited to eat:
Chewy foods
Sticky foods
Crunchy foods
Sugary foods
Hard food
Foods that you need to bite into forcefully
Book Your Consultation:
If you want to book your consultation, you can contact us. Call us directly or fill out the form below. Book your appointment with us for lingual braces in islamabad. We will be delighted to see you at Royal Cosmetic Surgery Clinic Islamabad.