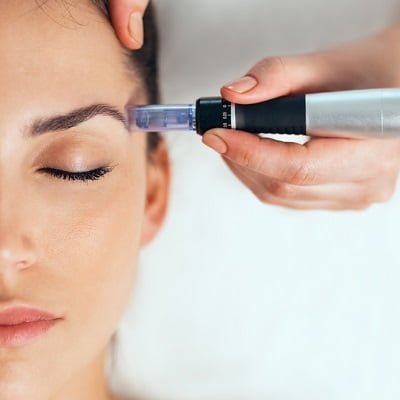 Worried because of scars, acne scarring, stretch marks, wrinkles and pigmentation? Don't worry! These are the story of the past. Technology advancement has led us to the development of newer and finer methods for the rejuvenation of the skin. DermaPen treatment in Islamabad is a skin micro-needling treatment that is minimally invasive and aesthetic at the same time. This will help in tightening loose or lax skin. It will also decrease the appearance of acne scars and wrinkles. But the biggest advantage is that it will improve the tone and texture of the skin.
What is DermaPen?
It is a widely used microneedling tool that can be used to cure acne scars. It also reduces the appearance of big pores and fine lines and improves the appearance of skin texture. Additionally, it might be a great tool for tightening loose skin following weight loss. It delicately punctures the skin using small needles attached to a pen device, resulting in numerous painful punctures.
In order to restore itself, the skin responds by spontaneously creating collagen and elastin. It is a common acne scar therapy because the collagen and elastin produced by micro-needling work to smooth and firm the skin, filling up deep creases and reducing the indented or red appearance of stretch marks or scars.
Dermapen can be applied to both the face and body of individuals who are male and female. Although you may experience some redness or swelling, it is less intrusive than many alternative treatments. You may typically resume your routine activities right away.
How Does Microneedling Work?
A popular method of skin renewal known as microneedling significantly reduces a variety of problems. To create fractional puncture channels on the skin's surface, micro-fine needles are adjusted to varying depths and speeds. Microneedling is a completely natural procedure that, in contrast to injectable treatments, encourages the body's inherent ability to repair and renew itself by producing collagen and elastin.
Ideal Candidates for :
Dermapen microneedling can help reduce the appearance of:
Fine lines and wrinkles
Ageing/sun-damaged skin
Active acne or acne scars
Pigmentation, including melasma
Enlarged pores
Rosacea
Scars
Stretch Marks
Hair Loss
Cellulite
Unwanted tattoos
Cost of Dermapen Treatment:
Depending on the degree of therapy required, Dermapen Treatment in Islamabad sessions could cost differently.
As a cosmetic or aesthetic operation, microneedling is typically not covered by insurance.
It is advised that you call your insurance company ahead of time to see if the procedure is covered.
Outside of the actual treatment, there are other fees to take into account.
You could need to decide whether you'll take time off from work even though the majority of folks don't need much downtime.
Procedure:
During DermaPen Treatment in Islamabad, professionals at the Royal Cosmetic Surgery Clinic follow these steps:
Cleanup is finished in the first stage. Your skin will be thoroughly cleansed of debris, grime, and dead cells throughout this process. Having been cleaned, the needles effectively penetrate.
The 30 minutes before to the surgery involve applying a topical anaesthetic.
PRP may be injected or placed along with the Dermapen to the skin in various directions for further augmentation.
To lessen any kind of inflammation, a cool pack is applied after the treatment.
Moisturizing the skin is the focus of the process's last step. To benefit as much as possible from the treatment, it is crucial to maintain the skin hydrated.
Aftercare:
You must follow these aftercare steps for Best Cosmetic Treatment for Acne Scars in Islamabad:
You must avoid exposure to direct sunlight because mild bruising could happen and it could affect the outcome.
After the procedure, face redness may last for 12 to 48 hours. The majority of patients resume their regular daily activities right away after the procedure.
You can resume your everyday activities right away after the procedure.
How many sessions of DermaPen Microneedling are Needed?
After your first appointment, results often start to show up within 6 weeks, and they are fully noticeable 6 weeks after your last treatment session. In order to achieve the best results, a course of 3 to 6 treatments is advised, depending on your skin concerns.
How Does the Procedure of DermaPen Microneedling Work?
Following are the steps of Dermapen Treatment in Islamabad:
The Dermapen microneedling apparatus has a special spring-loaded needle tip. This helps to address several skin-related issues. 11 sterile, ultra-fine needles made of stainless steel are included in this gadget. Small punctures are made in the skin with the Dermapen, causing light bleeding on the skin's surface.
The needles will just nick the top layer of your skin, so the discomfort you feel will be barely noticeable. So the discomfort may be minimal. The dermal and epidermal layers of the skin are affected by punctures. This method of microneedling creates the punctures by vibrating in a robotic stamp-like action. Due to its strict supervision, the Dermapen method is a more medically secure microneedling technique than other varieties.
The damaged areas develop punctures that look like wounds. As the wounds heal, collagen starts to form, making the skin look thicker and more smooth. This treatment has the effect of speeding up the production of collagen and elastin. Given that the human body tends to produce less collagen as it ages, this is thought to be one of the main benefits of this treatment. The process also encourages your body's natural capacity for self-healing.
Book Your Appointment:
Having a healthy, clear facial appearance is essential because your face is the most noticeable part of your body. Your whole appearance is affected if the skin on your face is blemished with wrinkles, fine lines, scars, acne, dark spots, and other problems.
Although there are several facial dermatological treatments on the market, none can compare to Dermapen Treatment in Islamabad's effectiveness. Your skin will be smoother, thicker, and younger-looking after using this scientific tool, which treats your skin problems from the inside out. This is the most advanced aesthetics and skin-rejuvenation technique available today.
Make a consultation at Best Skin Care Clinic in Islamabad to experience Dermapen Microneedling. A highly advanced, secure, and successful procedure, and speak with our resident skin experts to receive a correct diagnosis.
About the Best Aesthetic Physician in Islamabad:
One of the most well-known names in the aesthetics sector is Dr. Abida Sardar. She has extensive experience with a wide range of aesthetic procedures, including skin tightening, skin Dermal, Microdermabrasion, Laser Hair Removal, PRP (hair and face), Rejuvenation,, Acne Treatments, Immunity-Boosting Injections, Hifu, Anti-Aging Hydra Facials, and Acne Scarring Treatment.
She excels in providing each patient with unique care while they undergo treatment for melasma and hyperpigmentation. Call us to book your consultation with the best aesthetic physician in islamabad or fill out the form given below and rest assured.