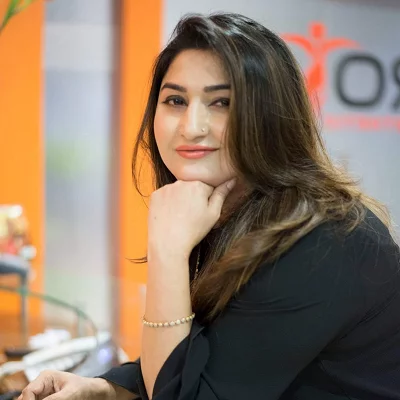 If you are searching for the Best Dermatologists in Islamabad, Rawalpindi & Pakistan then you are at the right place. Keep reading this article to get information about skin specialists in f7 Islamabad. We at Royal Cosmetic Surgery has a team of specialist dermatologist that is always available to provide you with their services.
Dr. Abida Sardar
Qualification:
MBBS Frontier Medical College, Abbottabad, MCPS, Aesthetic Medicine Certified from American Academy of Aesthetic Medicine (AAAM USA), Pioneer in Aesthetic Medicine
Experience:
13 years
Services of Dr. Abida Sardar:
She is the best female dermatologist in Islamabad Dermatologist Dr. Abida Sardar specializes in Skin Laser Technology and facial Aesthetician
The Expertise of Dr. Abida Sarda:
Skin Tightening, Skin Rejuvenation, PRP( hair and face), Microderm Abrasion, Laser Hair Removal, Dermal Fillers, Botox, Thread Face lifting, Chemical Peels, Mole and Tatoo removal, Acne, and Acne Scarring treatment, Anti-aging Hydra facials, Hifu, Immunity Booster Injections and all kinds of latest lasers including Pico and Q Switch.
She is extremely good at customized treatment for Hyperpigmentation and Melasma.
She has niche expertise in rhinoplasty without surgery, using fillers that are rarely offered in Islamabad by contemporaries
Dr. Maryam Malik
Qualification:
MBBS
Experience:
8 years

Services of Dr. Maryam Malik:
Dermatologist Dr. Maryam Malik specializes in Laser and facial Aesthetician
The Expertise of Dr. Maryam Malik:
Dr. Maryam Malik is a well-renowned and Best Dermatologist in Islamabad. She is currently working as a consultant dermatologist at Royal Cosmetic Surgery Clinic with over 8 years of experience in the field of Dermatology.
Her field of interest includes PRP, whitening injections, Botox, fillers, and lasers
She's known for "hands from heaven" for her Hi-Fu facials, and her lasers are flawless, sunburn, hyperpigmentation, or even acne.
Best Dermatologist in Islamabad-Dr. Ayusha Khan
Qualification:
MBBS, Specialist in Dermatology
Experience:
MH Hospital Rawalpindi
Queen Elizabeth Hospital UK
Sheffield Aesthetics

Services of Dr. Ayusha Khan:
Dermatologist Dr. Ayusha Khan specializes in facial Aesthetician
The Expertise of Dr. Ayusha Khan:
Her illustrious career includes working as a consultant in some of the prestigious dermatology departments in the UK. She is the Best Dermatologist – Skin Specialist in Islamabad for a variety of reasons. She is a hospitable and endearing doctor who will listen to your issues and respond to all of your inquiries. You won't experience any pressure from him to have a skin operation unless you truly need one because he upholds stringent medical ethics.
Her expertise is in Chemical peels, dermal fillers, micro-needling, skin resurfacing, botox, PRP, and facials.
How to Book an Appointment with Best Dermatologist in Islamabad?
You can book an appointment by calling directly on our given number or you can also fill out the form below to book an appointment at the best skin clinic in Islamabad. With the assistance of our fully licensed nurses, aestheticians, and skin care specialists, our dedicated staff is focused on providing top-notch treatments and services for the face and body.
Best Dermatologist in Islamabad FAQs
When to see a Dermatologist?
A mole or patch has a particular color or size. If their color, size, form, or symptoms change, you should see a dermatologist. You should seek treatment for cancer as soon as you can because these changes are typically signs of skin cancer.
What is cosmetic surgery?
It is possible to remodel the majority of the body or only a few key areas of it using this treatment.   Reconstructive surgery, on the other hand, treats defective bodily structures brought on by congenital malformations, developmental anomalies, trauma, infection, tumors, or disease all fall under the domain of cosmetic surgery in Islamabad, Pakistan. This is done to enhance attractiveness and self-esteem.
Are Dermatological procedures covered by insurance?
Simply said, the answer is yes. Most of the time, dermatology procedures are covered by health insurance. There is no one "optimal" type of medical insurance that includes coverage for dermatology. It's critical to comprehend your particular coverage if you want to maximize your possible benefits.
If getting access to dermatological care is a key priority for you, it can be a good idea to verify your plan's specifications once more before enrolling to make sure you have access to and coverage for the therapy you need.
How Do Dermatologists treat acne?
Whiteheads and blackheads that don't go away after acne treatment are removed by dermatologists using an approach known as acne extraction. Prednisone at low doses is a very powerful corticosteroid. Dermatologists recommend it to treat acne fulminans, a very dangerous form of severe acne.
How Do Dermatologists treat hyperpigmentation?
Because it suppresses the formation of pigment, dermatologists view prescription-strength hydroquinone, either by itself or in combination with other lighteners, as the gold standard for removing dark spots.
What Do Dermatologists Do?
A dermatologist is a doctor who specializes in conditions affecting the skin, hair, and nails. A dermatologist is capable of diagnosing and treating a wide range of diseases. These conditions include eczema, psoriasis, and skin cancer among many others. The skin is one great organ that they can cure.
Can Dermatologists treat hair loss?
If you have recurrent or unexplained hair loss, schedule a visit with your dermatologist as soon as possible. Along with a physical examination, your dermatologist will do a complete analysis of your medical history. To assess your hormones, thyroid, and any deficiencies, a blood test may occasionally be necessary. Then, your dermatologist may use a variety of methods to encourage the resumption of hair growth.