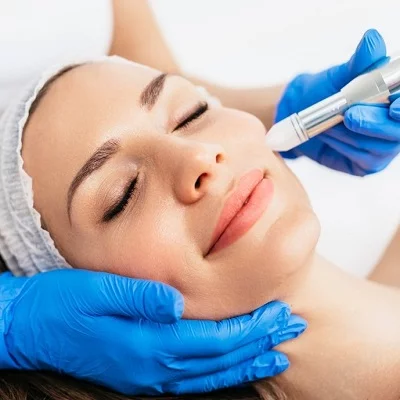 People who have wrinkles, acne scars, enlarged pores, or stretch marks may be self-conscious about their skin's uneven appearance. Dermatologists can treat these skin conditions with a variety of devices and medications, ranging from lasers to chemical peels to microdermabrasion.
There is another effective treatment that can enhance the beauty of your face, it is known as Microneedling Treatment in Islamabad, Rawalpindi, and Pakistan. It is a minimally invasive procedure that is performed in the dermatologist's clinic.    
On this page, you will learn all about the procedure, its working, benefits, results, and cost-related details. So, take a moment and read the following information!
Key Factors:
Noninvasive solution. 

Only requires topical anesthesia gel. 

Requires 5 to 8 sessions. 

The duration of the procedure is 30 – 45 minutes. 

No major side effects or risks in it. 

Reasonable cost ranges per session. 
What is The Micro-needling Treatment?
A cosmetic procedure that involves pricking the skin with tiny sterilized needles is known as micro-needling. Small wounds stimulate your body's production of collagen and elastin, which heal your skin and make you look younger. It's also known as collagen induction therapy.
In simple words, dermatologists used to encourage collagen production by utilizing the body's natural healing response. This trauma causes the derma, the skin's deeper layer, to regenerate. It helps to address several skin issues like;
Scarring. 

Wrinkles.

Acne. 

Alopecia. 

Stretch marks. 

Rosacea. 

Loose skin. 
Furthermore, practitioners can use micro-needling to deposit medication deeper into the skin, such as topical tretinoin or vitamin C. This can help with a variety of issues, including acne scarring.
Microneedling Working: 
By causing trauma to the skin, micro-needling stimulates the production of collagen and other healing factors. Collagen is an essential protein that helps keep skin looking young by keeping it firm, smooth, and stretchy. 
Aging causes a decrease in collagen in the skin, which contributes to wrinkles and other aging signs. Injuries to the skin, such as acne scarring, stretch marks, or other scars, can also cause collagen loss.
How Long Do The Results Last:
After getting the micro-needling session, the results will be effective, instant, and immediate. Keep in your mind that this treatment requires multiple sessions, it will require 5 to 8 sessions for getting noticeable results. The results will last for several months to years as it depends upon the number of sessions and performance. 
Moreover, the performance of your practitioner will matter a lot in your effective results. So, take good care of your skin after the treatment by following the practitioner's instructions. Otherwise, your skin may get worst. 
Top Benefits:
When you get a micro-needling treatment, you can obtain a lot of benefits through this single solution. The common benefits are listed below
It will reduce acne, scars, and elasticity. 

Your skin's large pores will be reduced. 

Remove stretch marks. 

This solution is effective for treating sun damage. 

Reduce wrinkles and fine lines from your skin. 

Deliver noticeable and instant results. 

No long recovery period or major side effects. 

Gives you a quality of life. 
Who are Suitable Candidates:
If you want to get Microneedling Treatment in Islamabad, Rawalpindi, and Pakistan then you can have it anytime. Because it doesn't require any kind of candidacy criteria except a person must have good and healthy skin. However, the eligible candidates are;
Those who want to get rid of wrinkles. 

A person who has scars or acne. 

You must be above 18 age. 

Make sure you don't have skin allergies. 

To get realistic and immediate results.
Before The Procedure:
There are no specific precautions that you need to follow before undergoing the treatment but it is necessary to maintain your health, do not take blood thinners like aspirin, and avoid smoking tobacco or drinking alcohol. Moreover, it would be best if you avoid getting laser treatment and avoid going out in direct sunlight. 
During The Procedure:
On the day of treatment, the practitioner will clean your skin and prepare it for the process of micro-needling. After that, the practitioner will apply a topical anesthetic for making it painless.
 A practitioner will use a pen-like tool with tiny, sterilized needles to make small pricks under the skin. Because the pinpricks are so small, you probably won't notice them after the procedure.
The procedure will take 30 to 45 minutes approximately. The practitioner may then apply a growth serum or calming treatment to complete your session. A typical micro-needling session lasts approximately 2 hours.
After The Procedure:
You may experience skin irritation and redness but they will subside within a few days. It is necessary to follow aftercare instructions for taking good care of your skin. Some common aftercare instructions are mentioned below
Do not touch, rub or scratch your skin for a few days. 

Use ice packs for getting relief from redness, itching, and irritation. 

Avoid using make-up products or other products. 

Your skin becomes sensitive, avoid going out in direct sunlight. 

Use recommended medication on the skin and the right sunscreen. 

Don't use blood thinners like aspirin. It might slow down the healing process. 

Keep yourself hydrated by drinking a lot of water. 

In case of a severe reaction, inform your practitioner immediately. 
The Cost at The Royal Clinic:
The average cost of Microneedling Treatment in Islamabad, Rawalpindi, and Pakistan starts from 15000 PKR PKR per session. Also, you must know that there are a few factors that can affect your cost according to your choice and suitability. Such as
Your chosen practitioner's fee. 

Location and reputation of the clinic. 

The number of sessions. 

Depends upon the size of the targeted area. 

Other additional charges. 
Furthermore, you can discuss cost-related details and queries with your practitioner. They will let you know the exact cost range that you will need to pay. 
Book an Appointment Today!
Microneedling is a relatively safe and effective procedure for improving the appearance of the skin. It has the potential to reduce wrinkles, and scarring, and tighten or rejuvenate loose or aging skin.
Anyone interested in micro-needling should consult royal clinic where you will get amazing treatment facilities, expert practitioners, and dermatologists and we are offering reasonable cost ranges. So, don't wait and book your appointment today!