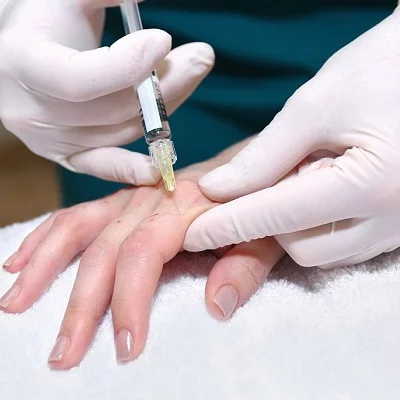 Many people are surprised to learn that one of the first places on our bodies to show signs of aging is our hands. And, if you think about it, given the daily beatings our hands take – from constant washing to sun exposure, to simply being in motion nearly 24/7 – it's no surprise that the skin on our hands would break down first. However, the Royal Cosmetic Clinic can change the oldie appearance of your hand through amazing treatments of Hand Rejuvenation in Islamabad, Rawalpindi, and Pakistan. You will observe dramatic changes after getting treatment. 
On this page, you will learn everything about the treatment, including its procedures, results, benefits, cost, and many more. So, continue reading!
An Overview – Hand Rejuvenation: 
Several types of treatments or procedures are designed to improve the appearance of the hands, which may include a variety or combination of treatments ranging from laser resurfacing to fat grafting and injectable fillers to soften the appearance of the tops of the hands.
As a person ages, the collagen and fat in the hands fade, and veins and tendons become more visible, making the hands appear bony and unattractive. Loss of smoothness and plumpness in the hands is a natural and unavoidable part of aging, but hand rejuvenation can help those thin, tired-looking hands.
Treatments We Offer:
According to the Royal Cosmetic clinic, we are offering different types of treatments that can be helpful for those who need to get an attractive and youthful appearance on their hands. So, few common treatments are mentioned below:
Injectable Fillers – Injectable fillers work right away. When the injection is administered into the skin, it quickly covers the tendons, bones, and nerves, resulting in healthy hands. Such fillers are FDA-approved and safe, with only minor side effects such as swelling, itching, or redness.
Laser therapy –

one of the amazing treatments is a laser that aids in arousing the skin of the hand. It improves tone, promotes overall health, and rejuvenates your hands. Its entire procedure is free of scalpels, pains, and downtime.

Chemical peel –

it is a straightforward treatment for hand rejuvenation that help to reduce brown spots and wrinkles and improve overall texture. When applied to the hands, the solution causes blisters that eventually peel off. The skin of new hands is revealed in this manner.

PRP Therapy –

The application of PRP therapy to the hands has been found to be beneficial in terms of collagen stimulation. Doctors make plasma solution from your blood and inject it into your hands. It improves blood circulation, slows the aging process, and keeps skin looking young.

Fat Transfer – last but certainly not least, hand rejuvenation with fat transfer is a serious procedure that is well worth the risk of having skeleton hands. Experts extract fat from bulging body areas like; the hips or tummy and inject it back into the hands in this procedure. With a truly admirable young hand, this restores the uniform contours.
Our Best Results:
After getting the treatment for hand rejuvenation, you will achieve instant, amazing and effective results without waiting. Such non-surgical therapies will give you desirable results, but it is necessary to follow the number of sessions. 
Moreover, choosing an expert and professional practitioner plays a major role in effective outcomes. So, always select the experienced and best one who performs your treatment accurately and perfectly.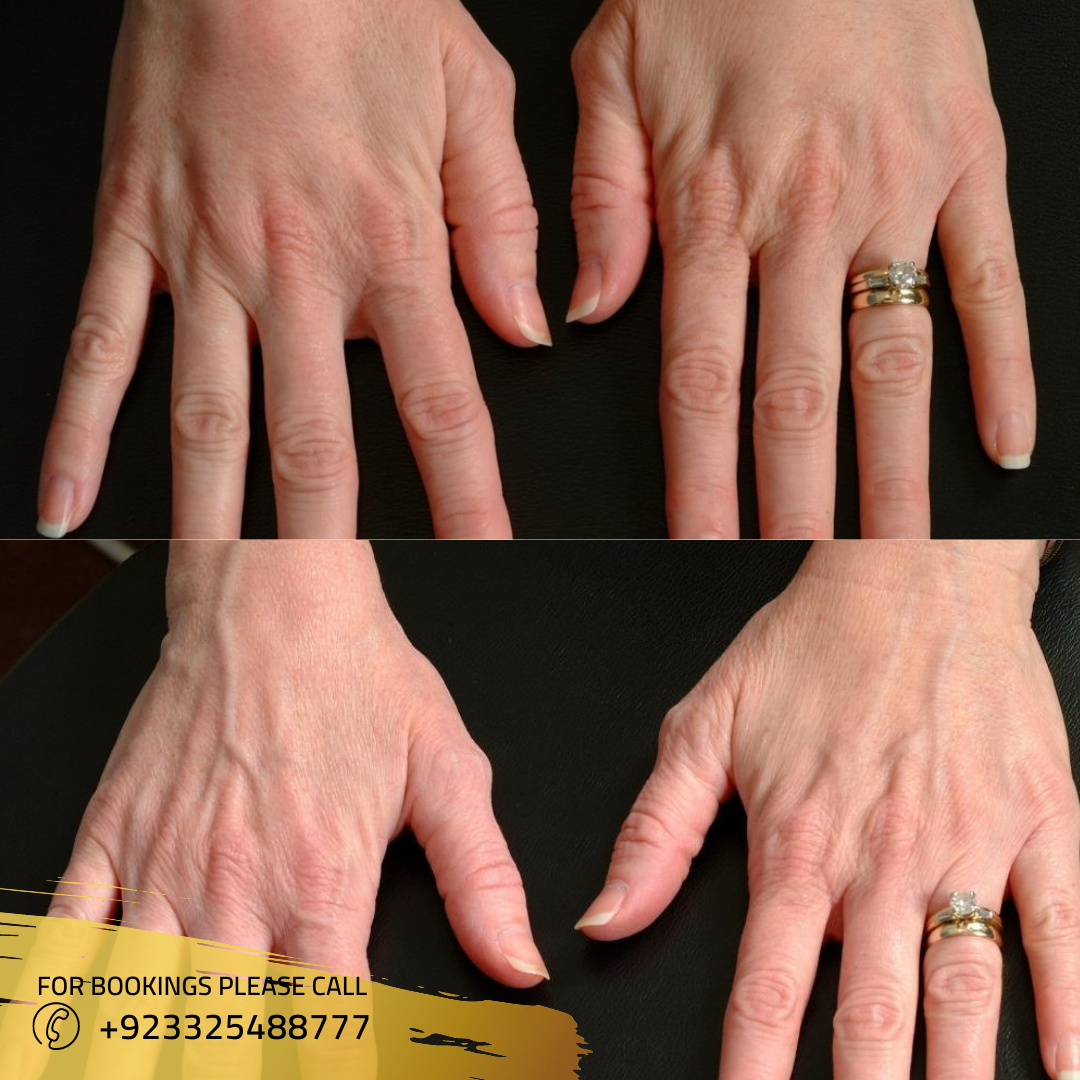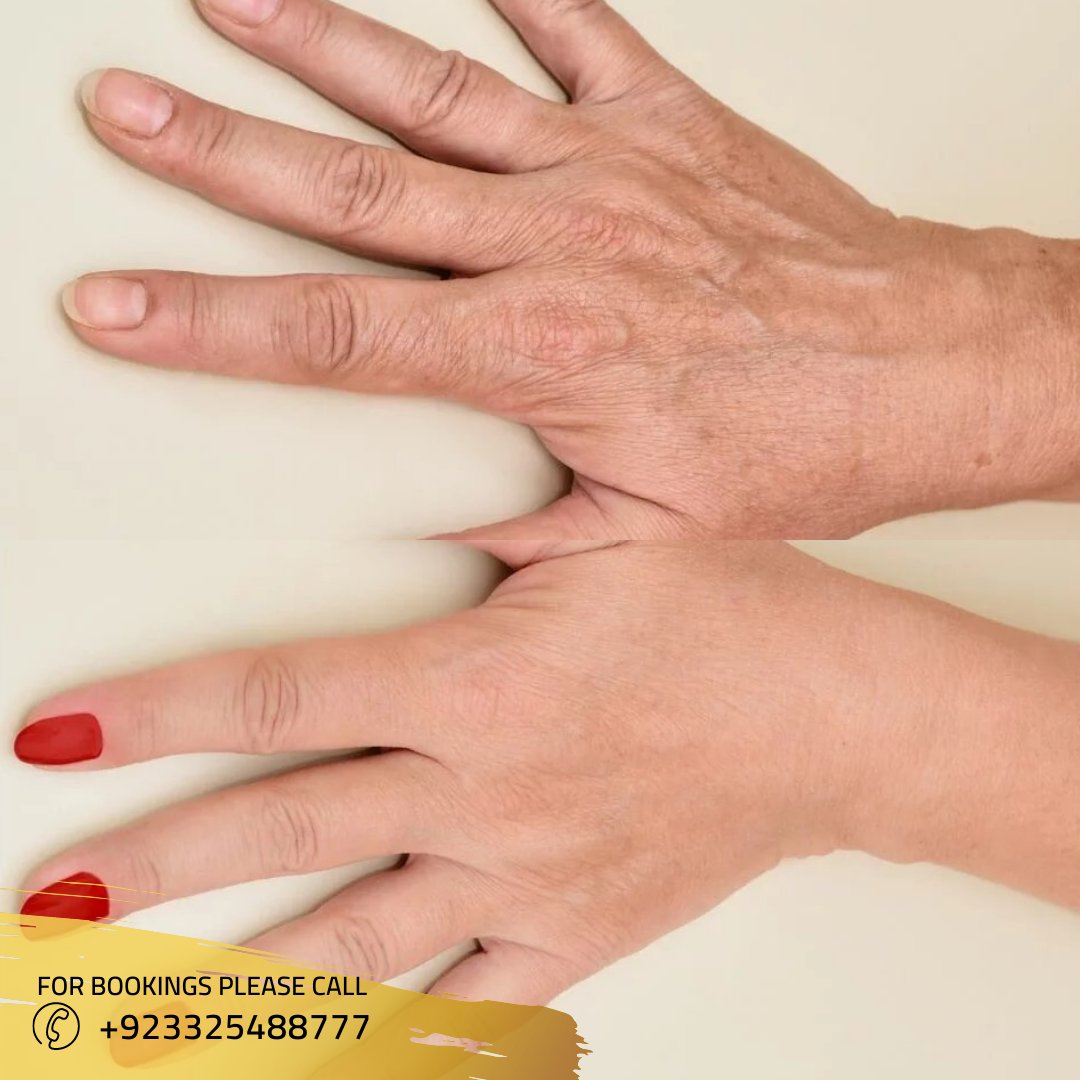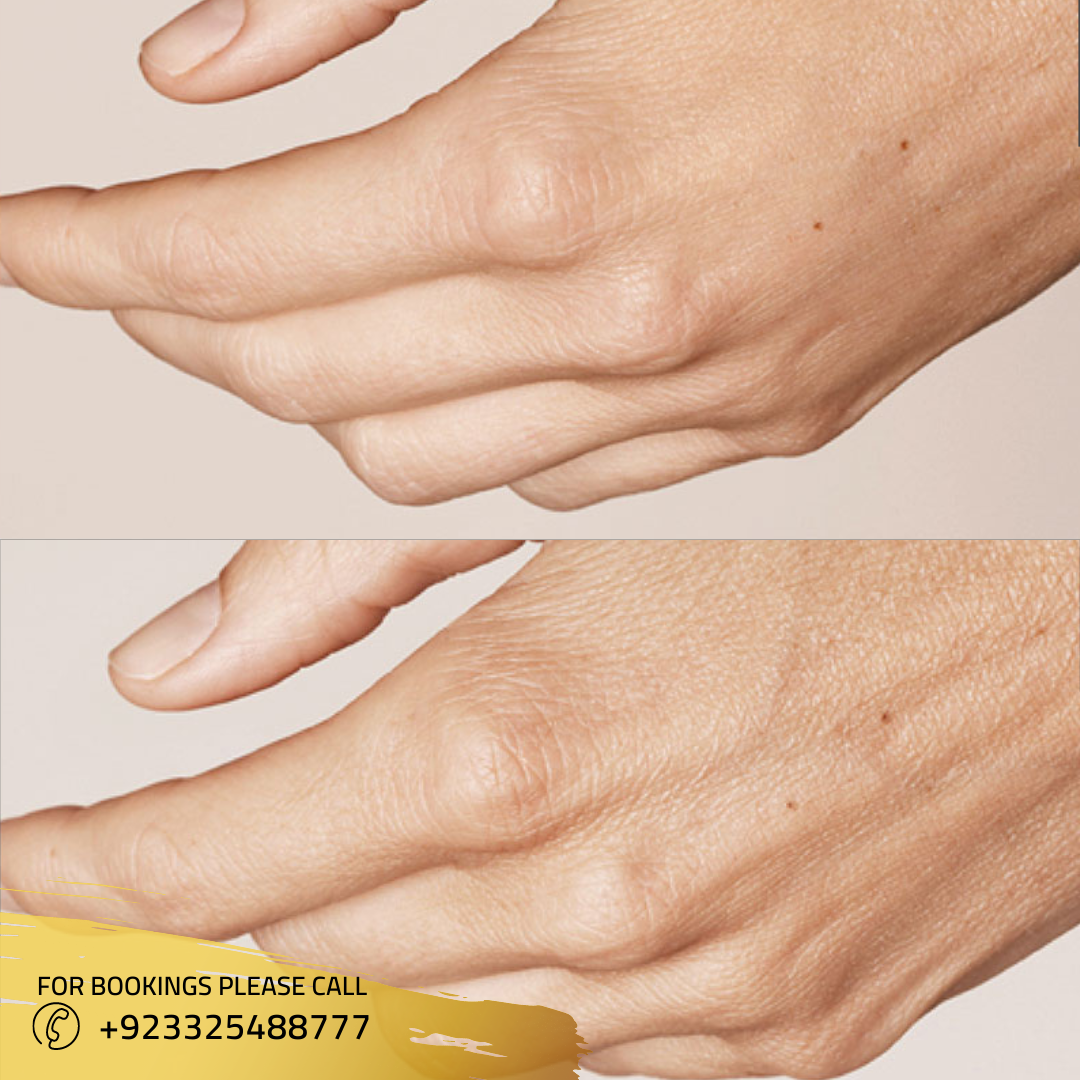 The Cost of Hand Rejuvenation:
The average cost of such treatments that are performed as Hand Rejuvenation in Islamabad, Rawalpindi, and Pakistan ranges from 15,000 PKR to 45,000 PKR. also, there are a few factors that can affect the cost of the treatment, such as:
Choosing an expert practitioner. 

Clinic's location. 

The preferred method for hand rejuvenation. 

A number of sessions. 

The reputation of the clinic. 

Other additional charges may include. 
Furthermore, you can contact us anytime if you want to ask anything related to any treatment's cost and affecting factors. Our team will guide you. 
Their Benefits:
Generally, there are several benefits for choosing any one treatment that is mentioned above for hand rejuvenation. Somehow, the common benefits are listed below:
Non-surgical and workable solutions. 

Effective and instant results. 

Quick and accurate performance. 

Restore the volume of hands perfectly. 

Such treatments can improve blood circulation.

You will get smooth and soft hands skin. 

It will boost your self-confidence and self-esteem. 

Cost-effective treatments. 
Who Can Be an Eligible Candidate?
Suppose your hands are showing signs of aging, such as creepiness, boniness, hyperpigmentation, or an overall "sinewy appearance that makes them appear older," and these factors bother you. In that case, you may be eligible for a hand rejuvenation procedure. 
Moreover, your board-certified plastic practitioner will highlight other eligibility factors during your initial consultation. Our experts will never suggest any kind of treatment without examining the condition. 
Precautions:
Here are a few common precautions that are necessary to follow before undergoing the procedure of hand rejuvenation. 
You must stop smoking for at least six weeks.

A person must stay hydrated, so drink at least 6 to 8 glasses of water per day.

Before undergoing the procedure, you must abstain from taking any pain relievers or blood-thinning medications for at least two weeks.

Avoid direct sunlight and always apply sunscreen before going out.

You must take the prescribed medications regularly, as directed by your doctor.
Aftercare Instructions:
After getting the treatment of Hand Rejuvenation in Islamabad, Rawalpindi, and Pakistan, your practitioner will prescribe you some after-care tips that will be helpful during your recovery. A few common instructions and tips are mentioned below.
After the hand rejuvenation procedure, you will need to avoid sweaty workouts and heavy tasks for nearly six weeks.

You will need to drink lots of water to improve your healing and recovery.

Use recommended medication and topical creams on hands. 

You will need to apply ice packs to your hands to reduce swelling.

You must abstain from pain relievers and blood-thinning medications for a few weeks.

Before going out in the sun, you must properly apply sunblock to your hands.

In case of a severe reaction, inform your practitioner immediately. 
Book Your Appointment With Us!
Therefore, If you want to rejuvenate your hands with the safest procedure at a reasonable cost and without experiencing any post-procedural side effects, contact the Royal Cosmetic Clinic. 
We are here to offer effective and workable treatments that will show instant effects immediately after the treatment. So let us change your oldie hand appearance into youthful and attractive hands.