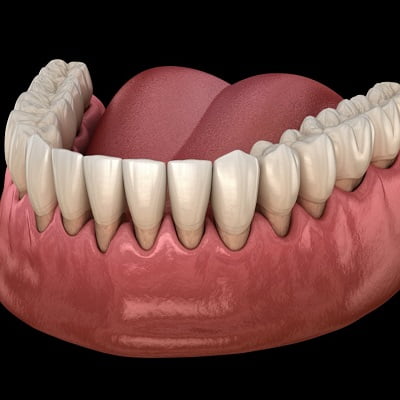 Your gums' health is just as important as your teeth. Gum disease can be brought on by tooth brushing or consuming foods like apples, pears, almonds, and hard candies. One of the indications of the illness is red or purple pimples. Furthermore, the recession that worsens with age could result in tooth loss if left untreated. It may be avoided by using the right techniques when cleaning your teeth and frequently eliminating tartar. On the other side, Gum Recession Treatment in Islamabad, Rawalpindi, and Pakistan can help with all of these problems.
You may learn everything about this issue, its treatment, outcomes, advantages, costs, and much more on this website. Read the following information for a moment.
What Is Gum Recession?
Gum recession occurs when the gum line recedes from the teeth, exposing the underlying roots. Numerous things, including forceful brushing, smoking, and even heredity, contribute to its development.
Antibiotics, antimicrobial mouthwashes, and surgery are all forms of treatment. Although gum recession cannot be cured, proper treatment can stop it from worsening. Gum disease includes gum recession as a type. The roots of your teeth become visible as your gum tissue begins to move away from them.
Your teeth are more likely to develop cavities as a result. When you brush or chew, your teeth may become more sensitive. Gum recession can range from minor to severe. Several teeth or only one could be impacted.
Causes And Symptoms:
There are several types of causes and symptoms of gum recession. Every person has its own kind of cause, and they may experience different symptoms. Both are mentioned below.
Causes:
Excessively vigorous or violent brushing.
Dental tartar or plaque accumulation.
Illness of the gums.
Damage or trauma to the gum tissue.
Unusual tooth placement (misalignment).
Chewing or smoking tobacco.
Tongue and lip piercings.
Symptoms:
Experiencing soreness or pain along your gum line.
Sensitivity to cold, heat, and sweetness.
Sensitivity while flossing and cleaning your teeth.
To experience sensitivity when having your teeth cleaned.
Treatment For Gum Recession:
You can say goodbye to uncomfortable, inflamed, or receding gums with the greatest gum recession treatment. In this technique, the gum tissue is surgically transplanted into the pocket created by gum recession from another mouth area. Actually, the following functions can be accomplished by this treatment:
Defend the teeth from harm in the future.
Reduce the visibility of receding gums.
Moreover, if you want to get multiple sessions or additional treatments like scaling or teeth whitening, then you can have these treatments before gum recessions.
What To Expect In Results?
After getting treatment, the procedure enhances dental health by removing plaque, tartar, and bacteria from the mouth. Infected gums are treated with healthy pink gums. As a result, swelling, discomfort, or bleeding is no longer there.
You will obtain noticeable, effective, and satisfying results. On the other side, choosing an experienced dental surgeon for the treatment is necessary, and who can prescribe you important aftercare instructions.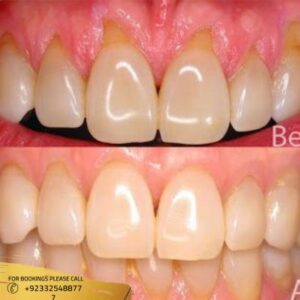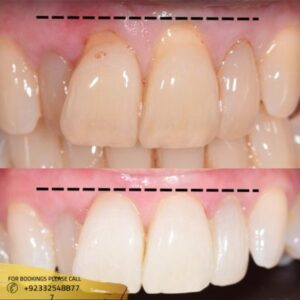 Who Can Be A Right Candidate?
According to RCS experts, the best candidate for Gum Recession Treatment in Islamabad, Rawalpindi, and Pakistan is someone who has one of the illnesses listed below:
For people suffering from disease brought on by aging or any other factor, loose teeth are not a good anchor.
Since therapy would worsen the infection, infected teeth cannot be treated.
Top Benefits:
Generally, there are countless benefits to such dental treatment. The major benefit is that they are effective for your oral health. Somehow, the common and major benefits are listed below
Effective and noticeable results.
Satisfying and safe performance.
Minimizes further tooth decay or recession.
Reduces sensitivity in the teeth and gums.
Professional treatment for gum recession is completely secure.
You succeed in making your grin better and brighter forever.
Improves your smile feature.
Easy to maintain.
It will enhance the quality of your life.
Before The Procedure:
The dental surgeon will provide detailed precautions on getting ready for the procedure at your initial consultation. Precautions for eating, drinking, smoking, and taking medications will all be part of this preparation.
The process will go more smoothly, and you'll obtain the best outcomes possible without any problems if you follow these instructions. It is crucial to cease smoking a month before therapy if you smoke because it can restrict your blood vessels and impair wound healing.
The Procedure:
The most reliable and durable form of treatment for gum recession is gum graft surgery. Usually, this operation is carried out by a periodontist (gum expert).
A gum transplant is employed during this procedure to replace your missing gum tissue. The graft is typically taken from the roof of your mouth, while it sporadically may originate from tissue from a sterile human donor.
Your surgeon stitched the gum graft into place once it was in the ideal position. Gum grafting treatments come in a variety of forms. Choosing the best one for your circumstances can be assisted by your surgeon. Gum grafting techniques today involve very little discomfort.
Aftercare Instructions:
Here are some aftercare instructions that must be followed to maintain the results and live a fear-free life.
Brush your teeth slowly and gently.
Use recommended toothpaste.
You can use mouth wash to prevent bad breath.
Do not chew hard food things.
It is necessary to attend monthly checkups with your dentist.
In case of a severe reaction, inform your surgeon.
The Cost Of Gum Recession Treatment At Rcs:
The average cost of Gum Recession Treatment in Islamabad, Rawalpindi, and Pakistan range from 4,500 pkr to 15,000 pkr. Also, some factors can affect the cost, like
Expert dental surgeon's fee.
Clinic's location or traveling expense.
The reputation of the clinic.
Additional treatments.
The number of sessions.
Other supporting charges.
Additionally, you may contact us or visit our expert at any moment if you have any questions about its cost or other considerations. They'll provide you with the right direction.
Book Your Appointment With Us!
Gum recession not only makes your teeth more vulnerable to bacterial infections and other dental issues, but it also makes your smile appear less appealing.
We provide a variety of gum recession procedures at the Royal Cosmetic surgery in Islamabad to improve the appearance and security of your teeth. In order to schedule a consultation for this treatment, please use the form below or give us a call.