The rise in popularity of eyebrow Microblading can be attributed to social media's advent and the desire to stay current with fashion trends. Getting sick of regularly filling in your brows? Good news for the ladies who really need to enhance the beauty of their eyes, the royal cosmetic clinic is offering Best Microblading in Islamabad. It will help you to fill the empty patches or gaps in your eyebrows and make the facial feature more attractive and sharp.
On this page, you will learn about microblading, its results, benefits, procedure, cost, and many more. So, take a moment and read the details if you really want to get eyebrows enhancement.
What Is Microblading?
It is largely a cosmetic surgery where the eyebrow area is tattooed to boost visual appeal. It is based on the concept of inserting pigment into the skin by puncturing it with a sharp object, giving the illusion of natural brows. Depending on your preferences, the pigment used will vary in shade.
These terms are frequently mistaken for micro shading by potential clients choosing Microblading cosmetic clinics. In order to give the appearance of natural hair in the brow region, Microblading uses injections of ink. In contrast to Microblading, which creates hair-like strokes, Microshading uses pin-like dots to create an eyebrow that looks powdered.
How Does It Work?
To reduce pain, the skincare expert will administer anesthetic lotion. The pigment will be inserted for a long-lasting effect, and the treatment involves scratching the surface of your skin.
Before beginning the procedure, our specialist will use a pencil to sketch your brows to ensure you are satisfied with their contour. Then, when you're prepared, the process of making your new, gorgeous brows will start by making tiny, hair-like strokes using a tool with thin needles and then introducing the pigment into the epidermis, giving you realistic-looking brows that don't wash out.
It will take about two hours. First, the specialist will shape your brows and apply the pigment you selected during this appointment. Then, it takes around an hour to finish the top-op microblading session, which is performed 4–6 weeks after the first session.
What To Expect In Results?
After getting the procedure of microblading, the results will be apparent, although some individuals may require more sessions to get the desired results. Because each hair stroke is created using the natural form of the brows, the results look realistic. However, despite being excellent, the outcomes are not long-lasting. Effects from microblading typically persist between 18 and 30 months.
However, this time frame may vary based on various factors, including the kind of skin, the type of pigment, the treatment method, etc. In addition, it can fade after one year, so follow-up sessions will be required once or twice a year to maintain accurate results.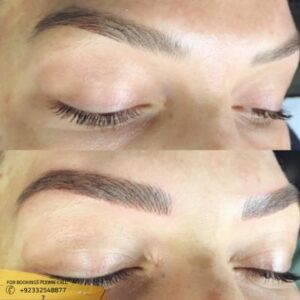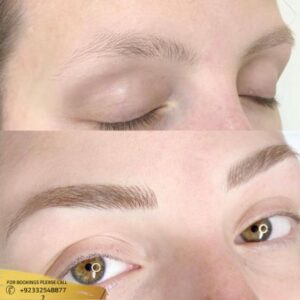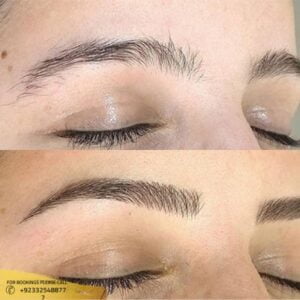 Reasons For Choosing Microblading:
There are several reasons and benefits for choosing the Best Microblading in Islamabad. Some major and common reasons why people choose it are listed below.
Quick performance.
It provides natural and long-term results.
Cost-effective solution for eyebrows.
Improves the shape and appearance of eyes.
No pain, side effects, or risks in it.
Suitable for all types of candidates.
Enhance the beauty of your face.
Men can also get this treatment.
Who Can Be A Right Candidate?
It will be best if you are the right candidate for this amazing cosmetic treatment known as microblading. Its criteria are very basic, so you can be the right candidate if you are one of them.
Above 18 age.
To have thin eyebrows.
Need improvement or proper shape.
To make eyebrows thicker.
Both men and women are the right candidates.
How To Prepare Yourself?
This procedure doesn't require anything for preparation. It's just like tattooing on your skin. But still, your practitioner will discuss many things that you have to follow. For example
Do not go out in direct sunlight at least 48 hours before the procedure.
You have to avoid smoking tobacco or drinking alcohol.
Blood thinning medications like aspirin should be avoided strictly
If you have any skin allergies, inform your practitioner.
How It Will Perform?
The procedure of microblading is minimally invasive that will perform with the use of tiny needles. The dermatologist will apply the numbing cream around the area as it will help to reduce any pain or discomfort that may feel during the treatment. The procedural steps are mentioned below.
The practitioner will draw the targeted area according to the client's expectations.
After that, numbing cream will be applied to make the procedure painless.
Then, the tiny needles of the hand-holding microneedling device will make the thin and small hair look like strokes. It is the most important step where the practitioner will make your eyebrow.
By creating strokes, the pigment will be inserted into the epidermis. The color shade for brows would be already decided.
Therefore, the procedure will take hardly 15 to 30 minutes as it depends on the condition of the candidate's brows. You can go home after the process.
Aftercare Instructions:
To get the best outcomes from this method, candidates need to follow to basic aftercare instructions. Each candidate often receives a specific set of aftercare instructions from the dermatologist based on their needs. Listed below are some general guidelines:
It is necessary to use recommended cream on brows.
Do not let the treated area wet; keep it dry.
Avoid taking steam on the face or going to saunas.
You have to avoid performing physical activities.
Don't go out in direct sunlight.
Still, avoid taking blood thinning medicines.
In case of severe reactions, inform your practitioner immediately.
Cost Of Microblading At RCS:
The cost of the Best Microblading in Islamabad depends from person to person because everyone doesn't have the same concerns and expectations. Moreover, there are a few factors that can affect the cost of the treatment. Such as
Professional microblading expert's fee.
Location and reputation of the clinic.
The number of sessions.
Other additional charges.
Furthermore, if you want to know the exact cost or its factors, then you can contact us or visit our clinic anytime. We are here to give you all details in your single phone call or visit.
Book Your Appointment With Us!
Therefore, the advanced Eyebrow microblading procedure is available at a reasonable price at the Royal Cosmetic clinic. Our professional dermatologists can advise you on this treatment's effects. Call us or use the online consultation form to speak with one of our specialists. We are here to make your experience memorable with us.