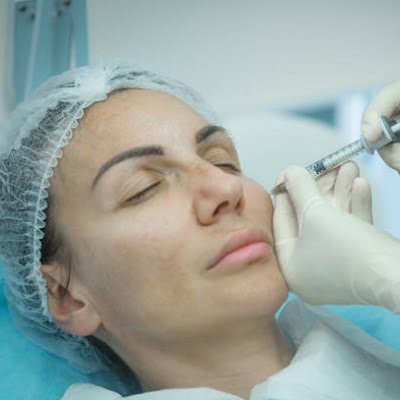 Well-contoured, properly defined and prominent cheeks improve facial features and add value to the elegance of an individual. The volume, appearance and complexion of cheeks give a unique look and enhance the aesthetics of an individual. The aging factor, poor lifestyle, inadequate diet and genetic factors may reduce the volume and seductiveness of cheeks. Cheek fillers injection in Islamabad reinstate the lost volume, plumpness and refinement of cheeks.
Cheek Fillers Injection: Overview
Collagen and elastin proteins are essential for the smoothness, tightness and brightness of the skin. As we grow older, their growth becomes lower, reducing the glow and elasticity of the skin. Further, some people are also fed up because of asymmetrical and undefined cheeks. Cheek fillers injection in Islamabad is a cosmetic procedure that is carried out to reshape cheeks and augment their beauty and attractiveness. 
These are basically dermal fillers in Islamabad that utilize specialized fillers to address aesthetic concerns related to cheeks. Fillers revamp the lost volume, rejuvenating the appearance and restoring a youthful complexion of cheeks. Royal Cosmetic Surgery Islamabad is the best aesthetic clinic that offers cheek fillers in a customized way because this clinic is known for its custom-made treatment approaches.
Dermal Fillers In Islamabad: Types
Based on the ingredients used in fillers, they are of different types. The longevity, cost and effectiveness of a treatment also depend on the type of used fillers.
Hyaluronic Acid Fillers:
Hyaluronic acid is naturally produced in the body. It keeps the glow and elasticity of the skin. The aging factor reduces the production of this acid in the body, reducing elasticity and the youthful glow of cheeks. Hyaluronic acid fillers in Islamabad rejuvenate the shine, brightness, glow and elasticity of cheeks. This is the most popular type of filler used to augment the beauty and glow of the skin.
Poly-l-Lactic-Acid (PLLA)
This substance improves the body's collagen production ability. Collagen improves the brightness of the skin and also offers a glowing and youthful appearance. People dealing with deep wrinkles can get this type of filler in Islamabad to reduce the appearance of wrinkles and improve the texture and complexion of the skin.
Polymethylmethacrylate (PMMA)
This substance also improves cheek volume and adds firmness and brightness to cheeks. Furthermore, this type of fillers in Islamabad also augment the structure, shape and appearance of cheeks. It creates an enhanced, rejuvenated and fuller cheeks appearance.  Basically, it contains collagen gel that offers lasting results. 
Cheek Fillers Injection In Islamabad: Top Benefits
Improve definition, shape and contour of cheeks

Restore lost volume, treat dullness and tediousness of cheeks

Offers a youthful appearance and disappears wrinkles and fine lines

Revamp the glow and attractiveness of the skin without involving any cuts and incisions

Deals with specific issues of individuals such as cheek sagging or irregular cheeks

Provide swift or quick results and add volume and flexibility to cheeks

Normally, natural substances are used, making it a feasible treatment
How Long Do Fillers Last In Cheeks?
The longevity of cheek fillers in Islamabad largely relies on the type of fillers used. Normally, the duration of its results lasts from 6 months and can be extended to 18 months or even more. First of all, you should consider the type that offers lasting results, and secondly, you must adhere to aftercare treatments to extend the longevity of its results.
Cheek Fillers Injection in Islamabad: Results
Royal Cosmetic Surgery Islamabad is always determined to deliver the best. Here are a few examples of our successful results. We always satisfy our patients and provide them with their desired results. You can analyze the significant and prominent changes that our experts have produced. Evaluate these results before making up your mind.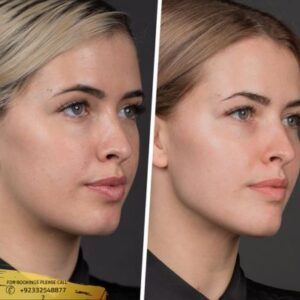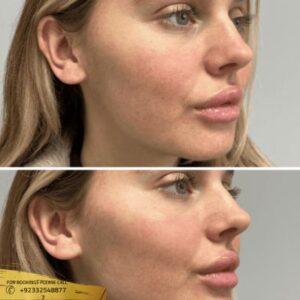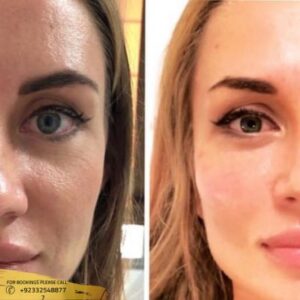 Can your Smile After Cheek Fillers?
You may observe swelling, bruising, or soreness after fillers in Islamabad. These conditions may not let you smile to the fullest, but once these temporary conditions become less severe or disappear completely, you can smile normally.
How Much Do Cheek Fillers Injection Cost In Islamabad?
The cost of cheek filler injections in Islamabad extends between PKR 45,000 to PKR 70,000. The cost may alter because of a few cost-determining factors that include but are not limited to the type of treatment, extent or scope of the treatment, the clinic's location and the expertise of a surgeon. 
Can I Wash My Face After Filler injections?
You are allowed to gently wash your face, but it is better to avoid washing or rubbing the treated area because it may not let the filler settle properly or may disturb the placement of fillers, disturbing the calculated outcome.
Who Is A Suitable Candidate For Dermal Fillers In Islamabad?
If your cheeks have lost volume and present a tedious look

If you observe deep wrinkles near your cheeks

If you do not have any sensitivity issue 

If you are healthy and are not dealing with any medical issue

If you understand the procedure and have realistic expectations

If you are aware of risk factors and have consulted with a professional
You are a suitable candidate for fillers in Islamabad. You can get fillers to address skin blemishes, rejuvenate the appearance of your cheeks, and improve their shape and contour.
Side Effects:
Swelling

Redness

Bruising

Itching

Infection
The Bottom Line:
The shape, volume and fullness of cheeks augment the beauty of facial features and offer a youthful and appealing look. The aging factor and improper diet may decrease the elegance of cheeks. Cheek fillers injection in Islamabad deal with these issues, recreate the symmetry, restore the lost volume and improve the appearance and look of cheeks. People who want to keep or reinstate their youthful appearance should consider this treatment to get their rejuvenated look and natural-looking appearance. 
Schedule your appointment at Royal Cosmetic Surgery Islamabad to get fuller and properly defined cheeks. We offer personalized treatments and deal with the specific concerns of each individual. Visit our clinic, get a consultation session, and find the most appropriate treatment for you!