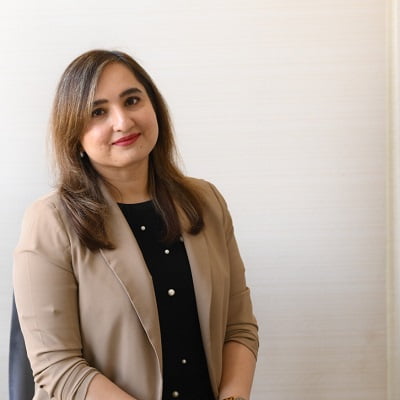 Dr. Ayusha Khan is a certified cosmetologist who recently joined Royal cosmetic surgery clinic to serve patients in twin cities. She specializes in skin treatments including chemical peels, dermal fillers, micro-needling, skin resurfacing, botox, PRP, and facials.
She began her journey in medical aesthetics at military hospitals in Rawalpindi and Karachi and then moved to UK to polish her skill sets.
In 2016, In Birmingham, Dr. Ayusha joined Queen Elizabeth Hospital, with particular emphasis on the diagnosis and management of chronic skin disorders. After serving there for six years, she started working at Sheffield Aestheticas a senior aesthetic consultant. Finally, she joined Laser clinic for a year where she learned about the symptoms and diagnosis of skin diseases to ensure the continued health of patients.
Dr. Ayusha Khan is passionate about achieving natural-looking, long-lasting results and delivering the safest, top-quality care to patients. In addition, she has advanced expertise in hair treatments and is providing the following services; examining hair loss, performing a physical assessment, prescribing over-the-counter medications, and treating scalp conditions.
At Royal Cosmetic Surgery Clinic, you can easily book an appointment with Dr. Ayusha Khan by calling +92 332 5488777 or by filling the consultation form.