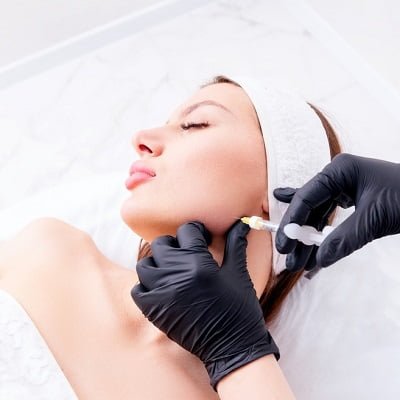 Do you dislike the way your jawline looks? It's possible that you wish your jawline were more defined because it is soft or "weak" or because of aging-related skin changes that have caused the skin surrounding your jaw to sag and sink. Instead of a well-defined jawline, sagging in the jaw area gives the illusion of "jowls." It would be best if you timely consult the royal cosmetic clinic that is offering effective   Jawline Contouring Treatment in Islamabad. It is one of the most popular and workable cosmetic procedures.
On this page, we are going to discuss the details about its procedure, results, benefits, cost, and many other facts. So, if you really want this treatment, read the following information carefully.
To Know About Jawline Contouring Treatment:
The technique is a cosmetic one in which a plastic surgeon enhances the structure of the jawline by reshaping it or adding volume to it. Following the procedure, there is a more obvious separation between the jawline, neck, and other facial features. Dermal filler injections are the most popular kind of treatment for jawline reshaping. This procedure is viewed as a more practical substitute for surgical jawline reshaping.
The aim of the treatment is to sharpen, enhance and contour the jawline. This minimally invasive procedure improves facial proportions subtly but dramatically. Also, it can produce a balanced profile and a more pronounced jawline. Both men and women can use dermal fillers to shape their jaw and chin lines.
What To Expect In Results?
After getting the procedure, you will get immediate, effective, and desired results without any recovery period. It is an injectable treatment that doesn't require downtime but an accurate adjustment. Remember that this non-invasive jawline contouring treatment provides temporary results. You have to get touch-up sessions whenever it feels dull.
On the other side, it is very important to choose someone expert that can perform your treatment perfectly. Only skillful and expert aesthetical practitioners can give you desired results. Otherwise, you may get the worst outcomes and charge double.
8 Amazing Benefits:
To enhance the jawline, get treatment and fix it right now! There are countless benefits of getting such amazing facial treatments. A few major benefits are listed below
Effective and painless treatment option.
Immediate and desired results.
Your jawline will be improved.
No major side effects or risks in it.
It doesn't require anesthesia, cut, or stitches.
There is no recovery period.
Cost-effective and affordable procedure.
Enhance the beauty of your face.
Right Candidate for Jawline Contouring:
Being the right candidate for Jawline Contouring Treatment in Islamabad is very important. Firstly, our experts will examine your health conditions and ask about your desires. After that, they will let you know whether you are a good candidate. Anyhow, the basic criteria for the treatment are mentioned below
The age of the candidate should be 18 and above.
If you have soft jowls or jaw.
Suitable for both men and women.
A person who has visible facial asymmetry effects.
You should be prepared mentally and physically.
For improving aging signs or facial appearance.
It is necessary to be free of other severe diseases.
How To Prepare For The Treatment?
You must schedule a consultation with a dermatologist or cosmetic practitioner before to the therapy. To make sure that non-surgical jawline contouring is the right course of action for you, do this step.
You will be able to book your initial appointment once we have decided whether you are a good candidate. Use a gentle cleanser to wash your skin the day before your appointment. Apply no lotions, moisturizers, cosmetics, or topical medications to your skin. You should prepare yourself mentally and physically for this injectable treatment.
A general recommendation is to adapt to a healthy lifestyle before beginning this treatment. For example, you'll have to stop smoking tobacco and drinking alcohol. Additionally, the practitioner will suggest that you need to stop using any blood thinners, including aspirin.
How does the Procedure Perform?
It is an outpatient, non-surgical process that takes 30 to 60 minutes to complete. Additionally, even though the process is painless, patients might still choose to be sedated for comfort.
Most of the time, muscle relaxants are injected into the masseter muscle in the back of the jaw during these injections. It will cause tense muscles to relax, softening the jawline's square appearance. Depending on the size of the masseter muscle and the desired outcomes, you could require numerous injections. Injections of jawline filler typically produce benefits that last four to six months. However, regular follow-up sessions can greatly extend those results
Post Care Instructions:
After the procedure, the practitioner will guide you on how to maintain the effects and some care tips. These aftercare instructions are necessary to follow, such as
Do not smoke tobacco or drink alcohol.
Avoid taking blood thinning medication or herbal supplements.
Use ice packs for subsiding swelling or redness.
It would be best if you don't apply anything on the face, including makeup products.
Avoid touching, putting pressure, scratching or rubbing your face unnecessarily.
Do not work out for a few days only.
In case of any reaction, inform your surgeon immediately.
The Cost At Royal Clinic:
The overall cost of Jawline Contouring Treatment in Islamabad will be calculated after considering several factors. These factors can affect the cost of the treatment and include according to your concerns and desires. Anyhow, these are mentioned below
Skillful practitioner's fee.
Location and reputation of the clinic.
The number of dermal injections.
Multiple session requirements.
Size of the jawline contouring.
Other additional charges.
The cost will be calculated after considering these factors. You need to initially consult with the practitioner and discuss all the details and your concerns. After that, you can contact or visit our clinic anytime.
Other Alternatives For Jawline enhancement
At the royal cosmetic clinic, if you don't qualify for this treatment because your jaw condition doesn't go with this option, then there are many other treatments for jawline contouring. It includes surgical and non-surgical options as well. Some common treatments for jaw restoration are
Fat reduction injections.
Neck lipo surgery.
PDO Thread Lifting.
Double chin surgery.
Jaw surgery.
Book Your Appointment With Us!
Do you wish to get perfect symmetry in your jawline? Injections for jawline contouring can be the best option. But it's important to receive this treatment from a respected cosmetic clinic, like the royal cosmetic clinic. You have access to our facility's best board-certified cosmetic surgeons and medical professionals with vast experience in surgical and non-surgical procedures. So, don't wait and get your appointment today.