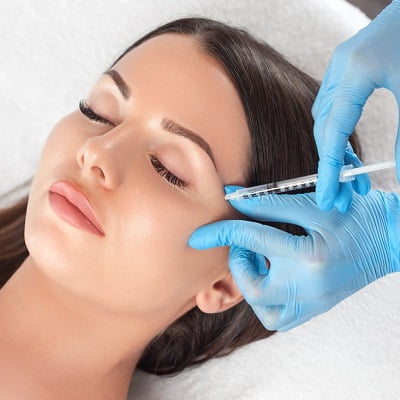 Our body changes its appearance and texture with age and these changes appear on our skin very prominently. It may include wrinkles on the full face or might be near the eyes and lips. Many people around the world are conscious of their looks and they want to look young. You may be seeking treatments to smooth your skin, face, smile lines, or crow's feet as well as plump up your lips, cheeks, and hands. Thanks to the Dermal Fillers in Islamabad they can help you to reduce these aging signs and make your skin again young. 
On this page, you will learn all related information about FDA-approved treatment. The page will contain an introduction, its work, benefits, results, and many more. So, keep reading!
Key-Factors:
Injectable treatment. 

It can be performed in multiple sessions. 

No specific anesthesia will require. 

Different types of dermal fillers. 

The duration of the procedure is 15 – 40 minutes. 

No major side effects. 

Reasonable cost ranges.
An Overview – Dermal Fillers: 
Dermal fillers are injectable products that are used to add volume and fullness to the skin. They are often used to treat wrinkles, fine lines, and hollow areas in the face. They are made of a variety of different substances, including hyaluronic acid, calcium hydroxylapatite, poly-L-lactic acid, and polymethylmethacrylate (PMMA). The type of dermal filler used will depend on the specific area being treated and the desired result.
Dermal fillers are typically injected into the skin using a fine needle. The procedure is usually performed in a doctor's office or clinic, and the effects can last for several months or up to a year, depending on the type of filler used. It can be used to enhance the appearance of the face in a number of ways, including:
Filling in wrinkles and fine lines.

Plumping up thin lips.

Enhancing shallow contours. 

Softening facial scars.

Improving the appearance of recessed scars.
Dermal fillers are generally safe and effective, but like any medical procedure, they carry some risk of side effects. It is necessary to discuss this with your dermatologist in detail.  
Types of Dermal Fillers in Islamabad:
Generally, there are a huge variety of filler products that cosmetic practitioners use. They are categorized by the type of substance they are made from. These common fillers are mentioned below
Hyaluronic acid –

it is a common type of filler that lasts for at least 6 to 12 months or maybe longer. Further, it has several types like Juvederm product and belotero balance. 

Fat injections – these are also known as facial fat grafting, the only injectable treatment that requires surgery. It can last for many years as your own fat is used to restore the look and appearance. 
Calcium hydroxylapatite –

a type of filler that includes a mineral and a major component of bone found in human bones. They will last for at least 18 months. 
A note to remember: you need to consult with your expert practitioner to know the suitable and best filler for yourself. It must be approved by FDA and the treatment must be performed by a board-certified practitioner.
What To Expect In Results?
After getting Dermal Filler In Islamabad, you will get amazing, satisfying, and effective results for a specific period of time. Usually, the results may depend upon the product and filler type. Typically, the fillers will last for at least 6 to 18 months or more. 
To maintain the efficiency of the result, you may need to repeat the treatment by getting multiple sessions according to your practitioner's advice. After every session, the amount of filler will be adjusted for optimal results.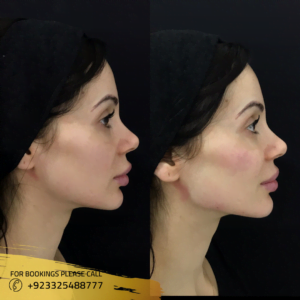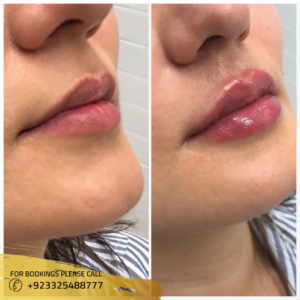 Topmost Benefits: 
Dermal fillers can provide a number of benefits, including:
Effective and amazing benefits. 

It will plump thin lips. 

Your facial creases and wrinkles will be softened. 

Improve shallow contours. 

Enhance the appearance of scars. 

Face contour deformities must be reconstructed.

Reduce or eliminate the lower lid shadow.
Who Are Good Candidates:
According to the Royal Cosmetic Surgery clinic, you may be good for Dermal Fillers if you have
Wrinkles and fine lines. 

Are physically perfect and healthy. 

To have a healthy skin texture. 

Must be above 18 age. 
keep in mind that there are some candidates who might need a facelift, brow lift, or eye lift surgery for their effective look.
How To Prepare?
Before undergoing the procedure of dermal fillers, it is necessary to follow the precautions that can save you from any type of complications. So, your practitioner will prescribe you a few precautions like
Discuss your medical history with your practitioner.

Avoid taking blood thinners. 

If you want to get laser treatment then don't go for fillers. 

Choose the most suitable fillers for your skin. 

Quit smoking or drinking alcohol. 

There can be a risk for those who have an infection or discolouration.
The Procedure:
The procedure of dermal fillers will be performed by an expert and board-certified practitioner. The injectable process is simple and straightforward. It doesn't require anesthesia except for a few cases. The steps are mentioned below
The candidate may be given a topical anaesthetic to numb the area. 

Next, The practitioner will clean out the skin and prepare the area. 

After that, the dermal injections will be injected under the skin and adjusted the amount into the skin. 

The process will take 15 to 40 minutes as it depending on the number of filler injections and area size. 

After the procedure, you can go home or to your work as it doesn't require proper rest due to its non-invasiveness.
Aftercare Instructions:
Following the aftercare instructions is necessary to prevent side effects and complications. Your practitioner will guide you that how you manage the look and results for a long time. 
Use ice packs to ease the pain and swelling. 

Keep your treated area clean and free of dirt. 

Bruises, swelling, and discomfort are common. 

Do not take blood thinners like aspirin. 

Use antibiotics for avoiding infection. 

Avoid performing such activities that cause sweating. 
So, the recovery timing is different for every candidate. The healing process depends on how many areas are treated, the type of dermal filler, and the candidate's overall health.
Cost of Dermal Fillers in Islamabad:
The average cost range of Dermal Fillers in Islamabad is from 30,000 PKR to 45,000 PKR. According to the Royal Clinic, the cost will be affected by several factors such as
Your practitioner's fee. 

Location and reputation of the clinic. 

A number of sessions. 

Type of dermal fillers. 

Size of area and number of fillers.

Other additional charges. 
Book Your Appointment Today!
Therefore, dermal fillers are an ideal option for those who need a youthful look and smooth skin without undergoing any surgical procedure or treatment. If you want to get this treatment at a reasonable cost range then feel free to consult us at the RCS clinic. We are here for a comfortable and memorable experience. We are waiting to make your look accurate and perfect.