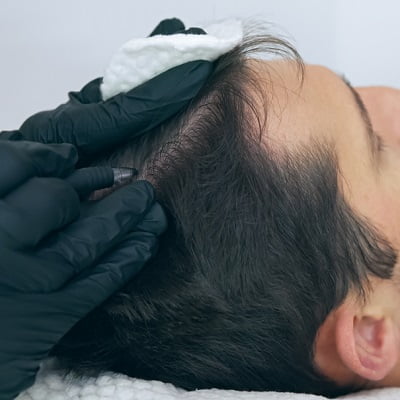 The biggest attraction about someone is a head full of hair. Aging or certain other factors cause the hair to fall. There are certain techniques available in the market that can restore your appearance. But what if there is a procedure that you can use that gives you the appearance of a fuller head without any hair implant. There is already a technique (microblading) that is being utilized to get fuller-looking brows. A similar method is now available to get an illusion of fuller hair. This method is Scalp Micropigmentation (SMP) in Islamabad, Pakistan.
The only effective solution to all of your hair problems lies in SMP. these problems may include thinning hair, hairline recession, pattern baldness, alopecia, and hair transplant scarring. It is a non-invasive procedure called micro pigmentation that inserts pigment into the scalp using fine microneedles. As a result, small hair follicles start to form, which gives required thickens the hair and gives it a fuller appearance again.
Ideal Candidates for SMP:
All types of hair loss sufferers may find this process helpful. This comprises people who have:
Those people who are suffering from cancer
Alopecia or any type of hair loss
losing hair because of any kind of procedure
Pattern baldness in both men and women
The desire for increased hair density in both men and women
shaving their heads and wanting to define their hairline
Burns, scars, and birthmarks that people seek to cover up
What Benefits Can Scalp Micropigmentation Provide?
add definition to your hairline
add thicken to the hair
Improves the appearance of your hair
Assistance With Cosmetic Adjustment
Drawbacks of SMP:
There are drawbacks to every procedure as well. Following is the list of pigmentation:
A typical negative effect of micro scalp pigmentation is loss of sensation in the treated area.
Bald spots, irritation, hair loss, hair loss, skin dryness, chapping dryness, redness, hair thinning, dermatitis, and itchy burn are additional frequent problems with scalp micropigmentation.
Fever and other flu-like symptoms are another potential side effect of micro pigmentation on the scalp.
Is SMP painful?
You must book an initial consultation to get the know-how about the procedure as well as the cost estimates.
First of all, numbing cream is used to numb the area
Discomfort may also prevail during the procedure even after the numbing cream is applied
No swimming before one week of treatment
General Guidelines:
Some general guidelines before the procedure may include:
You must take a shower before the procedure
The time required maybe 5 to 6 hours
The number of sessions required will depend upon the area under treatment
Each treatment session must be scheduled with a gap of a few weeks
Criteria for Getting Best Results:
The procedure's success mostly hinges on how thoroughly the skin beneath the scalp is prepped, as well as the pigment employed.
However, choosing an experienced doctor and asking the doctor a lot of questions prior to the treatment is the most crucial thing to do in order to have the most natural-looking results.
Types of Scalp Micro Pigmentation Methods:
Following are some of the types of Scalp Micro Pigmentation method:
Scalp Micropigmentation for Hairline Restoration
Scalp Pigmentation for Full Hair Loss Restoration
Scalp Micro Pigmentation for Density fill to Thinning Hair
SMP for Scar Camouflage
Scalp Micropigmentation for Alopecia
Before the Procedure:
Preparing for therapy by taking a fever-reducing medicine may be a smart option.
The majority of the time, scalp micro pigmentation side effects are really minor and will go away on their own.
But other people deal with more serious side effects including swelling and itching.
The procedure of SMP:
Following are some of the procedural steps of SMP:
| | |
| --- | --- |
| Step 1 | Book a Free Consultation |
| Step 2 | Meet with SMP Technician |
| Step 3 | Create hairline and initial impressions |
| Step 4 | Second, set of impressions and fill for added density |
| Step 5 | Touch-up and perfect |
| Step 6 | Aftercare with a topical gel |
Aftercare Tips:
It's likely that the tattoo will experience some scabbing in the first few days of healing. Peeling these scabs away might result in scarring and effectively restart the healing process, so it's crucial that they remain in place. It is prohibited to go for :
Swimming
Sauna
Bathing
No sun exposure for 1 month
Use sunscreens always before going outside
It is not advisable to go for heavy exercise
Moisturization is necessary after of week of the treatment. It is also advised to continue between the treatments.
Results:
Results will slowly become visible. Usually, they appear a month following the treatment. A person should refrain from using any things that can irritate them or further disturb the procedure, the doctor would suggest.
Shelf Life of Results:
The results of the treatment are semi-permanent.
The shelf life of results is may be between 8 to 10 years.
Human skin exfoliates itself after regular intervals hence, it is necessary to repeat the treatment after this duration.
The Cost of SMP:
The average cost of Scalp Micropigmentation (SMP) may starts from 18,000 PKR.
The major factor that influences the price of scalp micro pigmentation is how much area is going to be treated.
You may require to repeat the procedure after a few years if you have dry skin.
Fading is probably going to happen more quickly if you have extremely dry skin.
Dry skin has a tendency to flake, which unintentionally exfoliates the pigment more quickly.
Why Choose Us?
Royal cosmetic surgery is providing you with the best results for Scalp Micropigmentation (SMP) in Islamabad, Pakistan. You can book your consultation with us by filling out the form below or calling us directly.