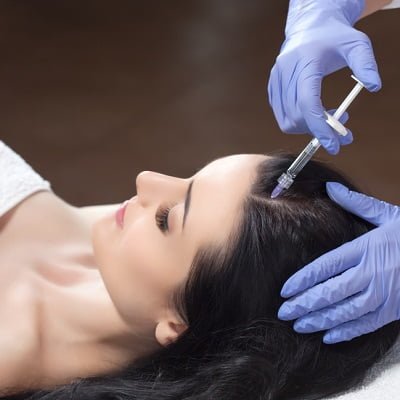 Do you struggle with hair issues like hair loss, baldness, or thinning hair?
In order to combat (premature) hair loss and thinning, Royal Cosmetic Surgery Clinic in Islamabad now provides one of the most efficient treatments. Injectable hair enhancement is also known as hair filler treatment. Hair Fillers Treatment in Islamabad was developed specifically to address hair-related issues like hair loss. It's a unique mixture with several active ingredients that is injected into the scalp, reaching the hair roots to promote hair growth and keep hair follicle activity alive.
How the treatment works?
The Hair Filler Treatment makes sure that the active ingredients at the hair's root are released gradually. All necessary active ingredients are placed right where they are needed.  They address the root causes of hair loss in both men and women. It is done by injecting a complex of a total of 7 prolonged release peptides into the scalp where hair follicles are located.
With the aid of this peptide-hyaluronic acid treatment, hair loss can frequently be stopped. Additionally, this stimulates the scalp and hair follicles to encourage hair growth. Clinical studies have shown that the use of patented peptides in combination with hyaluronic acid strengthens the hair follicles, producing more, thicker, and stronger hair.
Encourages increased blood flow to the scalp and hair follicles
Revitalises hair follicles and aids in the growth of hair stem cells
Induces hair growth by increasing the size and number of hair follicles.
Stops and slows down hair loss
Keeps the growth of hair.
Ideal Candidates for hair fillers treatment in Islamabad:
Following are the ideal candidates for the procedure:
Women who experience hair loss
Male-pattern baldness
Any age group of people with weaker and generally thinning hair
Patients suffering from Alopecia areata
Men and women who want to improve the likelihood that their hair transplant will survive.
Patients with hair loss
Alopecia- which has many causes in both men and women
Men & women who want to stop further hair loss due to general thinning of the hair
Individuals with hair damage from braiding, hair treatments, hair dyes, etc.
People who have had hair transplants and wish to prolong their success and survival rates
To encourage thicker, healthier hair and stop hair thinning as people age or to prevent it from happening altogether.
Ingredients of Hair Fillers:
Various ingredients are included in hair filler, such as:
It contains Natural keratin that surrounds the hair follicles to safeguard, treat, and strengthen them.
Hyaluronic acid is a naturally occurring substance that is found in cell components. It is frequently used as a skin filler for the lips, cheeks, and body. This ingredient aids in retaining moisture in the hair for a longer period of time because of its high water retention capacity.
Argan oil – Oil derived from Argan trees aids in instantly moisturizing and enriching the hair, giving it a healthier look and feel.
Zanthalene is a chemical that both relaxes and tightens the filaments of hair.
During the procedure:
The severity, size, and cause of the hair loss will all be taken into consideration as your doctor evaluates the area of concern and talks with you about the best course of action.
Although the procedure is painless, a small amount of discomfort may be felt only because the needle penetrated the dermis. If necessary, tropical anesthesia will be applied to the area of concern.
After that, approximately 1 cm apart, the Hair Filler product will be injected into the scalp's dermis.
For the first two months, it is advised to have one treatment session every two weeks (i.e. a total of 4 sessions).
Repeat sessions may be given later, and the outcome may be maintained for the future, at your doctor's recommendation.
Results:
Numerous benefits, including therapeutic and cosmetic ones with a long-lasting effect, are offered by the Hair Filler Treatment in Islamabad for hair loss. in particular:
It treats thinning hair by enhancing its thickness and volume.
It gives hair more thickness, improves its appearance, and fortifies it against deterioration from pollution, dust, and abuse.
Helps the growth of scalp's stem cells.
The treatment for hair loss is completely safe. It is safe for the scalp and has no negative effects or complications.
A considerable amount of time passes before the effect wears off. Typically, three sessions must be scheduled every 15 days for the treatment.
Hair growth is hastened.

Advantages of Getting Treatment at RCS:
Following are some of the most important advantages of treatment:
Secure method of treatment
You will get professional medical care
Planning a course of action with a physician
Your physician is always accessible for inquiries following the procedure.
Benefits:
For various reasons, men and women of all age groups experience alopecia, hair thinning, and loss of hair. The brittle hair follicles can suffer harm from genetics, hormones, age, pregnancy, stress, and diet. The hair frequently starts to thin out as people age, and the once-active, healthy follicles become less active.
Following are some of the benefits of procedure:
Eliminates hair loss
Nourishes the hair follicles and hair cells
Promotes hydration and blood flow to the scalp
Makes new, stronger hair grow back as a result
Enhances the volume of all the hair
Patented peptides, which act as a product's active ingredient and are free of any medicinal chemical components, virtually eliminate the possibility of unfavorable side effects and guarantee the high efficacy of preparations, regardless of the cause of hair loss;
No matter their age, men and women of all genders can use the preparations
An obvious outcome quickly is what is meant by effectiveness.
The first hair rejuvenator-filler in the world
Has an effective regenerating impact on the scalp and hair follicles.
Their nutrition and microcirculation are enhanced
Helps to stop hair loss and speed up hair growth
Wakes up dormant hair follicles
Bolsters fragile, thin hair and revitalizes hair
Number of sessions required:
1 session every 15 days
Whole procedure in 2 months
4 sessions required
Based on the patient's needs, the doctor will decide how many sessions are necessary.
Why Choose Royal Cosmetic Surgery?
We have a highly skilled team that has specialization in various different cosmetic procedures. So if you want to get Hair Fillers Treatment in Islamabad then you can consult Royal Cosmetic Surgery by calling directly or filling out the form below.