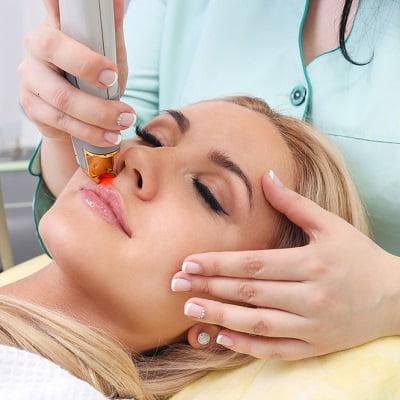 Do you want to remove the unwanted skin hair permanently? If yes, then it's time to visit RCS Hair Transplant Skin Laser & Cosmetic Surgery Centre, where our certified Dermatologist is ready to offer you Laser Hair Removal in Islamabad, Rawalpindi & Pakistan. This technique has been used by top celebrities all over the world, only because spotless and hairless skin is more attractive and makes you more handsome than skin that is full of unwanted hairs. This is not only available for celebrities, anyone regardless of gender,  who feels uncomfortable with unwanted hair is welcome at our clinic. We provide the most affordable Laser hair removal packages to our customers.
What is Laser Hair Removal Treatment?
This treatment makes use of laser light to remove unwanted hair from any part of the body including the bikini line, underarms, legs, chest, arms, and even the entire body. An experienced dermatologist will perform the procedure after determining the desired area for hair removal.
Pre-treatment Preparations:
The credentials of the person performing the procedure must be checked
Hair must not be removed 2 months before the treatment
Avoid going under the sun for 2 months before the treatment
During The Hair Removal Process:
Hair trimming is done
Desensitization of the area with numbing cream half an hour before the treatment
Adjustment of the equipment according to the need
Eye protection is worn
A pulse of light is given to the area
The procedure is done until the growth of hair is stopped
Recovery and Results:
The results are not immediately visible rather you need to wait for several months before you see the results. The treated area will look like it has got sunburns but the redness will go with time
Apply cold compressors over the area
The use of sunscreen is recommended.
Swelling or scarring is common.
How Does Laser Hair Removal in Islamabad Work?
Hair growth occurs in three stages: anagen, catagen, and telogen.
Anagen is the first active growth cycle, Catagen is the second dormant growth cycle, and Telogen is the third hair shedding cycle.
Our experts always perform laser hair removal treatment during the first cycle of Anagen because treatment yields the best results during this phase.
When a skilled physician uses laser light on hair, the pigment absorbs the light and converts it to heat, which damages the follicle and impairs its ability to regrow.
They treat each follicle during the growth cycle to ensure that you get the best hair reduction results possible.
Biggest Advantage of Laser Hair Removal:
Females are more concerned about unwanted hair than men as getting clear skin is a goal for everybody
If you opt to remove hair by means of razor, wax, threading, or epilator, you must know that you will have to repeatedly go for these procedures
All other treatment options are time-consuming and painful
No marks, bumps, or cuts
Benefits of Laser Hair Removal:
A person who undergoes this treatment is able to enjoy the following benefits:
Laser Targets only unwanted hair, no surrounding skin damage
No more unwanted hair growth
Permanent hair reduction after 3-5 sessions
Smooth, clear, and beautiful skin
No more need for painful hair removal procedures
No side effects (bumps, rashes, scars, cuts, etc)
Quick Solution for unwanted hair problem
Is Laser Hair Removal Safe?
The Food and Drug Administration (FDA) approved this procedure for use in 1995. This is the safest process for the stated purposes and anyone can benefit from it. The regulation of the equipment is regularly done by FDA in case the procedure is performed by registered practitioners. No downtime is required after the procedure.
Cost of Laser Hair Removal:
 Laser Hair Removal Cost in Islamabad Pakistan may range from PKR 5,000 to PKR 40,000 per session depending on the number of treatments you require, the person who is doing the procedure, the size of the area being treated, and the time required for the procedure.
1.    Number of Treatments:
The number of treatments normally varies from one person to another. Generally, 5 treatments are essential when a person has normal hair growth cycles. The number of treatments depends on the type and consistency of hair.
Some people may need 3 to 7 sessions. When it comes to Laser Hair Removal Cost then we have made things quite simple. You need to pay on a per session basis. The cost of every session is fixed, so it would be easy for you to calculate the total cost of your Laser hair removal treatment.
2.    Who is Performing the Procedure?
The cost of Skin hair Removal is also dependent on the person who is going to perform this procedure. If a doctor performs it then the cost will be lower. But when an expert Dermatologist does this job then the cost will be higher because you are going to get help from an experienced physician; so you can enjoy the best results.
3.    Size of Area being Treated:
Size definitely affects the cost of laser hair removal. If you want to remove hair from upper lips then it takes the doctor only one minute to do this job, so he would charge very low. But when you want him to remove unwanted hair from his legs and arms, the cost will be higher. The larger the area, the higher will be the price.
[faqs_short]
Choose Royal Cosmetic Surgery For Laser Hair Removal in Islamabad:
With the recent advancement and research in LASER technology, scientists have offered affordable and effective laser hair removal treatments for a number of issues including pigmentation, dark circles, skin rejuvenation, and many more. However, this procedure is only worked well if done by experts. So, whenever you need to plan a Laser Hair Removal in Islamabad, Rawalpindi & Pakistan, then you need to make sure that you choose the right place. Royal Cosmetic Surgery has all certified professionals. If you choose us, you will pick the world's best Dermatologist for yourself.