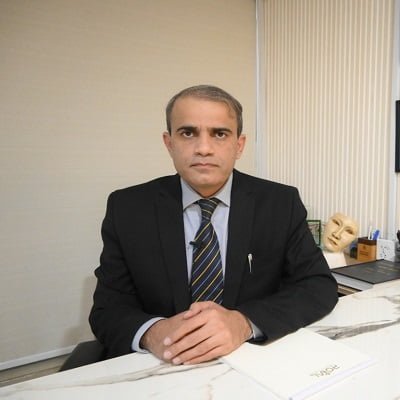 When a person elects to undergo an operation or invasive medical procedure to alter their physical appearance for cosmetic rather than medical reasons, this is known as cosmetic surgery. Finding the right doctor can be difficult if you don't know what to look for. As a capital city, Islamabad is blessed to have the services of many cosmetic surgeons. Dr. Naveed Azhar is one of the Best Cosmetic Surgeon in Islamabad. He has an experience of more than 15 years in the field. You can fully trust him for any type of reconstructive or cosmetic procedure.
Plastic Surgeon, Reconstructive Surgeon, Cosmetic Surgeon, Aesthetician, Reconstructive Surgeon, Hair Transplant Surgeon
MBBS, MRCS (UK), MCPS, FCPS (Plastic Surgery)
Education
PMC Verified++
MBBS
MRCS (UK)
MCPS
FCPS (Plastic Surgery)
Dr. Naveed Azhar is one of the best hair restoration, cosmetic and consultant surgeon in Islamabad. In 2003, he received his diploma from the esteemed Punjab Medical College in Faisalabad. He began his training in surgery and decided to specialize in cosmetic surgery.
In 2007, he became a member of the College of Physicians and Surgeons of Pakistan and the Royal College of Surgeons of Edinburgh. Dr. Naveed Azhar has been working in the profession for more than 15 years. He has always performed his surgical duties with excellence. He received a fellowship in plastic surgery from the College of Physicians and Surgeons of Pakistan after completing his training.
As a board-certified surgeon and subject-matter authority, Dr. Naveed Azhar is a specialist. His personality combines his extensive knowledge, finely honed surgical abilities, and desire for improvement. A plastic surgeon must deal with the procedure's aesthetic and reconstructive components from head to toe. Plastic surgery is a diverse specialty.
He has twice presented his research papers at the annual meetings of the Pakistan Association of Plastic Surgeons, which he frequently attends. His work on post-burn neck and hand malformations drew praise from plastic surgeons around the nation.
Professional Memberships:
Pakistan Medical Commission (PMC)
Member of Royal College of Surgeons of Edinburgh
Specialization:
Plastic Surgeon
Reconstructive Surgeon
Social Links:
You can find Dr. Naveed Azhar on popular social media platforms:
Instagram
LinkedIn
Services:
He finished his cosmetic surgery fellowship and started working as a consultant. His experience in general plastic surgery, ear, eye, nose, face, and belly beautification, as well as anti-aging procedures, is extensive and diverse.
He has focused his emphasis on cosmetic surgery for the past ten years and has received formal training in many areas of this broad subject. In terms of hair transplants, he is an authority (Both follicular unit extraction and follicular unit transplantation). When it comes to hair regrowth treatments, such as platelet-rich plasma therapy, he is the best choice.
He is also skilled at lifting various body parts, including the buttock, the eyelid, the ladies' breast, the nose, the prominent ear, reconstructive surgery, and any other lifting technique. He also has experience in dermatology. He is an expert in chemical peels, skin laser treatments, and filler injections.
FAQs