Genetics is the most frequent reason for darker gum colors. Gums with too much melanin can become dark or black rather than pink. The other pigment indicates no illness or dysfunction. Patients seek therapy because they like the aesthetics of pink gums that better highlight their teeth. If you want to make your gums brighter, you can choose Gum Depigmentation treatment in Islamabad, Rawalpindi, and Pakistan. It will give you desirable results and a bright smile.
On this page, you will learn everything about the treatment, including procedure, results, benefits, cost, and many more. So, take a moment and read the following information.
About Gum Depigmentation Treatment:
A cosmetic periodontal technique called gum depigmentation, commonly referred to as gum bleaching, is performed to get rid of dark areas on the gums. As a result, gum tissue that is normal and healthy will normally be a light pink tint.
However, excessively high levels of melanin can result in dark spots and patches forming on the tissue in the event of gum depigmentation. In addition, many men and women experience lower confidence and self-esteem due to this discoloration, which can also influence how your smile appears.
Normal healthy gums should be a light pink tint. However, because of their naturally increased melanin synthesis, folks with darker skin tones may see a brown tint on their gums. In addition, some people are genetically predisposed to have darker gums, whereas, for others, a variety of events may cause changes in the color of their gum tissue.
The Final Results:
After getting a gum whitening treatment, you will get effective, noticeable, and instant results. It may require a short recovery period, but you will obtain a broad, attractive smile once it's over. So, it is very important to take good care even after the surgery and get an appointment every six months.
However, selecting a skilled dental professional who can carry out your treatment precisely and flawlessly is important. The dentist's performance is important for the dental procedure to produce the desired results.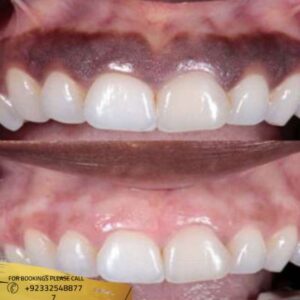 Top Benefits:
Generally speaking, receiving this incredible dental procedure will have a lot of advantages for you. Below is a list of some common and significant benefits.
Less invasive and non-surgical method.
The most efficient, painless, and secure way.
Amazing and long-lasting natural color outcomes.
No time for healing and severe negative effects.
The process is the quickest.
You'll be able to smile more.
It is an affordable and cost-effective solution.
Your teeth won't be affected by it.
Who Can Be A Good Candidate?
When you consult your skilled dental professionals, they typically demand that you take an assessment test to see whether you are a good candidate for Gum Depigmentation Treatment in Islamabad, Rawalpindi, and Pakistan. The majority of patients opt for this procedure due to cosmetic considerations. However, it's crucial to meet the requirements for candidacy. If any of the following apply to you:
Having gums that are dark brown or black.
Wish to enhance the appearance of your smile.
It will be advantageous if you do not have any oral illnesses.
Your gums might cause periodontal infections if they are black.
It is preferable to avoid thin gum skin.
If your gums are in good shape, you'll be perfect.
How To Prepare Yourself For Procedure?
To ensure a successful and secure process, it is crucial to adhere to your dentist's recommended recommendations for gum depigmentation treatment. In your first meeting, your doctor will assess your health and give you a few general guidelines, including those listed below:
At least a week before treatment quit smoking.
Aim to refrain from drinking alcohol.
Avoid using any drugs that thin the blood.
It would help if you brushed your teeth twice daily.
The Procedure:
The easy procedure of gum depigmentation treatment is described below, and they will be carried out at our clinic by a skilled dental professional:
The dentist will use a local anesthetic to help reduce discomfort and agony while performing the treatment.
Then the treatment will be done with a laser, and the heat from the laser will destroy the gum tissue's top layer.
After the process, the new layer of skin will finally show through in a pink tone.
Therefore, whitening the gum may take 25 to 55 minutes before you can safely return home. Additionally, receiving reliable findings might take several sessions if the candidate gets reliable results.
Aftercare Instructions:
The practitioner will provide you with some post-care advice to follow during the healing phase after the treatment. Although the recuperation time is brief, it must be attended to. The following list includes some typical instructions:
Don't drink alcohol.
Stay away from cigarettes and smoking.
Follow the directions for a healthy diet.
Use mouthwash and brush your teeth every day.
Try to stay away from meals that will harm your mouth or gums.
Regular checkups every three months can be necessary.
Cost Of Gum Depigmentation Treatment At Rcs:
The average cost of Gum Depigmentation Treatment in Islamabad, Rawalpindi, and Pakistan range from 5000- pkr to 30,000 pkr. Also, there are some factors that can increase the cost of the treatment. Such as:
Expert dental practitioner's fee.
Clinic's reputation and location.
The number of sessions.
Other additional charges.
If you are confused or don't understand these factors, you can contact us or visit our clinic anytime. We are here to provide you with all information.
Book Your Appointment With Us!
If you wish to undergo a painless, efficient, and safe procedure to restore your smile's attractiveness and confidence, call the Royal Cosmetics Clinic for gum depigmentation treatment. We give you satisfying results while giving this great treatment at economical prices. We are anticipating your arrival!