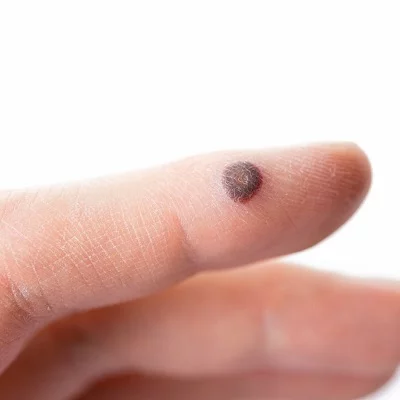 Warts Removal in Islamabad, Rawalpindi, and Pakistan may contain different procedures like chemical peels, lasers, and certain surgical options. Basically, when the human papillomavirus (HPV) infects skin cells, they grow faster than normal, resulting in warts or lumps. We are all exposed to HPV daily, especially when shaking hands or touching surfaces. However, only a small percentage of people develop warts.
Several types of people get unwanted warts on different parts of their bodies. Some may not give attention, but many get irritated and want to get rid of them. 
You will learn everything about this treatment, including its procedure, results, benefits, effectiveness, cost, and many other things, on this page. So, take a moment and read the following information. 
What Are Warts:
Warts are small, irritating skin growths that are the same color as the skin. They are self-limiting tumors that form when a virus comes into contact with the skin. They are common and can grow on any part of the human body. 
They are also highly contagious, which means they can spread through contact. It typically grows on accident-damaged parts. Warts, on the other hand, do not cause itching or pain in the affected area. Some warts vanish without treatment, while others take months or years to vanish.
About Warts Removal Treatment:
A type of treatment, surgical or non-surgical, performed to remove unwanted lesions from body parts is known as warts removal. If the wart is still in its early stages, your dermatologist may recommend medication to treat it. Cryotherapy, electrocautery, surgical removal, and laser surgery are all common treatments for warts.
However, if you are choosing noninvasive treatments, then it might take several sessions to remove the wart permanently. On the other side, if you choose a surgical procedure for a severe condition, it will be a one-time procedure. 
Treatment Options:
According to the royal cosmetic clinic, our experts offer several treatments to remove unnecessary warts from any body part. The most demanding treatments are mentioned below
Topical Medication  –

if the candidate is experiencing an initial stage of warts, it will be treated with topical medications. That is how you may dont need any other treatment. 

Cryotherapy –

it is also known as wart freezing treatment. It is because treating warts completely necessitates a series of freezing treatments. It was the most commonly used warts removal treatment for adults a few years ago. 
However, because it is a painful procedure that may leave scars, it has been phased out in favor of more advanced treatment options. Although this method is unpleasant, it is not dangerous. Furthermore, scarring is more common in people with darker skin tones.
Chemical peel – Flat warts are treated with chemical peels. Flat warts are most often found on the face, thighs, or arms. Face warts can be removed with a chemical peel. A chemical peel is applied to the skin and left on for approximately 20 minutes. It removes the top layer of the skin and removes the wart in a few sessions.
Laser therapy – it is currently the best available option for treating warts in a safe and effective manner. The treatment area is first numbed with a numbing injection or gel before laser treatment. The skin will be exposed to intense laser beams, which burn away and destroy warts.
Surgical procedure –

last but certainly not least, if the candidate is experiencing a severe issue with the appearance of warts or if it is getting big in size day by day, then your doctor may recommend a surgical operation. It will be performed under local anesthesia by making an incision and eliminating warts. After that, the cut will be closed with stitches. The results will be permanent. 
Our Best Results:
After getting the treatment, the results may depend upon the treatment type and condition of the candidate's warts. Also, the results may vary from person to person. Once you get a proper treatment course from a professional practitioner, you will get amazing, effective, and long-lasting results. 
It is necessary to attend the proper number of sessions if you are choosing nonsurgical treatment. Moreover, taking good care of your skin will lead you to clear and smooth skin. 
Who Are Suitable Candidates:
Before undergoing the procedure of Warts Removal in Islamabad, Rawalpindi, and Pakistan, it is necessary to be an eligible candidate. Otherwise, it will not work on you, and you may get affected. So, the candidacy criteria are
You must be above 18 age. 

A person who is irritated by warts. 

Free of other skin diseases. 

Suitable for both men and women. 

Those you need perfect clear and smooth skin. 
Top Benefits:
Generally, there is a huge number of benefits that you will achieve by getting this treatment. Some common benefits are listed below.
It will give you long-lasting and effective results. 

The procedure will enhance the texture. 

Remove unwanted warts permanently. 

Assists you in obtaining scar-free skin.

Safest and most cost-effective method.

Remove the itchiness and pain from your body.

Improve your self-confidence and self-esteem. 
Precautions To Take:
Before the procedure day, you must follow some important precautions that can save you from after-procedure complications. Some common precautions are
When going out in the sun, always wear sunscreen.

Fill out your prescriptions ahead of time.

Avoid any other skin treatments for at least a month before wart removal.

Retinoids-containing creams should be discontinued.

Take no acne medications before the treatment.

Avoid smoking tobacco or drinking alcohol. 

Keep yourself hydrated. 
Aftercare Instructions:
After the treatment, your practitioner will recommend a few aftercare instructions necessary to follow for not to experience complications. Some common instructions are 
Apply sunscreen frequently.

All medications should be taken regularly.

Avoid picking at your skin.

Do not rub the skin unnecessarily. 

Exfoliating the treated area should be avoided for at least two weeks.

Use gentle skincare products.

Don't go out in direct sunlight. 

In case of a severe reaction, inform the doctor immediately. 
Cost Of Warts Removal Treatment At Rcs:
The average treatment cost for Warts Removal in Islamabad, Rawalpindi, and Pakistan ranges between 3,500 PKR to 7,500 PKR. Also, the cost may be affected by including a few factors, such as
The expert practitioner's fee. 

Clinic's location and reputation. 

The number of sessions. 

Condition of the candidate's skin. 

Other additional charges. 
Moreover, you can contact us anytime if you have any questions about the cost, its factors, or other concerns. 
Book An Appointment With Us:
Do you want to meet with top dermatologists one-on-one? If you answered yes, you've come to the right place. The Royal Cosmetic Surgery Clinic provides its clients with online initial consultation sessions. Please complete the form below to contact our board-certified dermatologists about Warts Removal Treatment.