What is hyperpigmentation and its causes?
Fresh, bright, radiant, and flawless skin is the dream of everyone because flawless skin increases confidence level by making you attractive. On the other hand, people with darker skin tones always feel conscious bout their skin color and texture. Hyperpigmentation is the medical term used for darker patches of skin. It usually occurs when melanin is overproduced by the skin and makes an area of the skin darker than the surroundings. However, there are certain causes like aging spots, sun spots, acne, hormonal changes, eczema, burns, cuts, melasma, injury, inflammation, freckles, drugs, cancer, etc. In this condition, the skin produces spots in brown, tan, grey-brown, and black spots also depending upon the root cause. If you are a victim of this condition, does not mean you have given up because Hyperpigmentation Treatment for Black Skin in Islamabad is providing the best and hygienic treatments to get rid of darker skin with quicker and guaranteed results. Several treatments are available here to help you get rid of dark and patchy skin.
What are the areas of hyperpigmentation?
The areas of the body which can go under hyperpigmentation are:
Face
Nose
Cheeks
Forehead
Chin
Neck
Arms
Chest
Shoulders'
Jawline
What are the advantages of treatment?
The treatment aims to provide you several benefits which are:
Makes the skin radiant and flawless.
Improves the appearance.
Minimizes the dark spots.
Improves skin hyperpigmentation.
Quick recovery with minimal downtime.
Can be applied to all areas of the body.
What is the procedure to treat hyperpigmentation?
Laser
In the procedure, a beam of light is applied to the targeted area to remove spots. Before treatment, the examination of the area is done by the doctor also marked with the help of a pen to identify the hyperpigmented areas. Also, everyone in the room is instructed to wear protective eyeglasses.
Chemical peels
A strong acidic wrapping or mask is used to peel the outer layer of skin. The upper layer of hyperpigmented areas is removed and new skin develops in a lighter color and smoother in texture.
Microdermabrasion
A similar procedure removes the upper skin of scars using a specialized machine. During this procedure, a drill-like handle is used with a brush that swipes over the skin and removes the spotted skin.
Hydra facial
The most popular treatment preferred by celebrities is used to make your skin brighter and radiant. The treatment is done by using a patented device or machine after consultation by a doctor. The machine exfoliates, cleans, and hydrates the skin by removing dirt and impurities.
Mesotherapy
The procedure works by injecting hyaluronic acid in pigmented areas and takes 30 to 40 minutes. The skin will be saturated with active substances like vitamins, minerals, and trace elements which result in maintaining the skin's elasticity, tone, and firmness.
Topical products
A few topical products are also used like:
Ointments containing vitamin C.
Azelaic acid
Hydroquinone
How does it perform?
The various types of techniques require specific procedures and equipment, performed under proper supervision by expert dermatologists. The patient's medical history is gathered also local and general anesthesia is given as needed. The procedure steps are:
At first, the areas are cleansed of and an ointment is applied to the skin to relieve pain.
After that, a specific procedure of laser or chemical peel or mesotherapy is performed.
Finally, the treatment is completed and soothing gel is applied to the skin.
What are the authentic results?
The results are incredible, can be seen within a few weeks of treatment, however, the outcomes may vary from one person to another depending upon technique and number of sessions. The results can last from 6 to 12 months, but, for more enduring results, you can repeat the procedure by taking more sessions.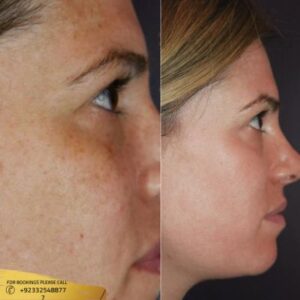 Cost of Hyperpigmentation Treatment:
The cost of Hyperpigmentation Treatment for Black Skin in Islamabad vary from one individual to another also some are cost factors like consultation fee, technique type, number of sessions, size and number of targeted areas, location and reputation of the clinic, etc. however, the cost at Royal Clinic in Islamabad ranges between 10,000 PKR to 12,000 PKR per session.
Conclusion:
Hyperpigmentation Treatment for Black Skin in Islamabad is on crowning among people due to its quick results with no downtime. If you are facing symptoms of hyperpigmentation and looking for ways to get rid of them by making your skin brighter and flawless then, nothing to worry about and consider Royal Clinic in Islamabad for a variety of treatments. We have the best dermatologists who will resolve all your problems and give you the skin you want. Also consult, our expert doctors to seek advice.