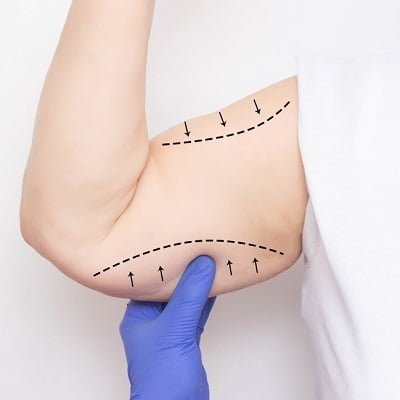 Sculpted or smooth arms, although it may sound like a dream, many people think the only way to achieve it is to spend hours in the gym training every arm muscle imaginable. However, if you want to get noticeable and instant results without making an effort, then consult the Royal Cosmetic Clinic for Arm Lift in Islamabad. So, you will get the well-contoured and proper shape of arms.
On this page, you will learn about the arm lift procedure, including its results, benefits, cost, and many more. So, take a moment and read the following details.
What Is Arm Lifting Treatment?
The surgical procedure known as an arm lift, or Brachioplasty in medical, enhances the appearance of the upper arms by reducing sagginess and enhancing their shapes. If done correctly, an arm lift may transform your arms from fat to fantastic.
Your shape and outfit will look great with sculpted upper arms. This is a very safe and efficient cosmetic procedure with little chance of leaving scars but still, thanks to modern technologies. Sometimes, an arm lift is also performed by liposuction procedure.
What To Expect In Results?
After getting an arm lift surgery, you will notice that your saggy arms will be accurate in shape, and there will be no unwanted fat area left. Brachioplasty or arm lift surgery results will be effective, amazing, and long-lasting. It might become a saggy decade, but you must follow your surgeon's instructions to enjoy the effects long-term.
Benefits Of Arm Lifting Treatment:
Generally, there are countless benefits of having arm lift treatment. Some major and common benefits are mentioned below
The results will be long-lasting and immediate.
Your arms shape will be improved and well-contoured.
There are no side effects or complications.
Satisfying and expected performance.
Cost-effective procedure.
Suitable for both men and women.
Who Can Be A Right Candidate?
Before undergoing the procedure of Arm Lift in Islamabad, it is necessary to fulfill the candidacy criteria. The effects of the treatment will be seen on eligible candidates. Anyhow, the basic criteria are mentioned below
You must be above the age of 18.
Those who have saggy skin of arms.
If you want to improve and contour the shape.
Suitable for all types of people's skin.
Pregnant and breastfeeding women aren't eligible.
How To Prepare For The Procedure?
Your surgeon will examine your body and prescribe you some precautions before the procedure. So that is how you will not experience complications during and after the surgery. Anyhow, some common precautions and preparation tips are mentioned below.
Do not take blood-thinning medications.
Avoid smoking or drinking alcohol.
It would be best if you stopped taking vitamins and supplements.
Submit your medical history and blood test reports.
Prepare yourself mentally and physically.
How Will The Procedure Perform?
Your surgeon will first mark the areas on your arm where they will make incisions on the day of your procedure. Although there are several ways to perform an arm lift, the inside or rear of your arms is where incisions are most frequently made. Alternatives include an incision in the armpit or one that goes from the top of the elbow to the armpit.
Depending on the surgical technique your doctor chooses, you will then either receive a local anesthetic or general anesthesia. Next, your doctor enters and tightens or reshapes the tissue in your upper arm using the marks they created on your arm as a guide. Your skin is then pulled back over the tissue, and the surgical area is stitched up.
Your plastic surgeon may also perform liposuction at the same surgery to get rid of any additional pockets of fat that could delay the full healing of your arm. Typically, the entire process takes 3 to 4 hours. Again, you'll need someone to drive you home from the appointment and stay with you overnight after surgery to make sure nothing goes wrong.
Aftercare Instructions:
After the procedure, the surgeon will recommend medicines and some aftercare instructions that are necessary to follow. These are mentioned below
You have to wear comfortable and loose clothes for a few days.
Take painkillers or antibiotics according to the surgeon's prescription.
Avoid taking aspirin; it makes your blood thin.
Do not smoke tobacco or drink alcohol.
It would be best if you don't go to the gym or do physical activities.
In case of severe pain, inform your surgeon immediately.
Cost Of Arm Lift At RCS:
The cost of an Arm Lift in Islamabad depends from candidate to candidate. Because every single person has their own concerns, and the treatment is planned according to their affordability and expectations. Anyhow, there are a few factors that can affect the cost of the treatment, such as
Expert surgeon's fee.
Location and reputation of the clinic.
Size of the saggy skin on arms.
Other supporting charges.
Furthermore, if you want to know more about the cost or its factors, then you can contact us or visit our clinic anytime. Our expert team will guide you accordingly.
Book Your Appointment With Us!
Therefore, if you want to get your arms contoured and well-shaped, then you must visit the Royal Cosmetic Clinic. Our experts will perform your treatment according to your expectations and give long-lasting and effective results. So, please don't wait and book your appointment with us.