What is Eye Bag Removal Surgery?
Young-looking and fresh eyes enhance your appearance because eyes are the window to the soul. Eyes are the most noticeable feature while communicating with someone. Fresh eyes boost confidence level by making appearance young and attractive. However, due to many causes, eyes became droopy and saggy like allergies, pigmentation, sun exposure, aging, fluid retention, high salt diet, lack of sleep, genetics, medical issues, etc. Because due to these issues elastin and collagen levels reduce in the body. If your eyes seem to be saggy and droopy, it does not mean you need excessive sleep or remedies. You don't have to face the signs of aging anymore, because Eye Bag Removal in Islamabad is the best procedure to reverse the signs of aging by removing eye bags and puffiness. The procedure removes the excess skin from the eye area and tightens the muscles.
Reason To Choose Surgery:
A few reasons to choose eye bag removal surgery are:
Mild swelling beneath eyes.
Saggy or loose under-eye skin.
Puffiness under the eyes.
Heavy under-eye bags.
Fat around the eyelids.
Wrinkles under-eyes.
Actual Results of Surgery:
The outcomes are long-term which can last up to 7 years. After surgery, one can enjoy smoother and young-looking eyes. Moreover, a patient can see the outcomes after a few weeks, however, final results may take up to 6 weeks. The surgery has 91% success rate but, with time, the skin under the eyes starts to lose again. A healthy lifestyle can give you more enduring results.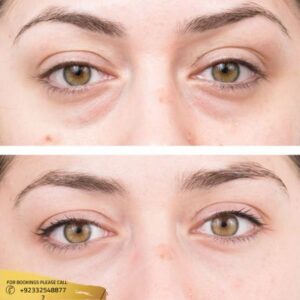 Benefits of Surgery:
The most common benefits of the treatment are:
Boost confidence level.
Inverse the signs of aging.
Reduce under-eye bags.
Makes your eyes young-looking.
Removes excess folds.
Enhance appearance.
Restores the younger shape.
Minimal scarring.
Removes drooping eyelids.
Ideal Candidates:
The ideal candidates of blepharoplasty are:
Healthy one.
Mostly beyond the age of 30.
In some cases, the age is above 18.
Realistic people.
Prepare For Treatment:
Before surgery, prepare like:
Schedule an appointment with your doctor.
Go for medical lab tests.
Avoid smoking for a few days.
Your doctor will:
Gather medical history.
Discuss candidacy criteria.
Take photographs if needed.
Procedure Steps:
It is an out-patient procedure that takes one to three hours depending upon the amount of fat to be removed, moreover, consists of a few steps:
At first, local anesthesia or numbing agent is given to the patient to relieve pain during surgery.
After that, the surgeon makes an incision inside the lower eyelid or beneath the lower eyelash.
Through this incision, fat and excess skin is removed also, tightening of muscles is done here.
Finally, incisions are closed by using stitches or glue.
Techniques:
There are some other non-surgical treatments available to remove under-eye bags which are:
Dermal fillers
Laser resurfacing
Chemical peels
Some Guidelines After Surgery:
A few guidelines are necessary to be followed by a patient for instant healing are:
Keep the area dry.
Avoid strenuous activities for a few weeks.
Eat a healthy portion of food.
Take prescribed medicines.
Do not rub the area.
Apply suggested ointments in case of pain.
Avoid smoking for a few days.
Use ice packs on your eyes.
Avoid direct exposure to the sun.
Side Effects of surgery:
The side effects associated with the surgery which a patient can feel in the initial days are:
Bleeding
Double vision
Tightness
Numbness
Swelling
All the above issues will resolve after a few days with proper care and medications.
Recovery Time of Surgery:
The recovery takes 3 stages which are bruising, swelling, and healing. At first, bruising go away within 2 to 3 weeks, and swelling lasts for 8 weeks. After that, swelling goes away. The last stage is healing which is gradual and continual. Also, a patient can continue the work after 5 to 10 days depending upon comfort level. A patient must follow the doctor's instructions carefully to avoid any infection.
Average Cost:
The surgeon's experience and your comfort zone are as important as the cost. However, the quality of eye bag removal surgery is more critical than cost, also, it is a matter of eyes so always choose the best one because it is the most sensitive part of the body. However, the cost of Eye Bag Removal in Islamabad is affordable also varies from individual to individual depending upon a few factors like:
Consultation fee
Surgical fee
Anesthesia fee
Doctor's expertise
Type of technique
Locality and the reputation of the clinic
Size of the targeted area
Operating room charges
Other hospital's charges
Moreover, the cost in Royal Clinic in Islamabad is reasonable also ranges from 100,000 PKR to 120,000 PKR.
Book an Appointment:
Eye Bag Removal in Islamabad is the safest and most hygienic surgery that aims to provide you with a refreshing and youthful look by removing eye bags. Many people around the world have started a new life after going through eye bag removal surgery. If you have eye bags and want to convey these signs of aging then, book an appointment with us at Royal Clinic in Islamabad. We have board-certified and expert surgeons who will treat and guide you better. You can consult in case of queries also.