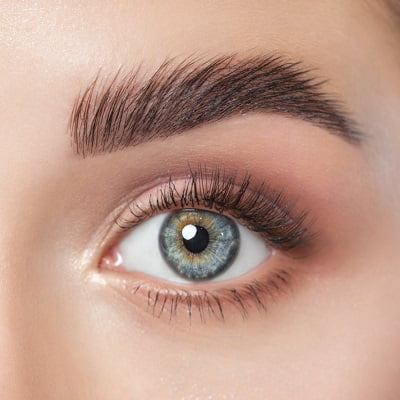 Previously, super-thin brows were considered fashionable. However, fashion changes, and now thick brows are in. You can waste time drawing precise brows with a pencil, but they won't last long. That's great news for women who have naturally thick brows. 
However, women who have overplucked or overwaxed their brows and are suffering from eyebrow hair loss and naturally thin brows may be disappointed to learn that having thick brows is now fashionable.
Our clinic offers an effective and life-changing treatment as an Eyebrow transplant in Islamabad, Rawalpindi, and Pakistan. So, read the following page for more information about this treatment, including the procedure, results, benefits, cost, and many more. Continue reading!
What is An Eyebrow Transplant?
A type of cosmetic procedure that restores brows to their natural state is known as Eyebrow transplantation. There are numerous reasons why someone might want an eyebrow transplant, ranging from patients who have lost their brows due to medical conditions to those who have previously had excessive eyebrow plucking, but regardless of the reason, eyebrow transplant surgery provides a permanent result of a facial transformation.
The procedure is similar to the FUE Hair Transplant, with the only difference being the placement of the hairs. The brows grow naturally after the transplant and can be plucked if necessary.
Does It Work Accurately?
Since the donor hair transplanted into the brow comes from the scalp, it will grow to be the same length as the rest of your hair. As a result, the brow hair transplanted should be trimmed ever so often. 
This is quite common for brow transplantation; the transplanted hair can be modified and may not require trimming after a while.
Aim Of The Treatment:
The following are the goals of brow hair transplant:
First, it will aid in the restoration of your brows.

Second, it will assist you in improving the shape and thickness of your existing brows.

Third, it will make your brows grow for the rest of your life.

Fourth, it will be a complete eyebrow hair transformation.

It will require the enhancement of pre-existing brows.

Finally, it will assist you in maintaining youthful-looking brows even in old age.
Our Best Results:
According to RCS's experts, you will get long-lasting, effective, and desirable results. It may take 3 to 4 months for the growth. After the fourth month of surgery, patients begin to notice naturally growing brows. The hair grows and can be plucked or trimmed. However, a brow transplant takes about a year.
Moreover, it is necessary to choose an expert surgeon for accurate outcomes. The performance of a surgeon plays a major role in obtaining successful results. So, do a favor to yourself and make the decision wisely. 
Top Benefits: 
Generally, there are several benefits of getting eyebrows transplantation from our clinic. Some common benefits are listed below.
The results will be successful, effective, and long-lasting. 

Most workable and famous solution for correcting thin eyebrows. 

A full set of brows will frame your face and draw attention to your eyes.

Correctly formed brows with no gaps between the hair

the feature will be highlighted prominently. 

There are no serious complications or side effects.

It is a cost-effective and one-time investment procedure. 

You will get self-confidence and beautiful facial feature. 
Who Can Be The Right Candidate: 
Someone who has overplucked their brows or is experiencing hair thinning due to genetics or aging without alopecia is the best candidate for an Eyebrow transplant in Islamabad, Rawalpindi, and Pakistan. 
However, the candidate must undergo a medical examination before this surgery. It would be best if you consulted with your surgeon to know who can be a good candidate because a few kinds of patients can't get the treatment. 
Precautions To Take:
The surgeon will instruct you on properly following these precautions or a few Instructions before undergoing the Eyebrow Hair Transplant. Some common precautions are
Avoid taking blood-thinning medications such as aspirin, ibuprofen, and other pain relievers.

Put down your herbal supplements.

It would help if you avoid smoking and drinking alcoholic beverages.

You must refrain from wearing makeup before going to the clinic for the procedure.

Keep yourself hydrated by drinking a lot of water. 
The Procedure – How it Will Perform:
The Eyebrow Transplant procedure is technically similar to other hair transplant procedures, but it takes less time, is less complicated, and does not result in the most complications. The procedural steps are mentioned below.
Local anesthesia is first administered to patients.

The hair grafts are removed from the scalp, hand, or public area using a dedicated micro-perforation instrument.

The extracted grafts are then prepared in the desired shape and size, considering the amount of filling needed and the direction of hair growth.

Very fine holes are made in the brows with a very small needle, and hair follicles are inserted into them, considering natural fullness and cosmetic purposes.
Therefore, the total duration of the procedure will be 3 to 4 hours as it might be less or exceed after observing the candidate's condition. 
Recovery Period:
The recovery time for a brow transplant is short. However, you may notice scabbing around the brows within the first few days. It's crucial not to pick at these.
You should avoid strenuous exercise for up to three weeks after surgery. Contact your surgeon immediately if you notice any bleeding, swelling, or pus at the site.
After a few weeks, the transplanted hairs will fall out. Over the next several months, your new brow hairs should grow. Meanwhile, the transplanted hairs may need to be trimmed to brow length.
Aftercare Instructions:
After the procedure, the surgeon will guide you in caring for yourself and the treated area. The surgeon will prescribe you a few aftercare instructions that are necessary to follow, such as;
Begin taking the recommended medications as soon as possible after the surgery.

You must refrain from washing your face for 24 to 36 hours following the procedure.

For at least two weeks, avoid taking blood-thinning medications.

Smoking will be prohibited for the next two to three weeks.

You must refrain from consuming alcoholic beverages for at least three days.

Avoid touching, rubbing, and itching your brows.

For 3 to 4 weeks, you must keep your newly transplanted brow out of direct sunlight.

In case of severe pain, inform your surgeon immediately. 
The Cost of Eyebrow Transplant At RCS:
The cost of an Eyebrow transplant in Islamabad, Rawalpindi, and Pakistan depends on a few factors. Also, a few factors can affect the cost of the treatment. Such as
The experienced surgeon's fee. 

Clinic's location. 

The reputation of the clinic. 

The number of hair follicles. 

Anesthesia fee. 

Other additional charges. 
Furthermore, if you want more information related to its cost or factors, you can contact us or visit our clinic anytime. 
Book Your Appointment With Us:
If you want to permanently treat your brow hair loss and have a pair of fuller and thicker brows at a reasonable price without having to deal with botched and unnatural results, please consult the Royal Cosmetic Surgery Clinic to undergo the Eyebrow Transplant procedure. We are here to provide you with amazing and satisfying services with a memorable experience.