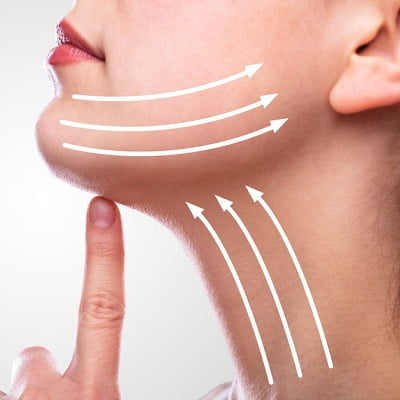 Aging has its consequences; some of them are good but the others are really bad. Now these signs of aging can be reversed if you want. This procedure is done along the neck, lower jaw or face. It is a process that takes hardly 1 to 2 weeks for results and may assist you in delaying or avoiding a facelift or another more invasive type of cosmetic surgery. It redefines the age-vulnerable neck and jawline. You will find out more about the Nefertiti lift Treatment for jawline in Islamabad-Pakistan, including the procedure's recovery process, pricing estimates, and other details in this article.
What is Nefertiti Lift Treatment:
This treatment has been named after the Egyptian Queen Nefertiti who was the symbol of beauty of her era. The injections of botulinum toxins are used for rejuvenating and uplifting effects. More specifically the lower part of face, jaws and neck are targeted. Botulinum toxin is a bacterial compound that, when injected into your body, momentarily disables the neurons that control your muscles' ability to contract. Wrinkles and other age-related symptoms may be brought on by muscle contraction. It specifically affects the ones that draw your jawline downward, most notably that extend vertically from the bottom of your face to your collarbone.
Who are the Suitable Candidates for Nefertiti Lift Treatment?
You are suitable for the procedure if you have following characteristics:
Those people who wants to add definition in their jawline
Ones with wrinkles and sagginess in the neck area.
If you have loose jowls
Patients with a generalized sagging in the face due to weight loss
Those who frequently stiffen up their necks, making the area look older
For being an ideal candidate you must possess these characters:
You must have a minimum age of 18 years
You are not nursing or pregnant at the time of therapy.
You are not known to have any Botox allergies
You are not suitable for the procedure if you have:
Who have an infection-related Eaton-Lambert syndrome or myasthenia gravis
Who are pregnant, breastfeeding
Who have a family history of any of those disorders
Consuming any prescription meds or illicit drugs that conflict with botulinum toxin
Person has some mental illnesses
Cost of Nefertiti Lift:
Choosing to have a Nefertiti lift is a cosmetic decision. That implies that your insurance will not cover it. As any cosmetic procedure is not covered by insurance. These are out of the pocket costs.
The price of Nefertiti Lift Treatment for jawline in Islamabad This is usually confirmed during your first visit. So if you want to get the full information about the cost of the procedure then you can book your first consultation with us. Our dermatologist will provide you with the total cost estimate. As the cost may vary depending upon the type of area treated and dose required.
Depending on where you live, a Nefertiti lift can cost different amounts. The cost may also be influenced by your doctor's experience.
How Does the Nefertiti Lift Work?
Patient is administered with series of botox injections. They are administered in two areas:
Along the lower jaw line
Into the neck area muscles
Because the muscles are calmed as a result of the properly placed Botox injections in the neck and jawline, the area is lifted and becomes tauter and tighter. Saggy skin is also reduced.
Results:
The results are visible after 2 to 3 weeks of treatment. The jaw line will be more defined, neck uplifted and face will get the desired shape. This is the only perfect non-invasive treatment for getting the desired outcomes.
How to Maintain the Results of Treatment?
For the injections to work properly, Dr. Ayusha might give you a few straightforward instructions.
You might be instructed to refrain from doing any heavy activity, lying down, or massaging your chin and neck for a few hours following the operation.
DR. Ayusha might be able to give you a specific idea of how long the effects will persist since they last differently for every person.
You can keep a defined appearance with follow-up injections at Royal Cosmetic Surgery Islamabad.
To create an ongoing treatment plan, Dr. Ayusha can collaborate with you and your objectives.
Benefits of Nefertiti lift:
Following are some of the benefits of Nefertiti Lift Work:
Better definition of the jawline
Enhanced look of noticeable neck bands
Hurried treatment
A surgical technique substitute that is efficient
Side effects of Nefertiti lift:
Following are some of the side effects of Nefertiti lift:
Make sure the doctor you visit has experience administering injections.
Doing your study is crucial because placing too much in the incorrect place could cause difficulties chewing or swallowing.
Dr. Ayusha Khan has performed this procedure for many years and is aware of the precise placement of the product for the most secure and effective outcomes.
Nefertiti Lift Injection Sites:
The Nefertiti Lift has a list of target areas.
Along with the Platysma and Mentalis, they also contain the depressants Labii Inferioris and Anguli Oris muscles.
The Platysma causes a number of unfavorable signs of ageing, such as banding in the neck and jowl depression.
The remaining muscle groups can cause the drooping of the mouth.
Schedule your Nefertiti lift in Islamabad:
Dr. Ayusha Khan is the one of the best dermatologist of Royal Cosmetic Surgery Clinic Islamabad. She is an accomplished doctor who wants to offer top-notch facial aesthetic and cosmetic dermatological services. You can accomplish your cosmetic objectives for Nefertiti lift Treatment for jawline in Islamabad-Pakistan  with her assistance because she is a pioneer in injectable therapies and nonsurgical rejuvenation. So book your consultation with us by calling us directly or by filling out the form below. We will be delighted to serve you.