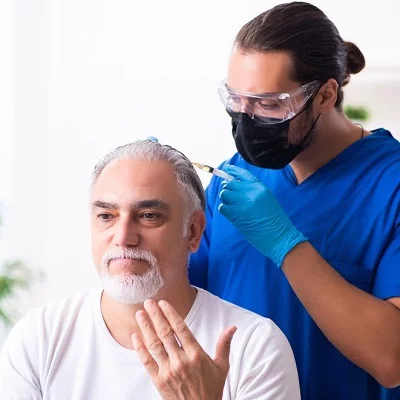 Nowadays, Hair loss is a common problem among men of all races worldwide, and it is one of the most frustrating problems a man can face. The majority of people will face such a problem at some point in their lives, whether it is in their early adolescence or their late eighties. It completely shatters a person's appearance and confidence. Because of modern advanced cosmetic treatments that provide a variety of non-surgical options, visit our clinic if you need to think about Non-surgical Hair Replacement in Islamabad. 
On this page, you will learn everything about such non-invasive hair restoration treatment, their results, benefits, costs, and many other factors. So, take a moment and read the following information. 
An Overview of non-surgical Hair Replacement:
The non-surgical hair replacement technique involves replacing lost hair strand by strand with new ones. Both men and women benefit from this cosmetic procedure. It is the most straightforward hair restoration method because it involves no surgery, pain, or scarring.
The results are virtually undetectable and very natural-looking, but only if you choose the right surgeon. So, for this type of treatment, look for a skilled and qualified surgeon because only he can help you avoid bad outcomes.
Purpose of The Treatment:
Hair replacement is a lasting solution to the problem of excessive baldness, providing undetectable and completely satisfactory results without causing harm to the scalp. 
This non-invasive, safe cosmetic procedure performed at Royal Cosmetic Clinic has received positive feedback from both clients and professionals as the simplest method of hair restoration.
Another advantage of non-surgical hair systems is that they are easily removable if you are dissatisfied with the results, so it is completely worth it.
Our Best Results:
When the treatment is done, the results of non-surgical hair replacement are excellent. They are only expected to last six to twelve months. The durability of such treatments is determined by their type, quality, and how professionally and non-manually they are performed, 
So, if you want to get amazing and outstanding results, then you need to choose the best hair practitioner who can suggest an excellent solution and perform accurately. 
Top Treatment Benefits: 
There are a lot of benefits to choosing such non-surgical treatments. A few common benefits are listed down:
The hair will appear natural and will make you appear younger.

Quick performance, instant results, and zero side effects. 

Your hair system has a maximum lifespan of two to three years.

Effective and safest non-surgical treatment option.

Your receding hairline has been temporarily enhanced.

A cost-effective solution as compared to hair transplantation. 

Your self-confidence and quality of life will be improved. 
Who Can Be a Suitable Candidate?
Non-Surgical Hair Replacement is a good option for people who do not want to undergo surgical hair transplantation. It is the most effective method for instantly increasing hair coverage and density on the scalp. You are an excellent candidate if and only if:
You are not ready for a surgical transplant because you do not have enough healthy donor hair follicles.

A person must be both physically and mentally sound.

You have Alopecia Universalis, diffuse alopecia, alopecia areata, scarring alopecia, or total alopecia.

If your baldness is severe, hair transplantation will not help you.
The cost of non-surgical hair replacement:
The average cost of Non-surgical Hair Replacement in Islamabad ranges between 20,000 PKR to 100,000 PKR. Also, a few factors can affect the cost of the treatment, such as:
By choosing an experienced practitioner. 

Clinical reputation and location. 

Type of hair replacement treatment. 

Size of bald area. 

Other additional charges may include. 
Furthermore, if you have any questions about cost-related issues, you can contact us or come to our clinic anytime.
How To Prepare For The Treatment:
Consider the following precautions when you are preparing for the treatment:
There will be no smoking or drinking of alcoholic beverages.

Do not consume herbal supplements or herbal teas.

Perform all of the prescribed tests a week before the treatment.

This treatment also makes use of hair wigs.
How It Will Perform:
According to Royal Clinic, Non-surgical hair replacement is a simpler and faster procedure than surgical hair restoration, and it is usually completed in 2-3 hours. Before the procedure, human donor hair that is identical to the client's hair characteristics (color, texture, and thickness) is located and arranged to be placed on the scalp. 
After locating the appropriate hair strands, a bonding adhesive is used to secure them to the scalp. It is the most important step in the entire procedure and must be carried out with extreme caution and patience.
After The Procedure:
When the nonsurgical replacement procedure is completed, the practitioner will give you a few aftercare instructions that you must follow to care for your new hair properly. For example:
Please do not attempt to repair them on your own.

Avoid using iron and other heating processes in excess.

Maintain the health of your new hair patches.

Wash them according to the practitioner's instructions.

Brush your hair to keep it from becoming tangled.

Use no chemical products; they can harm the quality of your hair.
Recovery Period:
It can take 3-7 days to fully recover from Non-surgical Hair Replacement in Islamabad. During this time, you may experience tightness, soreness, and irritation in your scalp, which will most likely disrupt your social and personal life for a few days. However, once your rest period is over, you will be able to resume your normal activities.
Book Your Appointment With Us!
As a result, if you want to get a non-surgical hair replacement, consult Royal Cosmetic Surgery Clinic for a variety of options. You will get efficient performance and high-quality results here. 
However, you can schedule a free consultation with us at any time, and we will help you decide how much this treatment will cost you and whether or not you really need it. So, don't wait and get your appointment today!