Are you feeling embarrassed due to overlarge bulky breasts? Want to get rid of muscle and shoulder pain/discomfort? The best solution is available in the form of Breast Reduction Treatment in Islamabad, Rawalpindi & Pakistan or Reduction Mammoplasty.
What is Breast Reduction?
It is a cosmetic surgery that is conducted to reduce the size of breasts. The surgeon removes excess skin and tissues of Breast to reshape it. He may reduce the size of areola, the darker skin around the nipple.
Reasons to Seek Breast Reduction
Every year, thousands of women undergo this surgery. Every woman has her own reason but common reasons are:
Heavy breasts cause discomfort
Larger than normal breasts causes muscle and shoulder pain
Shoulder marks due to pressure on straps of the bra
Desire to get an attractive look
Problem while purchasing right cloth
Desire to take part in sport activities
Benefits of Breast Reduction
Here are some benefits that women can enjoy through reduction Mammoplasty:
Gaining an attractive breast appearance
Restoring self-confidence
Ability to wear any kind of cloth
Free to participate in sport activities
Getting rid of constant embarrassment
Getting back self-confidence
Reduce backache
No more muscle and shoulder pain
Wider choices of swimwear
Preparing for Breast Reduction
Once you have decided that you want a breast reduction surgery then you should start its preparation. Generally, surgeon suggests you to start losing your weight one month before the surgery. Stop smoking two week prior surgery. You have to make medication adjustments that means you need to stop taking some medicines while start taking medicines prescribed by your surgeon. Always plan a preoperative visit to clinic because this visit helps you know better about what steps to take and what to avoid before surgery. In addition, you can ask your doctor which medicines not to be taken before operation. You need support of a family member 1-3 days after the surgery, so it's good to make necessary arrangements.
How Breast Reduction Surgery is Performed?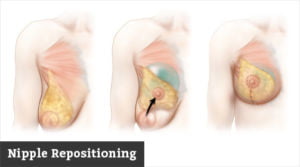 This surgery is performed in surgical clinic. The patient needs to stay in hospital for almost 3 days. It is conducted under general anesthesia and patient goes to sleep during it. However, if a small reduction has to be done then surgeon uses local anesthesia. A professional surgeon removes the excess fat and skin after making incisions or cut in the breasts during this treatment. He stitches the breast after removing skin and fat. Sometimes, he needs to remove and reposition the nipple and areola. There are some cases when most of the breast is fatty tissue, so the surgeon goes for liposuction for removing this fat; he doesn't suggest breast reduction surgery in this case.
Risks of Breast Reduction
Just like other cosmetic procedure, this surgery associate with some risks. Here you find the details of these complications.
The visible and permanent scar that may fade over time
Loss of Sensation in nipples and breasts (temporary or permanent)
Inability to breast-feed after surgery, though some women can do it
Unequally positioned nipples or breasts
Damage to the breast's blood supply is rare
What to Expect During Recovery Process?
The patient needs to wear surgical dressings or a special surgical bra immediately after surgery. A small tube is usually placed in each breast for draining blood and fluid for first couple of days. Nurses remove stitches after two weeks. Women feel pain and discomfort for a week or longer. The doctor prescribes a pain killer to get rid of the pain. Swelling and bruising will be last for 3-4 weeks. It is advisable to wear a support bra for relieving swelling. You can resume your normal work after 2-3 weeks. However, patient should not get involved in heavy exercises and activities for 3-4 weeks. You must wear a good bra that offers good support to your breasts. This surgery leaves a visible scar that may face over time but never disappear.
Results of Breast Reduction
Breast Reduction Surgery in Islamabad, Rawalpindi & Pakistan helps women to get a firmer, smaller, proportionate, and lighter bra. Women feel great satisfaction and comfort after this surgery. They feel a big boost in self-confidence. This surgery helps them get rid of physical pain and discomfort. The results of this Mammoplasty reduction are permanent. However, these results are affected by pregnancy and weight gain.
Many women report breast reduction surgery as a "Life-changing experience". If you want to enjoy this experience then you can contact our expert cosmetic surgeon now.