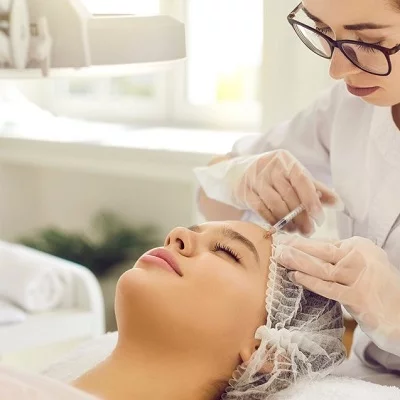 Advanced cosmology introduces several types of fillers that can change your facial appearance or any specific body part shape in just a few hours. Everyone wants a young, accurate, and enhanced facial appearance if we talk about the face. That is why the royal cosmetic clinic offers one of the best and most effective injectable treatments known as Sculptra fillers in Islamabad. You should consult our experts anytime, and they will give you helpful advice.
On this page, you will learn about these fillers, including their work, benefits, results, cost, and many more. So, have a look at the details if you really want to consider this treatment.
An Introduction Of Sculptra Fillers:
It is an injectable procedure that enhances overall facial volume by promoting the skin's natural collagen synthesis. The PLLA microparticles are absorbed by the skin and form a framework that supports your skin's inner structure and aids in restoring facial volume for a more youthful appearance.
Over time, it gently and softly takes effect. However, it is safe and effective and should not be used by anyone who has an allergy to any of its ingredients or a medical condition resulting in abnormal scarring.
How Do They Work?
According to RCS, it is injected into the skin to smooth out wrinkles on the face. In addition, it contains PLLA, a collagen stimulant that helps gradually fill up creases and folds on the face. A softer, more youthful aspect is the outcome of this.
Although you might see some results immediately, it might take a few months to see all of your treatment's effects. You and the practitioner will decide together how many further sessions are necessary to get the best outcome. Three injections, spaced out over three or four months, would be best to consider.
What Can You Expect In Results?
After getting a successful treatment, you will get effective, instant, and amazing results. However, it is necessary to understand that some people get desired results within a few days after the first treatment session. But some of them may require several weeks, so it totally depends from person to person.
Moreover, it would be best to discuss the number of sessions because the effective results also depend on the number of injections. However, you can choose from 3 sessions with a gap of 4 months. If you successfully get this number of sessions, then the results will last up to 2 years.
Topmost Benefits:
Generally, there are countless benefits of choosing Sculptra fillers; some common and major benefits are listed below:
Painless and safe treatment option.
Instant and noticeable results.
You only require three sessions for the best outcomes.
Improve facial appearance and reduce aging signs.
Your wrinkles and facial lines will disappear for a few years.
It is a suitable treatment for both men and women.
Cost-effective and affordable procedure.
Enhance the beauty of the face.
Are You A Right Candidate Or Not?
Before undergoing the procedure, it is necessary to know whether you are the right candidate for Sculptra fillers in Islamabad. It is essential to consult with the practitioner and discuss all the matters initially. They will let you know after examining your condition and health. Anyhow, the basic criteria are mentioned below:
You must be above 20 years of age.
If you want to add some volume to the face.
People who wish to restore their facial appearance.
Both men and women can be the right candidates.
Breastfeeding and pregnant women aren't eligible.
People who have skin allergies or rashes should avoid this treatment.
Before The Procedure:
Luckily, there is no special preparation or pretesting required for this procedure. But it would be best if you don't take blood-thinning medications like aspirin, quit smoking or drinking alcohol, and use the best sunscreen for skin protection. Also, you should discuss everything with your practitioner. If you have any type of allergies or infections, then the practitioner will fix them first.
During The Procedure:
It is necessary to know that the procedure is performed in-office by a trained provider. Sculptra fillers' procedure is very simple and straightforward, just like dermal fillers.
So, the procedure will start by marking the targeted area; the practitioner will apply numbing cream to avoid discomfort. Then they will begin injecting these fillers and perform the procedure according to the candidate's concerns and expectations. It may take 15 to 20 minutes, and you can go home after the process.
After The Procedure:
Simply, it is an injectable treatment that doesn't even have downtime, but our experts are always available to help their clients. They will prescribe you a few aftercare instructions that are necessary to follow to prevent any type of reaction. Anyhow, these aftercare instructions are listed below:
Do not go out in direct sunlight; it can affect your skin and injected fillers.
You can gently massage the treated area for at least 5 minutes.
Use ice packs to eliminate discomfort, redness, swelling, and irritation.
If your practitioner prescribed you any medications, then use them properly.
Otherwise, better to avoid blood thinning medications.
In case of a severe reaction, inform your practitioner immediately.
Cost Of Sculptra Fillers At RCS:
The overall cost of Sculptra fillers in Islamabad may vary from person to person because everyone doesn't have the same conditions and concerns. That is why clients are charged differently, and according to their affordability, we plan the cost ranges. Also, there are some factors that can affect the cost of the treatment, such as:
Experienced practitioner's fee.
Location and reputation of the clinic.
The number of injections.
Further sessions.
Other additional charges.
Furthermore, you can contact us or visit our clinic anytime if you have any queries related to cost and its factors. Our experts will guide you.
Book Your Appointment With Us!
Therefore, everyone aspires to have endearing personalities, but it is important to consider the best treatment for the best results. So, feel free to consult royal cosmetic clinic for Sculptra Fillers if you want your hands, breasts, and buttocks to look larger and plumper. We are here to give you satisfying results and a memorable experience.