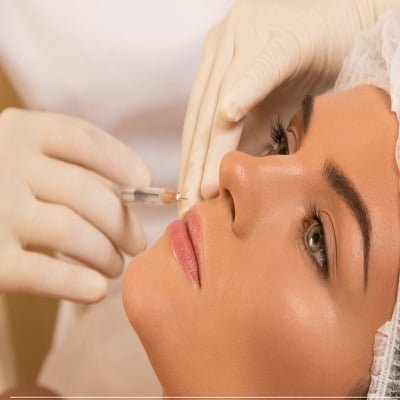 Pink lips are attractive. They boost your confidence and give special glow to your face. They are supposed to be little darker than rest of the body. But certain retrospective events contribute to the darkening of lips. This is termed as hyperpigmentation of lips. Women love to flaunt their pink lips but sometimes they are not able to do so because of certain conditions. Various factors like continuous sun exposure, or intake of tea and coffee beyond a safe limit may make your lips hyperpigmented. Now it has become possible to treat them by advanced technology and invention of new methods. Treating them will give them a new tone and complexion. You can find more about Lip Pigmentation Treatment in Islamabad right here.
Reasons/Causes of lip hyperpigmentation:
Many factors contribute to the deteriorating condition of lips. Some of them are as under:
The most common cause of lip hyperpigmentation is an allergic reaction to the lipstick or any lip gloss. It can be a a reaction to any of the ingredient of things you are applying on the lips.
This can also be a reaction to any spicy food you eat on daily basis.
Genetics may also play an important role.
Sometimes your poor oral hygiene may also contribute to the process.
Usually, smokers always have discolored lips. This is because of the nicotine or certain other chemicals present in it.
Dehydration is another major cause of hyperpigmentation. This makes our lips dry and this dryness cause them to lose their natural tone and hue.
Sometimes people sleep with their mouth open, causing saliva to drip out in angles that line the lips—that's a cause too
Conventional hair removal methods like razors or waxing may also contribute to the formation of dark patches around the lips.
Any inflammation or injury occurring in the skin can stimulate the production of melanin in the process of healing. It results in dark spots ranging in color from brown, black to greyish blue.
Our bodies change over time, as does its reaction to products. Sometimes the immunity is lower. Sometimes the skin barrier is compromised. So yes, you can develop an allergy to a product you've used for a while.
Results: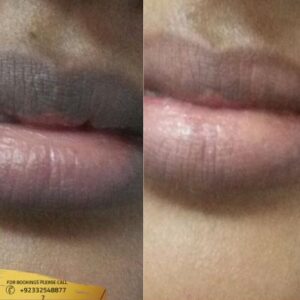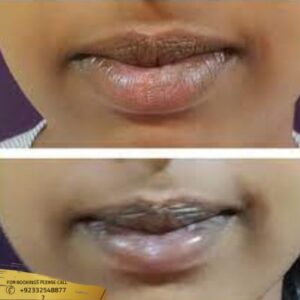 Ideal candidates for lip pigmentation therapy:
Individuals with naturally light lip color make the greatest candidates for permanent lip color.
Individuals who wish to save time, those who have uneven lips, those who have scars or discoloration around the lips, etc. are the perfect candidates for lip pigmentation treatment.
Who cannot get the lip pigmentation therapy:
Pregnant or nursing Diabetic chemotherapy (consult your doctor)
Ailments or viral infections
Epilepsy
Significant cardiac issues or a pacemaker
Transfusion of organs
Bruises or psoriasis on the skin close to the treated area (rashes, sunburn, acne, etc.)
Sick (cold, flu, etc.)
Pre-procedure guidelines:
No exercise or workout before the procedure
So not go under the sun directly
Stop taking aspiring or other blood thinners 1 week before the therapy
Consumption of caffeine is prohibited few days before procedure
Lips must be in perfect conditions
How to remove lip hyperpigmentation?
If you have hyperpigmented lips, then you need to consult a dermatologist. Our best dermatologist in Islamabad-Dr. Mariyam Malik, is an experienced doctor who will guide you about the best and suitable procedure for you. Usually chemical peels and laser treatment are used. There are some OTC Creams available as well.
Chemical peels:
Exfoliation of dark patches is done by chemical peels. This revelas the inner layers of skin which are darker in colour. Chemical peels can be more powerful than over the counter exfoliants or lip scrubs.
Laser treatments:
This is the most effective method for the reduction of pigments in any area. They selectively target the area that has pigment and as a result treats it. In this way they give the maximal and most beneficial effects.
If no other treatments are successful, laser toning is a viable option. The laser's heat radiation targets the melanin deposits in the region of your top lip and helps lighten pigmentation. The effects are noticeable after a few sessions. Four-week intervals are set aside by dermatologists for laser toning sessions. The number of sessions may differ according to the severity and amount of pigmentation.
OTC Creams:
The ingredients in these creams may help to lessen the pigment colour. There are number of creams available for lightening the hue of area. These creams may contain ingredients including arbutin, kojic acid, and hydroquinone, which lighten the skin by lowering the amount of melanin. Depending on the level of engagement and pigmentation depth, they can aid in fading the discoloration within a few days or months of consistent application.
Lip pigmentation treatment cost:
The cost of Lip Pigmentation Treatment in Islamabad may vary depending upon the procedure. The cost of the procedure varies from person to person as this is an individualized procedure the severity of the condition, underlying cause and modality used.
Please be aware that the price listed above is merely an example and may change from clinic to clinic depending on reputation, location, and technology provided. The expertise of the dermatologist who is treating you is also directly related. The best course of action is to inquire about treatment costs at a reputable skin clinic.
Side effects of the procedure:
The type of side effects to be experienced by the person will be outlined by the dermatologist at the time of first consultation.
Our top dermatologist-Dr. Maryam Malik will tell you about the specific side effects of the procedure during your first consultation and their recommended course of action.
Prevention from lip hyperpigmentation:
Lips must be hydrated and moisturized.
The use of sunblock on daily basis is recommended.
As major part is played by life style modifications hence, you need to quit smoking and also stop chewing tobacco.
The use of expired cosmetic need to be discouraged.
Lipsticks must have vitamin E in them, in this way they will make lips softer.
Book your consultation with us for lip hyperpigmentation:
So if you are trying to get Lip Pigmentation Treatment in Islamabad then you can book your first consultation with us. Royal Cosmetic Surgery Islamabad will be delighted to serve you. Our experienced staff is what you need. So what are you waiting for? Call us on the given number or fill out the form below.