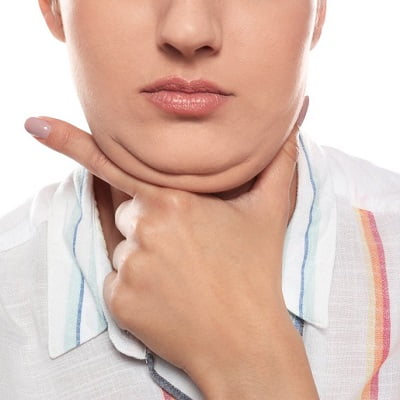 Double Chin Treatment in Islamabad, Rawalpindi & Pakistan makes you look aged and bulky. It has a bad impact on your facial appearance. No matter how attractive eyes and nose you have, if your chin is double, your overall appearance is scratched.
What is Double Chin Surgery?
In this surgery, Expert Surgeons at Royal Cosmetic Surgery Pakistan remove excess fat deposits of the chin, correct muscle laxity and also tightens sagging skin. They try to provide an attractive and balanced chin shape to the patient via this surgery.
What Causes Double Chin?
Generally, people who eat fatty fattening food can develop a double chin in a short period of time. When people age then their skin sage and muscles get loose and this also becomes a cause of double chin. In some people, a double chin is a genetic character. They have a double chin because their family members have it. Being overweight and obesity are also main causes. The double chin problem is faced by both young and mature people.
Benefits of Double Chin Surgery in Pakistan
Here are some benefits that you can grab through Double Chin Treatment in Islamabad, Rawalpindi & Pakistan.
Reduced neck fullness
Removal of double chin
Defined neck angle
Attractive and youthful chin appearance
Increase self-confidence
Enhance Self-esteem
Who is a good candidate of Double Chin Surgery?
Every person who has double chin in his twenties or forties can definitely undergo through double chin surgery. It is quite appropriate for the person, under the age of 40, who don't have any lower face or neck skin laxity. In case a person's age is over 40 years and he has lower face laxity then he shouldn't go for this surgery. He needs to try lower facelift surgery. This surgery is not good for those people who want an improvement in jowls, jawline and cheek area.
Good candidate is one who has realistic expectation, no serious medical complications, and sound health. A person who does smoking is not a good candidate for Double chin treatment in Pakistan.
Consultation with Surgeon
For every patient, we plan a personal consultation session with a cosmetic surgeon at Royal Cosmetic surgeon Pakistan. Patient is free to discuss about his goals and expectation with an expert. Surgeon tries to address all concerns and issues related to the surgery during this session. Every patient is different and for some liposuction may be enough to get rid of excess fat under the chin. Non-surgical skin rejuvenation may also be an option for those who have sagging skin under the chin that affects facial contours. So we try to offer customized solution of his problem. Every patient is different, so we try to offer customized solution of his problem. This consultation session makes it easy for us to suggest you the best and the most suitable procedure for you. During initial consultation, surgeon inquires about previous surgical procedure, medical history, past/present medical conditions, supplements, etc from the patient. He conducts a physical examination. He also makes clear possible risks and complications of this procedure.
Prepare for Double Chin Surgery
Patient gets a pre-operative instruction manual from the clinic. Surgeon provides guidelines on eating, drinking and smoking. He also tells you what vitamins and supplements to take and what to avoid. You need to bring your friend or relative with you who will drive you back to home. Normally, you don't need to stay at clinic but surgeon will tell you if you have to stay.
How double chin surgery is performed?
This surgery is performed under general anesthesia. Local anesthesia with intravenous sedation might be suitable for some patients. Surgeon makes an incision underneath the skin. Neck skin is elevated to completely expose the underlying fat. When person has extra fat then it is removed either directly or through liposuction. In case a patient has a lax platisma muscle then surgeon tights it and then bounds it with sutures. This tightening of muscle not only defines neck angle but also provide much support for neck. Some patient has recessive (weak and small) chin, so surgeon might use chin implant to make chin area aesthetically prominent and attractive. Dissolvable stitches are used to close incisions.
Risks of Double Chin Surgery
This surgery accompanies certain risks and complications, these are:
Pain
Numbness
Swelling
Discoloration
Tightening of skin for two weeks
Recovery of Chin Surgery Pakistan
Patient may feel pain after surgery, so the surgeon prescribes pain killers. Patient needs to wear compression garment for 1-2 week. Patient should get help of someone at home for 1-3 days. Get plenty of rest, follow balanced diet. It is good to rely on liquid diet for 1-2 days because constipation may promote due to decreased activity. Don't drink alcohol for 3 weeks. Don't take aspirin unless prescribed by surgeon. You need to stop smoking for few weeks since it increases complications. You are able to return to work after 2 weeks. Avoid strenuous activities. Keep your incisions clean. You need to immediately contact with doctor if you notice any infection. Try to avoid direct sun exposure. Apply strong sunblock whenever you want to go out.
Results of Double Chin Surgery
Patient feels great satisfaction because he gets an attractive and well-defined chin through Double Chin treatment at Royal Cosmetic Surgery Pakistan. His desperation ends since he gets an attractive and balance face appearance via it. The results of this surgery are permanent but only when a person opts for balanced and healthy diet. It is among those cosmetic surgeries that enhance self-confidence in patient, they get a desirable and eye-catching look after it.