You may appear older and bulkier if you have a double chin. This is because our body and facial features drastically change as we age; among other changes, we get a double chin. However, if you want to eliminate your double chin with long-lasting completely, you must think about Kybella Treatment in Islamabad. It will provide you with painless results that appear natural and affordable without having to worry about unfavorable outcomes or side effects after the treatment.
You will learn about Kybella treatment, including its results, benefits, procedure, cost, and many other facts, on this page. So, if you want to get rid of a double chin, you need to read the details before considering the treatment.
What Is Kybella Treatment?
Kybella is a fat-absorbing molecule that occurs naturally in the human body and aids in fat breakdown. It is used to dissolve  and to treat a double chin. Nowadays, many people prefer non-invasive, non-surgical treatments like Kybella for double chins.
It is an injectable and FDA-approved treatment used to get rid of a turtle neck and double chin. The Kybella procedure can moderately reduce fat deposits under the chin significantly. That is how your facial feature will enhance and get a proper shape.
Who Needs Kybella Treatment?
Before considering this treatment, you need to get an initial consultation session with your dermatologist, who lets you that you are eligible or not. As mentioned above, if it is a non-surgical procedure, then it can be suitable for everyone because it doesn't have specific criteria. The basic requirement is discussed below
A person must be above 18 age.
If you have a double chin.
People who don't want surgical procedures.
You must be free of other severe medical problems.
Pregnant or breastfeeding candidates aren't eligible.
The After Results:
After getting the treatment, our clients have responded in an overwhelmingly positive manner. By reducing the extra fat under the chin, Kybella filler gets rid of the double chin. The results will be effective and satisfying when you follow the further sessions. Unfortunately, it is ineffective for curing loose skin or eliminating neckbands. It takes 4 to 5 sessions for most people to achieve the desired outcomes.
To address loose skin, a variety of skin-tightening procedures are offered. However, if you have both sagging skin and a double chin, liposuction may be your best solution.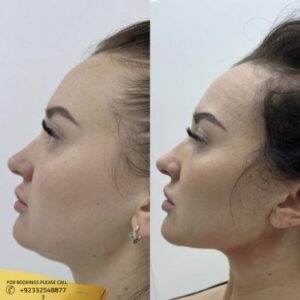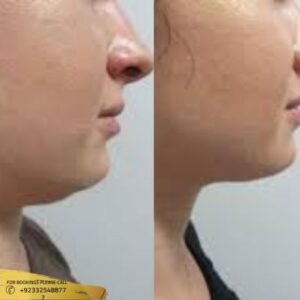 Topmost Benefits:
Generally, there are various benefits to choosing Kybella Treatment in Islamabad for removing a double chin. Some major and common benefits of the treatment are listed below
It is a minimally invasive method.
The results will be effective and satisfying.
It causes no pain or major side effects.
No anesthesia will require.
It does not carry the risk of leaving scars behind.
There will be no recovery period required.
Improves the contour of the jaw and chin.
There is no risk of infection.
Enhance the beauty of the face.
How To Prepare?
Although it is a non-surgical technique, some preparation is needed before to the procedure to ensure the best possible outcomes. Your expert will detail the precise pre-procedure instructions you must follow. These precautions include:
It would be best if you submit your medical history.
Do not take any type of blood thinning medications.
Avoid smoking tobacco or drinking alcohol.
Be prepared for the treatment physically and mentally.
The Procedure:
The entire process doesn't take more than 20 minutes. Although it doesn't need an anesthetic, a numbing lotion can be used to lessen any pain.
Your practitioner will mark the treatment area where the Kybella filler needs to be injected. Your specific needs would determine how many injections you would need. The filler that your practitioner injects into your skin dissolves and absorbs dietary fat. The Fat that has been destroyed won't regenerate. After the procedure, you can go home without any complications.
Aftercare Instructions:
After the procedure, the practitioner will advise you on some aftercare instructions that are necessary to follow. That is how you will not experience any side effects or complications. So, the common aftercare instructions are listed below
Do not try to rub or massage the treated area.
You can use an ice pack to reduce swelling or bruising.
Keep your head straight for at least three days.
You must need to wash your face daily.
Take prescribed painkillers and antibiotics.
Avoid performing heavy activities like gym or running.
In case of severe pain, inform your practitioner.
The Cost Of Kybella Treatment At RCS:
The cost of Kybella Treatment in Islamabad depends from person to person because it charges according to the need and concerns of the candidate. Your practitioner will discuss about your expectations and affordability, and after that, they will make a cost plan for you. There are several factors that will include and increase the cost of the treatment. Such as
Choosing expert practitioner's fee.
Clinic location or reputation.
Traveling expense.
The number of injections.
Further sessions requirement.
Other additional charges.
Furthermore, if you don't know about the cost of these factors, then you can contact us or visit our clinic anytime. Our team will guide you accurately.
Book Your Appointment With Us!
Therefore, the royal cosmetic clinic provides the most recent Kybella treatment at a reasonable price, all while being overseen by highly qualified and experienced cosmetic surgeons. Make an appointment at our clinic to learn more about the Kybella treatment for a double chin or the best solution for your situation. Our patients are entitled to a free introductory consultation. Fill out the form below to schedule your consultation right away.