The people who want to get rid of ageing signs, hair loss and body unwanted fat deposit must undergo through Mesotherapy at Royal Cosmetic Surgery Pakistan. This therapy helps them to get the perfect youthful appearance comprises of glowing face, contracted neck muscles, well-shaped body and stunning hair.
What is Mesotherapy?
Mesotherapy is a cosmetic non-surgical technique in which tiny microscopic quantities of medical grade pharmaceuticals, vitamins, mineral and amino acids are injected into the upper and middle skin layers for treating different kinds of problems. It is among the top aesthetic medicines for skin rejuvenation. It helps you to treat both body and face. Injections are given into mesoderm, a layer of fat and tissue underneath the skin.
Why Choose Mesotherapy?
It is an effective and progressive method of treating body excess fat, hair loss and aging signs. Here are some reasons that push you to pick this procedure for you.
It is quite safe and has no side effect.
It is the best alternative to cosmetic surgery.
There is a little or no downtime involved in it.
No scarring involved in it
There is no need of sedation
It is a painless technique
What can you treat with Mesotherapy?
This non-surgical technique makes it easy for you to treat:
Aging signs such as sagging neck and cheeks
Eyes with dark circles, wrinkles and fat bags
Problematic skin with acne, enlarged pores, acne scars
Skin damaged skin
Smoker's skin
Loose skin
Body unwanted fat, cellulite and stretch marks
Hair loss
Thinning hair
Alopecia
Mesotherapy as an Effective and Quick Weight Loss Solution
This technique is also known as French weight loss solution many times. It allows you to get rid of excess body fat. Mesotherapy for weight loss is also named as Mesofat. In this procedure, a doctor injects fat dissolving substances into an area of body where unwanted fat deposit is present. Generally, this technique is used to get rid of stubborn body fat, which is hard to lose through exercise and dieting. The people can reduce body fat quickly, safely and effectively via it. In addition, it is less invasive and less expensive than other non-surgical or surgical techniques of fat reduction. This technique helps people to remove:
Tummy fat
Back fat or bra fat
Saddle bags
Love handles
Upper-Inner thighs
Double chin fat
Results: Although liposuction is a method of removing unwanted fat deposit of body yet fact is that this method is painful and leave scar. The people who want well-toned body and shape without pain and scarring give a due preference to Mesotherapy. People are able to see results within a month. They need to maintain Cellulite results through proper exercise and healthy diet plan. In simple words, you are able to get desirable body contour and look through Mesotherapy.
Mesotherapy as an Excellent Hair Loss Solution
This non-surgical technique is also used for treating some hair problems in men and women at Royal Cosmetic Surgery Pakistan. You are in a position to treat hair loss and alopecia problem via it. In this procedure, doctor injects tiny injections of vitamins directly into the scalp. In order to stop hair loss and to enhance hair growth, patient needs to undergo through 6-8 sessions after every two weeks.
Results: People would surprise to see the results of Mesotherapy for hair problems. Vitamin and other necessary substances stimulate hair growth and thereby people won't experience hair loss and thinning problem again. They can restore their natural looking hair without any kind of surgery. The results are permanent.
Mesotherapy as a Perfect Anti-Aging Medicine
When we age then signs of aging start appearing on face and neck. Mesotherapy helps us to restore our aesthetic face and neck appearance. Skin loses its elasticity and it tends to loose due to effects of gravity on it. Breakdown of collagen also fades the vital and glowing look of skin. Neck muscles also get loose and its skin start drooping. We can't stop aging process but Mesotherapy allows us to reverse this process.
In this method, doctor gives injection comprises of vitamin and trace minerals. These components activates skin metabolism, so growth of collage begins again. You are able to get healthy skin that radiates energy and vitality. Result of this procedure is quite dramatic. Best of all, this treatment has a little downtime. You may feel bruising and swelling just after the treatment but everything normalizes within 2 days.
Results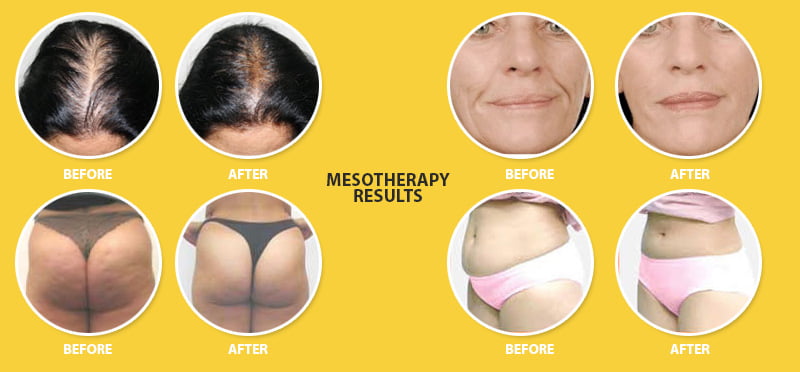 People notice good improvements in their facial appearance after 1-2 sessions. They look younger and fresher than before. Results are quite natural, your friend will not notice that you have undergone through any treatment. If a person wants to see the most remarkable results that he needs to go for more sessions. Results of treatment are permanent but one should know that ageing process can't be stopped; therefore, it is advisable to undergo through maintenance session for restoring aesthetical body and skin look.
Cost of Mesotherapy
We are offering highly reasonable rate for Mesotherapy at Royal Cosmetic Surgery Pakistan. Cost of Mesotherapy varies from one person to another. We treat every person separately. Cost normally depends on area that needs treatment and number of sessions required to gain positive results. We welcome you at our clinic where experienced doctors are ready to address your concerns in a way that you always want.