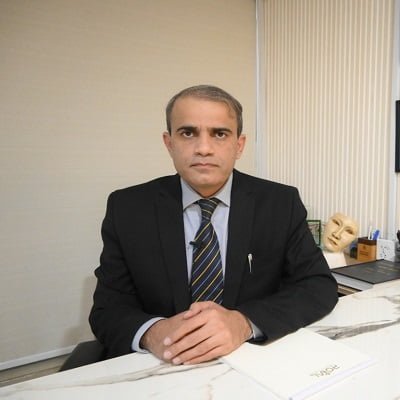 Although imperfections are part of being human, aesthetic (or cosmetic) plastic surgery is an option if you worry about your appearance and cause you to feel self-conscious and unhappy.  Procedures that enhance the appearance of the face and body are referred to as cosmetic surgery or aesthetic plastic surgery. They include a facelift, liposuction, rhinoplasty, breast augmentation, breast reduction, eyelid surgery, and tummy tuck (abdominoplasty) (liposuction). Islamabad has various clinics that are offering services in this field. But if you want a flawless and perfect procedure done by the Best Aesthetic Physician in Islamabad then you can contact Royal Cosmetic Surgery Clinic Islamabad.
Dr. Naveed Azhar
Plastic Surgeon, Reconstructive Surgeon, Cosmetic Surgeon, Aesthetician, Reconstructive Surgeon, Hair Transplant Surgeon
MBBS, MRCS (UK), MCPS, FCPS (Plastic Surgery)
Education
PMC Verified
MBBS
MRCS (UK)
MCPS
FCPS (Plastic Surgery)
About Dr. Naveed:
One of the top aesthetician and hair restoration surgeons in Islamabad is Dr. Naveed Azhar. He graduated in 2003 from Faisalabad's prestigious Punjab Medical College. He started his surgical education and chose to focus on cosmetic surgery.
He joined the Royal College of Surgeons of Edinburgh in 2007 as well as the College of Physicians and Surgeons of Pakistan that same year. With more than 15 years of experience, Dr. Naveed Azhar is a professional. His surgical tasks have always been carried out to the highest standard by him. The College of Physicians and Surgeons of Pakistan awarded him a fellowship in plastic surgery after he finished his training.
Dr. Naveed Azhar is a specialist who is a board-certified surgeon and subject matter expert. He possesses a unique personality that combines his depth of knowledge, expert surgical skills, and thirst for knowledge. The entire procedure, from head to toe, must be handled by a plastic surgeon, including both the aesthetic and reconstructive aspects and he is the finest when comes to the question of cosmetic surgery. Different specialties of plastic surgery exist and he is the expert of all.
He frequently attends the Pakistan Association of Plastic Surgeons annual meetings, where he has twice presented his research papers. Plastic surgeons all over the country praised him for his work on post-burn neck and hand malformations. he is the best Aesthetic Physician in Islamabad if you are thinking about getting any cosmetic procedure.
Professional Memberships:
Pakistan Medical Commission (PMC)
Member of Royal College of Surgeons of Edinburgh
Specialization:
Plastic Surgeon
Reconstructive Surgeon
Services:
His fellowship in cosmetic surgery was completed, and then he began consulting. His expertise spans a wide range of anti-aging techniques, general plastic surgery, ear, eye, nose, face, and belly beautification, and more.
For the past ten years, he has placed a strong emphasis on cosmetic surgery and has received formal training in a wide range of areas related to this broad subject. He has extensive knowledge of hair transplants (Both follicular unit extraction and follicular unit transplantation). He is the ideal option for platelet-rich plasma therapy and other hair regrowth treatments.
Additionally, he has expertise in lifting a variety of body parts, including the buttock, the eyelid, breast augmentation or reduction, the nose, ear reconstructive surgery, and any other lifting technique. He has dermatology expertise as well. Chemical peels, skin laser procedures, and filler injections are his areas of expertise.
Dr. Abida Sardar:
Dermatologist, Aesthetic Medicine Specialist
MBBS, MCPS
Education
PMC Verified
MBBS
MCPS
About Dr. Abida Sardar:
In 2010, Dr. Abida Sardar completed her post-graduate MCPS in Dermatology. She received her training at PIMS hospital where she has been employed since 2005. She is a member of the American Academy of Aesthetic Medicines (AAAM) and has received training from them in the field of aesthetic medicine. She has five years of work experience in the Dubai Cosmetic Surgery Clinic and has been working as a consultant dermatologist and cosmetologist since 2010. She has extensive experience attending international workshops and conferences, with a focus on cutting-edge methods and top practices in the cosmetology industry.
Professional Memberships
Pakistan Medical Commission (PMC)
Member of American Academy of Aesthetic Medicines.
Specialization
Dermatologist
Aesthetic Medicine Specialist
Experience
Dr. Abida Sardar has over 14 years of experience in her field.
Services:
Dr. Abida Sardar is one of the names that is most well-known in the aesthetics industry. She is an expert of numerous aesthetic procedures, including skin tightening, skin Dermal, Microdermabrasion, Laser Hair Removal, PRP (hair and face), Rejuvenation Fillers, Botox, Thread Facelifts, Chemical Peels, Removal of Moles and Tattoos, Acne Treatments, Immunity-Boosting Injections, Hifu, Anti-Aging Hydra Facials, and Acne Scarring Treatment.
incorporating Pico and Q Switch, all modern laser types.
She is exceptional at treating melasma and hyperpigmentation patients with individualized care. She is an expert in non-surgical rhinoplasty with fillers, a specialty that is not frequently offered.
Dr. Ayusha Khan
Aesthetic Consultant/ Cosmetologist
Education
MBBS
Certified dermatologist
About Dr. Ayusha Khan
After her initial dermatology training from military hospitals in Karachi and Rawalpindi she moved to UK and joined Queen Elizabeth Hospital in Birmingham in 2016 and worked inpatient and outpatient diagnosing and managing common and rare skin disorders.
Dr. Ayusha Khan is dedicated to giving patients the safest, highest-quality care possible while producing results that look natural and last a long time. Additionally, she offers the following services due to her advanced training in hair treatments: diagnosing and treating scalp conditions, examining hair loss, performing a physical examination, and prescribing over-the-counter medications.
Professional Memberships
Pakistan Medical Comission (PMC)
Specialization:
Aesthetic Consultant
Cosmetologist
Services:
She worked at Sheffield Aesthetics and Laser clinic for a year. She is an expert in PRP therapy for hair and face, laser, micro-needling, skin chemical peels, laser hair removal, advance dermal fillers, laser skin resurfacing and advanced Botox.
Fact Sheet:
Facelift:
To give the face a younger appearance, a face-lift is a cosmetic surgical procedure. The treatment can make the skin less sagging. On the cheeks and jawline, it can also aid in reducing skin folds. An alternative name for a facelift is a rhytidectomy.
Liposuction:
If a suction tube is used to remove the fat from specific areas of the body such as the abdomen, hips, thighs, buttocks, arms or neck, that technique is named as liposuction. Liposuction also shapes (contours) these areas. Other names for liposuction include lipoplasty and body contouring.
Rhinoplasty:
Changes to the nose's shape are made during rhinoplasty. In order to alter the nose's appearance, enhance breathing or both, rhinoplasty may be performed.
Breast augmentation/ breast reduction:
Breast implants or fat transfer are used in breast augmentation, also referred to as a "boob job" by patients. This procedure may consist of reduction or augmentation of the breasts.
Eyelid surgery:
Eyelid surgery, or blepharoplasty, is a surgical procedure to improve the appearance of the eyelids. This will decrease the sagginess of the eyelids.
Tummy tuck:
A tummy tuck also known as abdominoplasty is a cosmetic surgical procedure to improve the shape and appearance of the abdomen.
Consult us for the Best Aesthetic Procedures:
Do you desire a flawless appearance as well? If so, you can probably get the best skin care treatments from our best aesthetic physician in Islamabad. Your safety is always a priority for us. During your visit to our clinic, you will feel at home thanks to the dedication of every member of our trained staff. In this regard, the Royal Cosmetic Surgery Clinic in Islamabad has consistently taken the lead. You can completely trust our cosmetic surgeons because they are the best in the area. Why do you persist in waiting? Call us or complete the form below if you have any questions. We'll get in touch with you right away.