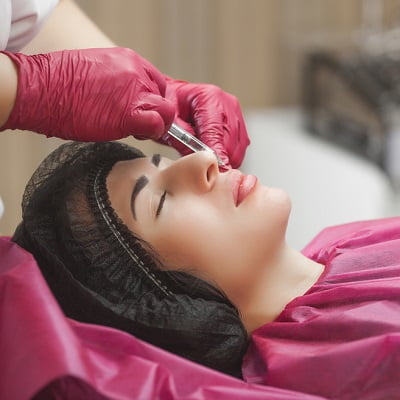 If you're looking for non-surgical facelift treatment options, you may have heard of Profhilo. The skin tightening and moisturising effects of Profhilo are immediate but not overly dramatic. It is actually an injectable skin remodelling procedure. Celebrities, beauty influencers and facialists adore this procedure all over the world. Are you also interested in knowing What is Profhilo Treatment and What it is Used For? So you're in the right spot.
The regular release of HA from Profhilo encourages the growth of collagen and elastin rather than plumping and filling wrinkles. This enhances skin moisture, tone, and the look of fine lines. The final result is enhanced skin quality, which lasts for up to 6 months.
Why is Profhilo Used For? 
Anyone over 30 can enjoy the procedure.

Anyone who has some skin laxity, crepey skin, or fine lines and wrinkles should opt for it.

It will volumize skin because it targets skin that is thin and deficient.

The neck, decolletage, arms, knees, and hands can all benefit from its use. Besides the face, which is where it is most frequently applied.

Following a Profhilo treatment, your skin will look and feel more firm, moisturised, and radiant.

For up to six months, the quality of your skin should really keep getting better.
How Does Profhilo Treatment Work?
Although there are other ways to deliver profhilo, yet the BAP technique is the most widely used and effective.
What Does BAP Actually Mean?
In essence, it means that five spots on each side of the face are suggested to be injected. 

The exact locations of these spots may differ greatly depending on your face shape. 

This reduces the number of injections necessary. 

It enhances the Profhilo treatment's ability to fight the signs of ageing.
What Does the Treatment Involve? 
Delivering a Profhilo therapy only takes 10 to 30 minutes. Our aesthetic physician injects just beneath the skin's surface. He injects it at about ten different locations on your face in order to cover the entire area with the substance. For example, you might need a different amount for your hands, neck, or décolleté.
How Long Do the Results Last?
The hydration and luminosity of your skin should start to improve in three to five days. As Profhilo starts to encourage the production of collagen and elastin in your skin over the upcoming weeks, your skin will gradually tighten.
You'll need a second treatment four weeks after the first one. Typically, two months after the second treatment, the most significant Profhilo effect starts to show up. The results will anticipate lasting for about six months. You can choose to receive follow-up care from Profhilo if you want to keep the results.
Areas You Can Treat:
The face and neck need to be treated, or both. With a very strong anti-ageing effect, the skin is given hydration, radiance, sparkle, firmness, and strength.
How is Profhilo Different from HA-Based Dermal Fillers?
To avoid getting too technical, Profhilo's chemicals are thermally bonded rather than chemically bound. Because of the way the HA is altered during this process, moisturizing the skin rather than filling in small spaces is its ideal use.
As a result, Profhilo in Islamabad offers a thinner, more gel-like substance.  It spreads out uniformly and is absorbed within a 2 cm radius of the injection site. Rub it off or leave bumps or nodules; both are not necessary. To treat your entire face, you would typically only require 10 injections. Dr. Ayusha Khan uses extremely fine needles because each one treats a larger surface area.
What is the Recovery Period for Profhilo Treatment?
Following treatment, there is hardly any downtime, and you can return to your normal activities right away. We advise against strenuous activity and sports on the first day after treatment. Additionally, we advise waiting a few days before using a sauna or steam room. You should also stay out of the sun and UV rays for the first few days after treatment.
Can Profhilo Achieve A Non-Surgical Facelift?
A Profhilo treatment has a subtle, natural-looking, but the transformative effect as it gently tightens and lifts sagging skin. Despite the fact that it is not at all as drastic as a surgical facelift, Profhilo users appreciate how radiant, smooth, and moisturized it makes their skin feel. One of Profhilo's many benefits is that it can be used alone or in conjunction with other aesthetic procedures like dermal fillers or laser treatment. This will enhance its effects.
Book Your Consultation:
Book your consultation at Royal Cosmetic Surgery Clinic Islamabad and get Profhilo Treatment. You can call us directly or fill out the form given below. Our team will get back to you shortly.