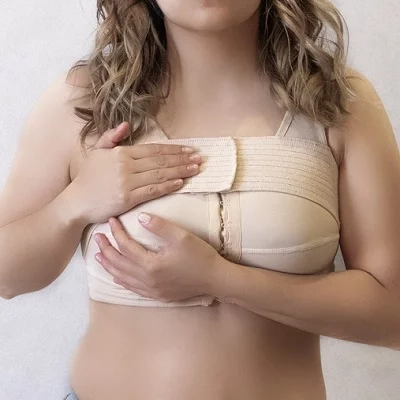 Breast implant surgery in Islamabad reshapes the size, shape and overall definition of breasts. Individuals seeking contoured, properly defined and proportionate breasts undergo this treatment. This is a surgical procedure that involves incisions or cuts. The surgical procedure required to augment the breasts' aesthetics normally lasts between 1 to 2 hours and the real task starts afterward: aftercare treatment. Post-operative measures or aftercare treatments are as important as the surgery itself.
Breast Implant Aftercare Tips:
If you have undergone breast implant surgery in Islamabad, then you cannot even think of neglecting aftercare procedures because this is a complex and sensitive procedure that deals with the shape and contour of breasts. You must be wondering why to give that much preference to post-operative measures! 
Here Is Why Aftercare Is Essential:
To promote the healing process and reduce the risks of complications

To manage surgery-related side effects such as pain, discomfort, infection, swelling and bleeding

To prevent further scarring or deal with it properly

To monitor or evaluate the healing process and take necessary measures if needed

To take steps in order to increase the longevity of results

To immediately detect any possibility of side effects or complications
Breast Implant Aftercare Treatments:
Breast Implant surgery in Islamabad

may cause pain or discomfort. You must take prescribed medicines to reduce the vulnerability, pain, or discomfort, get your comfort back and promote the healing process

Rest is imperative because it supports implant settling and lowers the risks of contracting any possible side effect. Furthermore, it diverts energy towards the healing process, thus augmenting the healing process

You must use a compression garment to reduce swelling and bruising and produce support for implants

You should also apply cold compresses to reduce swelling and bruising

Avoid strenuous activities, maintain a balanced diet, and keep yourself hydrated to foster your healthy recovery
A patient undergoing breast augmentation in Islamabad must follow the above-mentioned guidelines for smooth, swift and healthy recovery and to reduce the risks of infections and side effects. But there are also a few factors you should avoid.
Post-Operative Restrictions
Do not sleep on your stomach to limit the pressure on the implant, as excessive pressure could replace implants

Avoid smoking because it could halt or slow the healing ability of the body

Do not neglect your surgeon's instructions and take your medicines on time

Do not resume your normal routine right after the treatment 

Do not ignore any side effect or complication that you observe and inform your surgeon 
How Can I Help My Breast Implant Heal?
If you have undergone breast implant surgery in Islamabad, then you are the one who can foster the recovery period and avoid the risks of complications or any other issues. First of all, you should wear compression garments to protect implants from dislodging and support the healing process. Furthermore, you can heal the implant by properly following the instructions of your surgeon and maintaining a healthy diet.
Am I a Suitable Candidate For Breast Implant Surgery In Islamabad?
If you are fed up with the shape and size of your breasts

If the symmetry and contour of your breasts make you feel depressed 

If you want to augment the seductiveness of your breasts

If you are seeking contoured and properly defined breasts

If you are physically healthy and ready for the surgery 

If you understand the procedure and have realistic expectations
In this case, you are a suitable candidate for breast augmentation in Islamabad. However, you should consult a surgeon or a professional before getting this treatment or even before making up your mind about this surgical treatment.
How Much Does Breast Augmentation Cost In Islamabad?
The cost of breast implant surgery in Islamabad varies from individual to individual based on their specific requirements and the scope of the surgery. Normally, the cost of this treatment largely remains between PKR 180,000 to PKR 300,000 . In addition to that, the cost bracket may also fluctuate because of the clinic's location, attained facilities and the expertise of a surgeon.
Summing Up:
Breast implant surgery in Islamabad is a surgical procedure that is performed to augment the definition and seductiveness of breasts by altering the shape and size of breasts. Given that this is a surgical procedure, it requires extensive aftercare treatment to get optimal results and reduce the risks of complications. If you undergo this treatment, you should follow the discussed aftercare treatments and the instructions of your surgeon.
Book your appointment or visit Royal Cosmetic Surgery Islamabad to discuss your concerns and get a comprehensive and personalized treatment! Our team does not only offer advanced treatments but also remains there until a patient fully recovers.