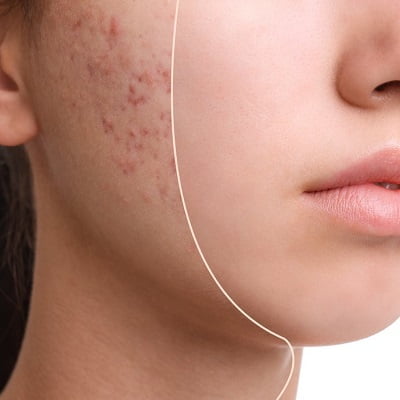 The aesthetic technique of PRP microneedling has reemerged as a preferred treatment option for acne scarring. Due to its lower cost, PRP Microneedling in Islamabad is attracting more attention. It is less disruptive than other conventional techniques and has fewer side effects. Historically, treating acne scarring has proven to be challenging for both patients and doctors. But now you can Treat Your Acne Scars With PRP Microneedling in Islamabad at RCS Clinic.
What is Cystic Acne?
Cystic acne is the type most likely to leave scars of all acne types. Leaving every cyst alone will lower the chance of scarring. Because of this, cysts are impossible to pick or pop. Additionally, spreading infections by picking at this kind of acne.
What is Microneedling?
Microneedling creates micro-injuries in the skin. it gives skin trauma with small needles. This trauma then stimulates the natural healing process of the body. This will increase the production of collagen or elastin in that area of the body. In this way, it causes skin rejuvenation or renewal of the skin and addresses ageing problems. It is used to treat problems like acne scars, hyperpigmentation, and sun damage.
What is PRP Microneedling?
By injecting platelet-rich plasma into the treated tissue, microneedling procedures are improved. Patients who want to hasten the process of rejuvenation use this technology. Our specialists take a small sample of your blood and centrifuge it in order to perform microneedling with PRP. This is what separates platelets and plasma.
Treat Your Acne Scars With PRP Microneedling:
Traditional microneedling is used to treat everything.

It treats scarring, and some types of hyperpigmentation in addition to age spots and wrinkles.

You might get your desired results more quickly with PRP by enhancing
It is contraindicated if you are:
Pregnant 

Using retinol

You have active acne

If you have facial eczema or rosacea
Book your first consultation with us and we will let you know whether you are an ideal candidate or not. Dr. Ayusha Khan is the best dermatologist in Islamabad. She will help you evaluate the condition of your skin and let you know about the treatment.
Procedure:
Your face will be treated with a topical anaesthetic. A derma-roller or microneedling pen will then be used to smooth it over. 

These tools create tiny punctures in your skin, triggering the PRP through the skin's natural channels. They promote the skin's natural healing processes. 

In addition, the minute tears in the skin encourage the deeper layers of the skin to produce collagen. 

This lessens the visibility of facial scars and wrinkles and promotes facial rejuvenation.  

The

microneedling

part of the procedure usually lasts for around 30 minutes.

Following that, your

dermatologist

will massage the PRP into the skin's treated areas.

Growth factors in PRP to effectively rejuvenate your skin must first reach deep within your skin. 

In order to lessen the redness and irritation on your face, your doctor will finish by massaging a balm onto it. 

There is little to no downtime during the procedure, which usually lasts less than two hours.

The next day, a lot of patients go back to work.
Aftercare: 
Your doctor might use a serum or balm after the procedure to help reduce any redness and irritation. Another choice you may have is to cover up any transient side effects with makeup. You're free to leave at this point, barring a negative reaction. Even though a lot of people feel confident enough to drive themselves home, making arrangements for a ride in advance can help reduce any uncertainty.
What are the Benefits of PRP Microneedling? 
The following are the benefits of PRP Microneedling in Islamabad: 
Treatment of acne scars

Employed for surgical scars

Your dermatologist now uses it for wrinkles and fine lines

Hyperpigmentation in addition to sun damage

Correction of large pores and uneven skin texture
Even if none of these problems applies to you, you may still want to think about getting micro-needling with PRP. It enhances the tone, texture, and overall appearance of your skin. Adults typically tolerate the treatment well, and the only side effects are temporary irritation for a few days. During the initial stages of recovery, patients should avoid exposure to direct sunlight. You are advised to undergo a personalized self-care routine for better results. 
Finding a Service Provider:
Even though this is a minimally invasive procedure, you should still find a qualified expert to carry out the procedure. He will assist you throughout the process. This should ideally be a dermatologist or plastic surgeon.
Book Your Consultation:
Now you can book your consultation at Royal Cosmetic Surgery Clinic Islamabad for Acne Scar Scar treatment. Call us directly or fill out the form given below. Our team will contact you shortly.