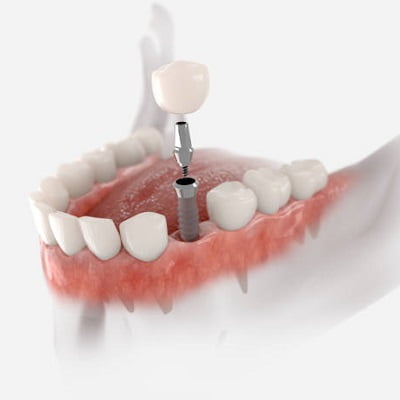 Dental implants in Islamabad replace missing teeth, preserve jaw bone tissue, restore functionality, and prevent tooth shifting. These implants are basically prosthetic devices used to reinstate the integrity of teeth and re-establish the aesthetics of a brighter smile. 
If you are missing a tooth or more, you must be thinking about how many implants would be sufficient. In this blog, we will address this concern. 
Dental Implants: Ins and Outs
Proper teeth structure is vital for normal functioning and an attractive smile. It also contributes to speech clarity and effective chewing and biting. Over the course of life, many people lose their teeth because of gum irritation, tooth injury, poor oral hygiene, bruxism, etc. This damage dismantles overall oral health and even causes aesthetic concerns. 
Dental implants are artificial tooth roots. These are made of biocompatible materials and are used to produce a firm foundation to replace the functions and aesthetics of a missing tooth. An implant is a permanent solution for a missing tooth. 
Transform The Aesthetics Of Your Smile: Implants Benefits
Restore the aesthetics and functionality of missing teeth

Creates a natural-looking appearance as implants resemble with natural teeth

Besides restoring functionality, implants also preserve jaw bone structure

Protect teeth from shifting and limit the risks of misaligned jaw

Offer long-term and enduring solutions by maintaining the natural shape

Deal with speech, chewing and biting-related issues

Add to the confidence and self-esteem by making the smile more beautiful
How Many Dental Implants Do I Require?
Individuals who lost one tooth only require a single implant. However, this is a common concern for people who have lost more than one tooth. The quantity of missing teeth varies. So, the requirements of every individual differ from one another. Besides that, a few factors may influence the decision to get a specific number of implants. 
If an individual has lost all teeth or his lower and upper jaw, then you may not need to get an equal number of implants. Normally, 4 implants are deemed sufficient to secure the whole denture. Furthermore, if you still have natural teeth, then 2 to 3 dental implants may preserve the integrity of your jaw structure. If you have sufficient jawbone, then you can consider having more than 4 implants, but this will only increase your treatment cost; 4 implants are enough if your dentist does not recommend you to have more. 
The Following Are A Few Influencing Factors:
Number Of Missing Teeth
Normally, a single implant replaces one missing tooth. If a number of teeth are missing, we will not always use a similar number of implants. Dentists then may use bridges to support the jaw structure and restore normal jaw function.
The Status Of Jawbone
The density of the jawbone is crucial to have an implant. So, people with sufficient jawbones can receive a specific number of these prosthetic devices based on their specific needs and requirements. On the flip side, individuals who do not have sufficient bone density should seek procedures like bone grafting to get an implant. This factor may also alter the number of devices used for a specific person.
Location Of Missing Teeth
The location of missing teeth also determines the type and quantity of a specific procedure, as teeth located at different places can be treated via different approaches. Along with that, the status or health of adjacent teeth is also measured before making a decision about the number of implants.
Generally, a surgeon examines a patient and can also take X-rays of the jaw of a specific patient to analyse factors such as jawbone density and volume, the status of adjacent teeth and overall oral health. You can visit Royal Cosmetic Surgery for your evaluation and proper treatment based on your specific requirements and aesthetic concerns.
The Bottom Line:
Dental implants in Islamabad replace missing teeth and their functionalities. These artificial tooth roots permanently replace the position and functions of missing teeth. The number of implants for a specific individual varies and depends on a few factors, such as the density of the jawbone, the location of the missing teeth, the health of adjacent teeth, etc. A dentist will assess these conditions and help you learn about your needs. If a person has lost all teeth, he can regain his normal jaw health through 4 implants.
Schedule your appointment at Royal Cosmetic Surgery Islamabad to deal with all sorts of cosmetic concerns and issues. We offer custom-made treatments and bring about your desired results. Let our dentists deal with your oral health issues and ensure your optimal oral health.
FAQS:
Even if you have lost all of your teeth, four dental implants in Islamabad are quite enough to manage your issue and restore your optimal oral health and teeth functioning. 
There are situations when this phenomenon is possible. If both of your teeth are adjacent, then a single implant can support 2 teeth if your jawbone is enough for an implant to integrate with it.
If your implant has integrated with your bone, you can eat whatever you want. These implants do not restrict you from your food choices, but you should for a specific period that they can properly integrate.