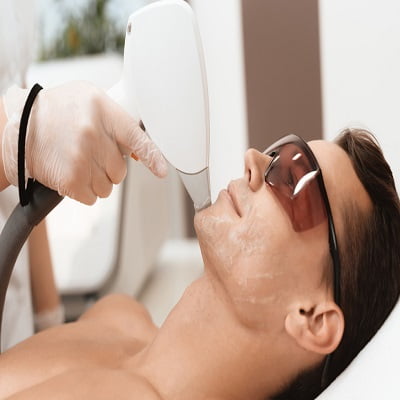 Those stray hairs that appear between your brows and chest are getting on your nerves. Some of you are tired of doing waxing or hair removal by any means. Many guys are fed up because of the maintenance required to remove unwanted hair, which is why laser hair removal for men is rising in popularity. If you are thinking of getting Full Body Laser Hair Removal for Males in Islamabad, Pakistan then Royal Cosmetic Surgery Islamabad is the perfect choice for you. We are blessed to have the services of world-renowned cosmetic surgeons and specialists.
A standard procedure that permanently removes unwanted hair in a specific region is laser hair removal. Typically, the face, underarms, chest, and back are where it is applied for men. Without harming your skin, laser light affects the hair follicle by focusing on the color of your hair. Laser hair removal might be a viable alternative to shaving, tweezing, or waxing if you're not satisfied with the results.
Principle of Laser Hair Removal for Men:
Treatments for laser hair removal use laser light technology, as the name implies. These lasers target the hair follicles and roots by delivering brief bursts of light energy into the skin. Hair can no longer develop if the root and follicle are damaged, leading to a permanent hair reduction. Most clients require numerous hair removal procedures to achieve the greatest results, depending on the size of the area.
What is Included in Full Body Laser Hair Removal?
It's vital to keep in mind that not all laser hair removal clinics will remove hair from your entire body. However, almost everything is laser-assisted at our office, including:
Chest
Back
Stomach
Neck
Groin
Backside
Between the eyebrows
Ears
Nose
Forehead
Scalp
Bikini line
And other areas
Our specialists at Royal Cosmetic Surgery Islamabad can remove all unwelcome hair and keep you feeling confident and comfortable while ultimately saving you money, whether you want to get rid of the hair on your legs, your entire body, or from top to bottom areas.
Despite the fact that you may be unsure whether laser hair removal is expensive, lifetime visits to the waxing clinic will cost you hundreds of dollars, as will the valuable time you must devote to treatment each month. The pain and redness are also not even mentioned.
Duration of Full-Body Laser Hair Removal:
Each area may require 15 minutes to an hour of laser hair removal. It may take two to three hours if you want the full-body sensation all at once. It also varies according to your size, gender, and how much hair you'd like to get rid of.
Each person's body responds to laser therapy differently.
While some people only experience transient hair removal, others see permanent results.
The best results from treatment are seen in patients with a light complexion and black hair.
Eliminating hair growth from persons with fair complexion and light hair is more difficult than it is for people with dark skin and dark hair.
Guidelines for Laser Hair Removal:
If you're prepared to undergo laser hair removal, start by speaking with a trained and authorized expert.
Free consultations are offered by Royal Cosmetic Surgery Islamabad.
Your laser technician will outline the process during your initial consultation. After looking over the region, he or she will make an estimation of how many sessions you'll need.
Depending on the size of the affected area and the patient's skin type, different therapies may be necessary.
For instance, due to the sheer magnitude of the area, shaving the back takes far longer than shaving the face.
What Should Men Know Before Their First Laser Hair Removal Appointment?
Prior to the appointment, you should shave the region being treated. The technician or dermatologist will trim or shave the area for you if you don't.
Because you should avoid sun exposure on the area you're treating for around three weeks prior to your session, laser hair removal is frequently performed in the winter.
There are some lasers that are most effective on light skin, and others that are more effective on dark skin.
A person with pale skin and dark hair follicles would make the best prospect.
Red, very blonde, and white hair types won't respond to laser hair removal, therefore these people shouldn't get it done.
It will take roughly 15 to 20 minutes to finish your chest, however, it would take 30 minutes to complete your back.
Following treatment, you cannot exercise.
After Treatment: What to Expect
After treatment, it's typical to feel a little uncomfortable. Particularly in the first few hours following treatment, a lot of people have localized redness and swelling.
Benefits of Laser Hair Removal for Men
As laser hair removal will provide you with a permanent reduction of unwanted hair so it will also save you from humiliation.
You will never have to shave or wax again. This will save your time and money. This is the most obvious advantage of laser hair removal.
You won't experience ingrown hairs anymore, which is an additional advantage.
This includes groin, chest, and neck lumps that hurt after shaving because of ingrown hairs.
Number of Sessions Required by Men:
To observe noticeable improvements in a man's back or chest, Dr. Ayusha Khan advises receiving six to eight treatment sessions spaced around two months.
These sessions will be six to eight weeks apart.
Since one follicle dies but there may be another one nearby that may regenerate, we can only state that the customer will receive permanent hair reduction rather than permanent hair eradication.
Cost of Full Body Laser Hair Removal for Males in Islamabad:
The average price of Full Body Laser Hair Removal for Males in Islamabad may range between PKR 5o,000 to PKR90,000.
The price of laser hair removal in Pakistan varies:
From clinic to clinic
From person to person depending on a variety of criteria, including:
The required number of sessions
The size of the treatment region
The thickness of the hair is to be removed.
Please don't hesitate to get in touch with us if you want to know the precise pricing in your situation.
Book Your First Consultation With Us!
If you are a male and you are considering getting the best Full Body Laser Hair Removal for Males in Islamabad then Royal Cosmetic Surgery Clinic Islamabad is the best choice for you. Our experienced and qualified staff will make sure that you get the best experience of your life. Book your free first consultation by calling us directly or filling out the form below.