Allow yourself one hour of uninterrupted pampering in our facial salon. Relax while we make your skin glow from the inside out. Enjoy deeply cleansed skin with custom cleansing to remove Comedones from the pores and aid in acne care. Looking for a dependable beauty salon in a demanding setting?
Royal cosmetic clinic offers several types of Facial Treatments in Islamabad, Rawalpindi, and Pakistan that make your skin fresh, young, and smooth. Our experts have extensive experience with all types of facials, so they will treat your face with care and use high-quality equipment to make your skin healthy and beautiful.
On this page, you will learn all about these amazing facial treatments, their procedures, results, benefits, and costs. So, take a moment and continue reading. 
Why People Choose Facial Treatments:
A facial treatment is one of the most effective ways to care for your skin. It is a multi-step skin treatment that cleanses, exfoliates, and nourishes the skin, promoting a clear, well-hydrated complexion that can make your skin appear younger.
If you want to maintain the health of the skin and correct certain skin conditions then such facial treatment would be an effective and the best solution for you. 
Different Types of Facial Treatments in Islamabad:
According to the royal cosmetic clinic, we are offering the most popular and demanding facial treatments that are helpful for skin health. Therefore, the common treatments are mentioned below
Hydra facial treatment:
One of our best options, Hydrafacial Procedure, an extremely popular treatment with a cult celebrity following, leaves your complexion brighter and refreshed, with unclogged pores and a healthy glow you'll fall in love with.
This treatment also removes dead skin and dirt, which helps your skin look younger. The hydrafacial is the only procedure that combines cleansing, exfoliation, extraction, hydration, antioxidant protection, and red led light therapy into a single treatment.
It is a medical-grade facial that contains not only deep cleansing and pore extraction but also purifying lymphatic drainage massage techniques. The results will last for at least 6 to 8 months and you may need to get more sessions with time. 
Laser skin rejuvenation:
In this amazing wrinkle removal treatment, it will tighten the skin by using infrared light. This eliminates the need for surgery, resulting in no anesthesia and no recovery time. Laser skin rejuvenation uses heat to enhance collagen production and tighten the skin's layers beneath the surface of the skin.
The results will last for several months and if you want to keep the new look that you obtain through this treatment then you can get laser skin rejuvenation in multiple sessions. Moreover, it is suitable for every man and woman who needs glowing skin. 
Chemical peel:
Choose a chemical peel for any skin-related issues and impurities if your skin tone and texture are uneven, or if you have dry skin. It will provide you with immediate and effective results that will improve the appearance and radiance of your skin.
As a result, the total duration of these skin treatments will be between 30 minutes and 2 hours. You will be sent home with aftercare instructions.
Microdermabrasion:
It is an ideal facial treatment for removing age spots and light acne scarring. Microdermabrasion removes the top layers of your skin, reducing the appearance of fine lines and wrinkles, blemishes, age spots, blackheads, and enlarged pores, to name a few advantages.
When suction is used to vacuum the exfoliated dead cells, a handheld instrument sprays small crystals on your skin, which then exfoliates it. After the treatment, your skin may be slightly red and irritated, but you will have refreshed youthful, and glowing skin.
Laser skin resurfacing:
Laser Skin Resurfacing is an effective treatment for treating spots, scars, aging signs, and dullness of your skin. It provides a solution that can easily treat the uneven defaults. The uneven defaults of skin are targeted by laser beams. 
It can also be used to make wrinkles and lines on the face and neck less visible. You may need multiple sessions to achieve the results you desire.
Our Best Results: 
Once you get one of the effective and suitable Facial Treatments in Islamabad, Rawalpindi, and Pakistan, it will provide you instant, natural, and smooth results without any delay. When the redness or swelling subsides, you will observe amazing results in your skin and your skin will naturally glow. 
It is necessary to choose a good treatment according to your skin condition and suitability. That is how you will get accurate and perfect outcomes in your facial skin. Moreover, you must attend the follow-up sessions for long-term results.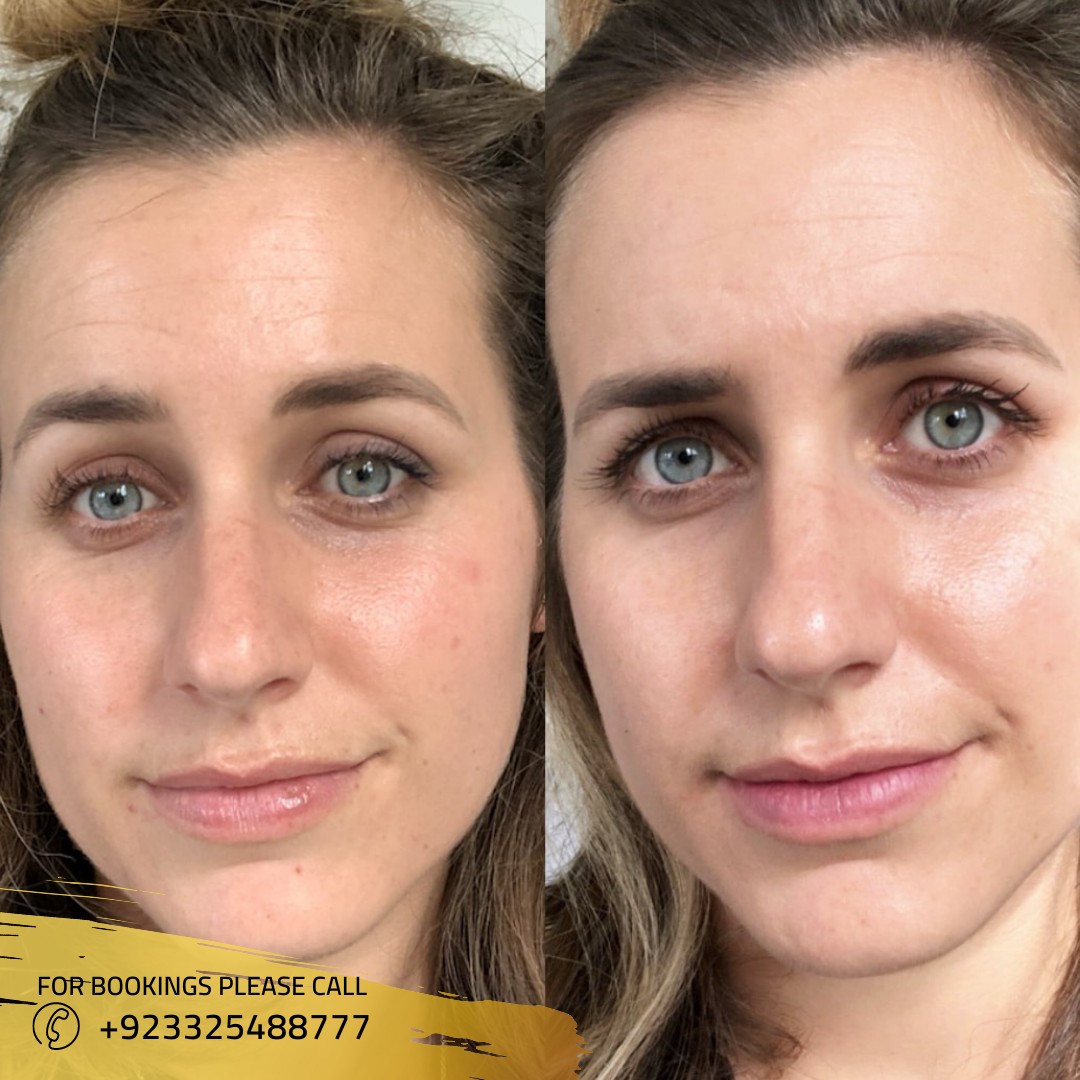 Top Benefits: 
Generally, there are a lot of benefits for every man and woman who get such amazing facial treatments without any doubt. So, a few common benefits are listed below
Immediate, effective, and smooth results. 

Quick performance of facial treatment. 

Skin treatments that are effective, satisfying, and amazing.

Deliver high-quality, noticeable results.

Your skin clears, softens, and smoothes.

There are no complications or side effects to report.

Less recovery time and more progress.

Your self-esteem will improve.
Who Are Suitable Candidates: 
Such facial treatments are suitable for several types of people whether they are young, old, or due to puberty. Moreover, people who have skin issues like acne, hives, cold sore, rosacea, environmental changes, the reaction to the medication, or due to genetics. Therefore, only an examination by your dermatologist can let you know that are you a good candidate or not. 
Aftercare Instructions: 
After undergoing one of the facial treatments, you should understand that getting treatment does not imply leaving your skin alone. The skin is very sensitive, and if you do not take care of it, it will become dull again. So, there are some common aftercare instructions that are necessary to follow. Such as
For soft skin, use a moisturizer that has been recommended.

Maintain a healthy diet and stay hydrated.

Wash your face with a good face wash twice a day.

Use ice packs if you experience redness or irritation.

Avoid going out in direct sunlight because it can harm your skin.

Make your skin smooth by using vitamin C.

Apply facial massage.
The cost at The Royal Cosmetic Clinic:
The average cost of Facial Treatments in Islamabad, Rawalpindi, and Pakistan is depend upon the treatment type. Different facial treatments have different cost ranges so these cannot be mentioned here. 
If you want to know the exact type of treatment's cost then you need to consult with our dermatologist. They will let you know about the cost of your chosen treatment. Also, there are a few factors that can affect the cost of the treatment, such as
Choosing an expert dermatologist. 

Location and reputation of the clinic. 

Type of facial treatment. 

The number of sessions required. 

Combination of multiple treatments. 

Other additional charges. 
Book Your Appointment With Us:
As a result, if you are a woman suffering from skin problems and want to achieve smooth, soft, and clean skin, feel free to consult a royal cosmetic clinic for incredible treatments. We provide a range of treatments and make recommendations based on the candidates' suitability and condition. Otherwise, you would be disappointed!