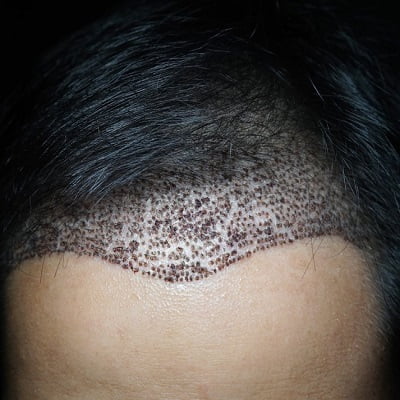 Get thicker hair with FUE Hair Transplant
Do you have thinning hair? Are your bald spots increasing? Don't worry. We have a solution for you. In the process of hair transplant, hair is removed from areas of the body that have thick hair growth and is transplanted to areas with thin hairs. Hair growth is thicker at the back of the scalp. That area acts as the donor area. Grafting is done to the light or bald sections of the scalp after removing hair from donor areas. Transplants have come a long way. From single scalp hair, to plug technique, to using mini- and micro-grafts. Currently, FUE and FUT techniques are being utilized widely. But the first question that comes to mind is Is Fue Hair Transplant Successful? So are you also the one who thinks about these questions frequently, then this blog will give you a complete understanding of the success rate and the factors affecting the success of Hair Transplant.
Do Hair Transplants Work?
There are various over-the-counter hair restoration techniques that are also used for hair restoration. But they do not work as successfully as hair transplants. There are certain facts to consider to check the success of  hair transplants:
Hair's growth rate is 80-90% within 4-6 months of the treatment.
As your own hair is transplanted, so hair thinning is also possible with the passage of time.
If your hair follicles are dormant, you may have less success rate as compared to other persons.
Transplants do not work for everyone. They are successful only for those who have lost hair due to any injury, balding or thinning.
Hair Transplant Success Rates:
This is an era of advancement in technology, and new techniques have made it possible for hair transplants to work effectively. But the success of this procedure is always dependent upon the individual as this procedure is highly customized and individualized.
Some people want to decrease the density of their hair while others want to lower their hairline.
A detailed discussion with your hair transplant surgeon will provide you with the desired and realistically achievable results.
An estimated survival rate of the grafts is 90-95%.
The success rate of the procedure also depends upon the patience of the candidate. As the results take some time to show.
Results become apparent in 12 months while for some people the results may take 18 months.
What is FUE Hair Transplant?
Individual hair follicles from your skin are removed during follicular unit extraction (FUE) hair transplants. They are then implanted in different locations on your body.
As a result, the hair in the new location will appear thicker.
It was intended for FUE to take the place of the "classic" FUT method.
During this procedure, the skin was transplanted onto the desired area by taking an entire piece of scalp or skin and follicles with it.
Factors affecting the success of Hair Transplants:
Type of Hair Transplant Chosen
There are several methods to perform hair transplants. One such method is Follicular Unit Extraction (FUE).
Because it is the least invasive method and leaves no visible scars, FUE is frequently regarded as the best technique.
These factors are also the main causes of FUE's typically high success rates.
The use of sapphire and diamond blades for transplant surgery is just one example of the cutting-edge developments that have helped FUE become more and more successful.
Type of Hair
The anatomy of your hair also affects the success rate of your procedure. Usually, the shape, size and characteristics of your hair are the main factors that are involved.
Thick, curly hair used as the donor may reduce the number of grafts used.
The fact that their hair is thin doesn't preclude them from getting a successful transplant, though. Instead, the type of hair you have will determine what constitutes a successful procedure for you.
Type of hair loss is also a factor that is different in females than in males.
Clinic and Doctor Quality:
One of the most important things to be considered for the success of any transplant is the experience and skills of the surgeon. A cheap and underqualified physician will never produce the required results.
A board-certified and experienced surgeon will increase the chances of the success rate of your hair transplants in many folds.
Naveed Azhar at Royal Cosmetic Surgery Clinic Islamabad is a board-certified and well-experienced surgeon. He has an experience of more than 15 years of and has performed various hair restoration techniques. He has done many successful hair transplants, especially FUE procedures. Book a free first consultation if you want to get more information about the procedure.
Post-treatment care:
Any cosmetic or aesthetic procedure produces the maximum benefits when you take care of it properly.
Always follow the post-treatment care instructions as given by your surgeon.
This will double the success rate of the procedure.
Consultation:
Always book a free first consultation at RCS Islamabad before going for the procedure. Every hair loss case is different.
So always go for a consultation before going for a procedure as your surgeon will evaluate the condition of your scalp and the type of procedure needed.
Sometimes it is possible that you do not need a transplant if your follicles have already gone dormant.
Book Free First Consultation at RCS for FUE Hair Transplant:
Regardless of the procedure, you select for your hair restoration requirements, you can anticipate positive outcomes and a very high success rate. Get in touch with Royal Cosmetic Surgery Clinic Islamabad right away to talk about your options with a skilled hair transplant surgeon in your area. Call us directly or fill out the form below. We're here to assist.