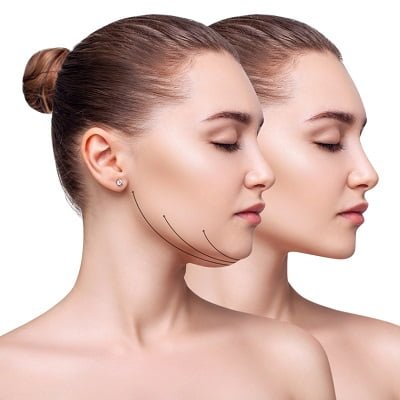 Only people without a defined, contoured neck may struggle with confidence. A double chin is the main cause of stage fright when speaking in front of an audience. Neck contouring is the technique of removing fat from the neck area to define the neckline. It will also make other minor adjustments to give the neckline a straighter appearance. In order to provide you with a more dramatic appearance and rapidly take years off your age, the doctor also works with smoothing out wrinkles and fat. The process that follows is used to perform neck liposuction or laser lipo for double chin to remove fat. This blog will specifically focus on the answer to this vital question: How much does Neck Liposuction Cost?
The procedure of Neck Liposuction:
Dr. Naveed Azhar explains the procedure of double chin liposuction as follows: 
We pierce three little holes. They are not even visible because they are so small. 

The patient receives the anaesthetic fluid through the three openings. 

Then we return through those same three holes and remove all the neck fat. 

It takes between 10 and 15 minutes.

You wear an elastic band for around four days after the treatment as recovery wear. 

You might see some bruising on the bottom region of the neck by day three. However, even after three days, you won't see any of the incisions. 

We also provide the facility of laser lipo for double chin. 
Recovery:
Following your neck liposuction treatment, you should be able to go home the same day. To get home, you'll need a ride from someone. In addition to oedema, patients might notice minor neck bruises. A neckband must be worn for two weeks during recovery following neck liposuction.
Cost of Neck Liposuction in Islamabad:
The cost of Neck Liposuction in Islamabad may vary depending on different variables. There is no one "correct" estimation for how much neck liposuction might cost because each patient's needs are so unique. The cost of the whole procedure may depend upon:
You'd like to lose a certain quantity of fat

Your fat tissue's thickness

Area being treated

The type of liposuction procedure to be used
Additional elements, such as the following, could also impact how much your neck liposuction treatment will cost:
Level of expertise of your plastic surgeon

Facility costs

The anaesthetic kind being utilised (general vs. local)

The use of prescription drugs

The cost of the living index where your surgeon practises and more
So if you are also trying to get to know about chin liposuction costs near me then you may contact us.
Factors Affecting Neck Liposuction:
The reputation of the hospital:
The hospital's reputation has an impact on the cost of liposuction. The right care and the desired outcomes will be provided to you if you select the best and most reputable hospital. Additionally, the hospital's location is important, so you will pay more if you select a surgeon in a large city.
Experience of the surgeon:
In any cosmetic procedure, experience is extremely important. Since it is common knowledge that better results require slightly higher prices than other treatment options, the cost also depends on the doctor's qualifications and experience.
Hospital facilities:
The most recent technology and careful consideration are used for this procedure. Don't worry about the treatment's outcome, but your surgeon does charge an excessive amount of money. If he owns his own hospital, he will be able to provide you with a lot of services and may even charge you less than those who undergo plastic or cosmetic surgery in other facilities.
Am I a Good Candidate for Neck Liposuction?
Schedule a consultation with us to find out if you are a good candidate for this surgery. Patients who undergo neck liposuction should ideally:
In good general health

Having trouble losing the extra weight on your neck and under your chin

Willing to dedicate oneself to the procedure and recovery

Seeking sustained fat loss
A Better Profile with Neck Liposuction in Royal Cosmetic Clinic Surgery Islamabad:
Many of our patients frequently lament having extra fat in their necks and under their chins. You may appear older or heavier if these places are fat. For the purpose of eliminating this extra fat and regaining a more beautiful neck shape, we provide neck liposuction. Make an appointment with Dr. Naveed Azhar, our fellowship-trained facial plastic surgeon, by calling our RCS office if you'd like to learn more about this procedure or to schedule a consultation. Call us directly or fill out the form given below. We are excited to assist you.