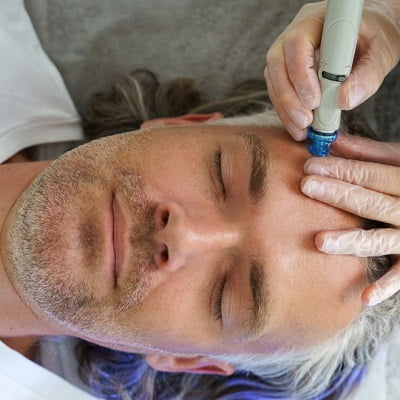 As we age, our skin undergoes several changes that can leave us feeling less confident about our appearance.  Age-related changes in our skin, such as fine lines, wrinkles, age spots, and uneven skin tone, can make us feel self-conscious. Thankfully, there are a number of treatments that can lessen these symptoms and enhance the overall appearance of our skin. The hydrafacial is one such procedure.
What is Hydrafacial?
In order to improve the health and appearance of the skin, hydrafacial is a non-invasive, multi-step procedure that combines cleansing, exfoliation, extraction, hydration, and antioxidant protection. The procedure can be tailored to address particular issues like fine lines, wrinkles, hyperpigmentation, and acne and is appropriate for all skin types.
Dealing with Aging Skin: Traditional Methods vs. Hydrafacial Treatment: 
Using skincare products like moisturizers and serums, getting regular facials, and, in more severe cases, cosmetic procedures like Botox injections and facelifts are all traditional ways to deal with ageing skin. The patented technology used in the more recent hydrafacial treatment allows for the cleansing, exfoliation, extraction, and hydrating of the skin without the need for invasive procedures.
What is the Procedure of Hydrafacial Treatment?
A series of non-invasive steps are used in a hydrafacial treatment to cleanse, exfoliate, and hydrate the skin. The general steps of the process are as follows:
Cleansing: 
The first step involves thorough cleansing of the skin to get rid of any oils, dirt or makeup that may be present on the face.
Exfoliation: 
After that, dead skin cells are removed from the surface of the skin using exfoliation, which is carried out using a special attachment on a Hydrafacial machine.
Extraction: 
The device also has a suction tool that is used to extract impurities and blackheads from the pores.
Serum infusion: 
Afterwards, a customized serum is applied to the skin, depending on the patient's particular skin issues. During the procedure, this serum is infused deep into the skin's layers, leaving the skin glowing, plump, and firm.
Hydration: 
The final step is applying a moisturizer to hydrate and protect the skin.
The treatment takes around 30-45 minutes to complete, with no downtime required, making it an efficient and convenient option for busy people who want a boost of radiance and hydration in their skin.
Advantages of Hydrafacial as an anti-ageing Treatment:
Hydrafacial helps to reduce the appearance of fine lines and wrinkles:
The ability of hydrafacial treatments to lessen the effects of ageing is one of their main advantages. The procedure helps to reduce the appearance of fine lines and wrinkles by removing dead skin cells, clearing clogged pores, and boosting circulation. Additionally, the procedure infuses collagen-stimulating antioxidants and peptides into the skin, which is necessary for maintaining skin that is firm and youthful-looking.
Hydrafacial procedures enhance the overall texture:
The ability of hydrafacial procedures to enhance the overall texture and tone of the skin is another advantage. The procedure can lessen sun damage-related hyperpigmentation and dark spots, and it can also make acne scars look better. Additionally, hydrafacial treatments can help increase skin firmness and elasticity, giving your skin a smoother, younger-looking appearance.
Furthermore, hydrafacial in Islamabad also helps in following:
Increased Hydration: Dry skin can accelerate the visible signs of ageing, so the hydrating properties of the treatment help to keep the skin looking plump and youthful.

Improved Texture: By removing dead skin cells and impurities, the Hydrafacial treatment can improve the overall texture and smoothness of the skin.

Reduced Wrinkles and Fine Lines: The combination of exfoliation, extraction, and hydration can lead to a reduction in the appearance of wrinkles and fine lines over time.

Reduced Appearance of Age Spots and Sun Damage: The use of antioxidants in the Hydrafacial treatment can help to brighten the appearance of the skin and fade areas of age spots and sun damage.

Safe and Non-Invasive: Hydrafacial treatment is a safe and non-invasive option for those looking to reduce signs of ageing without the need for more invasive procedures.
How does Hydrafacial Treatment Help Reduce Signs of Aging?
The Hydrafacial Treatment minimizes the appearance of age spots and sun damage while improving overall texture and tone, hydrating the skin, and reducing fine lines and wrinkles. This is made possible by the treatment's cutting-edge technology, which eliminates impurities and dead skin cells while nourishing the skin with antioxidants and nourishing serums.
Hydrafacial Treatment At Royal Cosmetics Islamabad:
We provide a variety of hydrafacial treatments at Royal Cosmetics Islamabad that are customized to meet the individual requirements of our clients. Our team of skilled skincare specialists will collaborate with you to create a custom treatment plan that addresses your particular concerns and aids in the achievement of your desired outcomes.
Book Your Consultation:
In conclusion, hydrafacial treatments are a fantastic choice for minimizing ageing symptoms and enhancing your skin's appearance. You can keep your skin looking young and radiant with routine treatments, which will make you feel beautiful and confident. To schedule a consultation if you're interested in learning more about hydrafacial procedures, call Royal Cosmetics Islamabad right away.