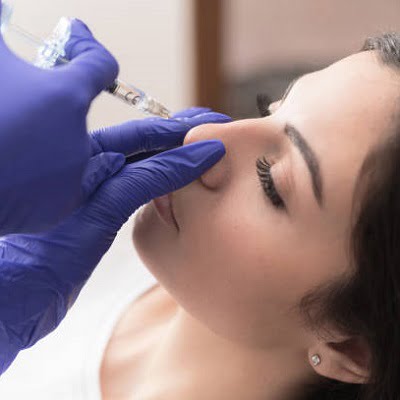 The shape of the nose defines facial aesthetics and produces a captivating look—because the structure of your nose matters. A refined and contoured nose enhances self-image and boosts confidence. People often want to enhance the dynamic of their noses, but surgical interventions prevent them from achieving this end. Some people might not like surgeries, or some may not take time off from their respective jobs. A non-surgical nose job in Islamabad is a perfect alternative that adds volume and augments the allure of the nose.
Let's Understand What A Non-Surgical Nose Job Is:
This is a cosmetic procedure that involves the application of dermal fillers to add volume and improve the appearance of the nose. Also known as non-surgical rhinoplasty, this method of nose rejuvenation does not involve surgical cuts or incisions but improves the aesthetics of the nose through non-surgical means like dermal fillers. This procedure is minimally invasive and best for individuals who are afraid of surgical interventions and who cannot manage post-treatment rest because of the lack of time.
Non-Surgical Nose Job in Islamabad: Top Benefits
Adds volume to your nose without any involvement of cuts or incisions

Improves the tip of the nose and straightens a marginally crooked nose

Creates symmetry and facial alignment and offers personalized results

Non-invasive in nature, limiting the risk of complications and side effects

It is a quick procedure without any downtime

You can resume your routine activities almost right after the treatment

It does not cause any issues like deformity or imperfect results

Its results are temporary, allowing you to alter your decision

It is a feasible and largely affordable nose enhancement treatment
How Long Does A Non-Surgical Nose Job Last?
This is the most asked question. People are curious to know about the longevity of this treatment. The duration of its results varies from person to person. It might last for six months to a year or even two years. There are a few factors, such as the type of dermal fillers used in a treatment, facial features, an individual's metabolism, and specific alterations done with or after the procedure, that define the length of this treatment's duration. 
Why Non-Surgical Nose Job In Islamabad?
This is a quick procedure that offers immediate results
It does not involve incisions that eliminate the downtime factor

You can observe your results right after the treatment

Results are temporary, and changes can be reversed

This procedure does not lead to scarring or incisions
Is It Safe To Have A Non-Surgical Nose Job?
Generally, this is a safe procedure that doesn't cause any significant harm or risks because it is a non-surgical and minimally invasive procedure that does not even require downtime to recover. You may experience complications if fillers are injected into the blood vessels. It is crucial to choose a licensed and reputable practitioner. You may also consider Royal Cosmetic Surgery Islamabad because it has earned a good reputation in the industry through its exceptional services and endeavors for customer satisfaction.
How Much Does a Non-Surgical Nose Job Cost in Islamabad?
The cost of a non-surgical nose job in Islamabad depends on several factors, including the type and amount of fillers used in treatment, the clinic's reputation, the surgeon's experience, available facilities, etc. Generally, the price may starts from PKR 45,000. But it might alter because of the above-mentioned factors.
Non-Surgical Nose Job: Best Surgeon in Islamabad
Dr. Naveed Azhar is one of the best surgeons in Islamabad when it comes to rhinoplasty or non-surgical rhinoplasty in Islamabad. His credentials, years of field experience, tailor-made treatment strategies, active communication with his patients, and ethical approaches make him one of the main figures in this field. 
Summing Up:
Non-surgical nose job in Islamabad beautifies the nose, improves its aesthetics, and creates the desired facial symmetry and alignment. This is a non-surgical procedure that does not involve incisions, and even this procedure does not require downtime, enabling a patient to resume his normal routine immediately after the treatment. The results of this treatment last from a few months to even a couple of years. The longevity of its results depends on the type of filler, the number of sessions, and the skin conditions of a patient.
Royal Cosmetic Surgery Islamabad offers satisfactory services to satisfy its patients. If you want to enhance the attractiveness of your nose and align your facial features, book your appointment at Royal Cosmetic Clinic Islamabad and get the luxury of looking attractive.