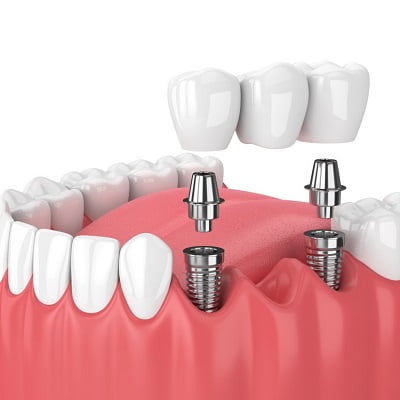 Preface:
Getting treatment for your teeth can cost you a hefty amount of money if you are not aware of the market rates. Many people believe that if something is priced at a higher number, there is a 100% guarantee that it is the best service or product ever. The same goes in the field of cosmetic dental procedures. The more you pay for it the better it is supposed to be. Unfortunately, that's not always the case.
Sometimes you pay a higher price for one of these procedures that just turns out to be not what you expected. But we at The Royal Cosmetics Surgery Clinic offer the best services and Cost of Dental Implants in Islamabad, Pakistan!
What are Dental Implants?
Your teeth don't last forever. Be it old age, decay from disease or just physical trauma to the face, broken teeth can rot away and need to be surgically removed. After the extraction, the empty cavity is implanted with a titanium screw. This metal implant is drilled into the bone, making it become a part of the jaw bone. This provides a better alternative to getting dentures as this is non-reversible.
As for dentures, they can be easily removed and placed back in. After the implant is set in, a porcelain crown will be adjusted on top of the implant. This crown will be made exactly to match the color and texture of your current teeth.
Why Should You Pick This Option Instead of Dentures?
Dental implants can take some time to merge with the bone and tissue in your jaw but it is a good alternative to dentures. Following are some reasons why you should opt for Dental Implants in Islamabad, Pakistan:
If your jawbone has fully matured
If you have the suitable bone structure needed for the implants to be secured.
If your jaw can handle a bone graft
If your mouth has healthy gum tissues
If you don't have any blood diseases or health problems
If you do not prefer wearing dentures due to aesthetic reasons
If you only have one missing tooth
If you are a non-smoker
What is the Price of this Treatment in Islamabad Pakistan?
The Cost of Dental Implants in Islamabad, Pakistan can range anywhere from 70,000 PKR to 120,000 PKR. This cost depends on influencing factors such as the doctor's fee and the material of the implant. The total expenses of this procedure at our clinic also include a number of other elements that can either increase or decrease the total pricing.
What Affects the Cost:
The factors that are affecting the Cost of Dental Implants in Islamabad, Pakistan are as follows:
Number of Implants:
The number of implants that you get can increase or decrease the amount of money you spend on this procedure. One implant would cost less as compared to getting two or more.
Type of Material used:
Titanium implants can increase your spending budget but there are alternative cheaper metals that can also be used.
Doctor's Expense:
If our head dental specialist treats you, you might have to pay an extra fee. But rest assured at all our dental surgeons are the best in the city
Additional Expenses:
The doctor's assistant's fee is also included in the overall charges. Other additional expenses include fixing a porcelain crown on top of the implant, follow-up examinations to make sure the implant is healing properly, diet plans, etc.
Required Medication:
The anesthesia charges are included in the total bill as well. However, several clinics charge that for it separately. Another thing to remember is the expense of prescribed medication. After the treatment, the doctor will give several prescription pills and syrups to help heal the wound quicker
Can Insurance Cover This Process?
Several insurance companies deem this procedure a cosmetic need and not something that is needed medically. But there are some cases where you can get insurance coverage for implants. Insurance policies cover dental implant procedures in the case of physical trauma or oral cancer.
Book an Appointment!
Everyone deserves to have the perfect set of pearly whites! And our team of experienced doctors at Royal Cosmetic Surgery Clinic is trained to make all your beauty dreams come true! So book your free consultation appointment today by filling out the form below!