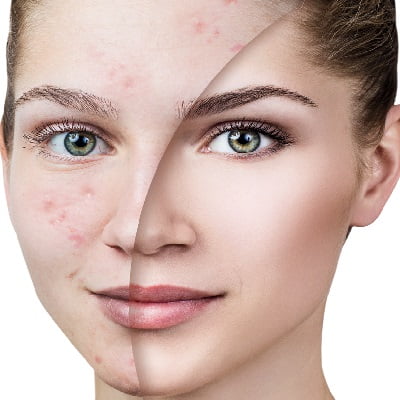 You can wear cosmetics, but you should be selective in your choice. Acne may be brought on by some cosmetics. A condition known as acne cosmetica results from this. Utilizing makeup can cause acne cosmetica in women who do not typically have the condition.
Numerous little lumps on your face are most likely a sign of acne cosmetica. On the cheekbones, chin, or forehead, these lumps typically develop. It's common for women to get whiteheads that slightly protrude from their skin. Additionally, some pimples might be seen. So, are you also struggling to get the answer to this question: Can I Use Make-Up If I Have Acne? Then you are at the right place. This article will give you a complete set of information regarding acne and the use of make-up.
How to Prevent Acne While Wearing Makeup?
Even though applying makeup over actively inflamed acne may seem like a terrible idea, we have all been known to do it.
Begin by washing your face.
Nothing is more crucial than starting with a blank slate before applying any cosmetics, acne, or no acne. Cleaning away dirt is a non-negotiable skincare step as you prepare your skin when acne-prone skin is involved.
Try a patch for acne.
In a perfect world, avoid applying makeup to active acne lesions. If you have to cover a significant event and are going there,
Ensure that your cosmetics sponges and brushes are clean.
Acne-prone skin is more vulnerable to bacterial infections, which can spread readily to your skin through your cosmetics, brushes, and sponges.
Use makeup that's specifically made for acne-prone skin
Your choice of cosmetic items is especially crucial if you have oily or acne-prone skin. Everything that touches your skin should be beneficial to it rather than making it angry and irritated the next morning.
Get along with mineral makeup
When it comes to sensitive or acne-prone skin, mineral makeup is preferable. These tend to be kinder to your skin and contain fewer chemical actives.
Is It Harmful to Use Makeup to Cover Acne?
Everyone advises avoiding applying cosmetics to the afflicted region until the pimple or blemish disappears. If you have an active breakout, your skin may be more prone to irritations and sensitivities. As a result, if you're courageous enough, I'd recommend giving up makeup for a short while in order to improve your skin over time.
How to Apply Makeup When You Have Acne?
Although it may appear difficult, wearing makeup over acne need not be difficult. Knowing what makeup to use and how to use it can encourage healthier skin and a smoother, more natural appearance. However, some cosmetics can clog your pores and worsen breakouts. Your everyday makeup routine can significantly improve with correct skin care, product selection, and application techniques.
Method1: Using Makeup Expertly
To prepare your skin for makeup, cleanse it.
To make a smooth surface, remove flakes.
Apply a non-greasy moisturizer after.
Make an even foundation.
Apply foundation in a very thin layer.
Only apply concealer to imperfections.
Using a little powder will help if your skin is greasy.
Utilize color correctors to cover acne and scarring discoloration
Colorize the areas of your skin that are healthy.
Apply stunning blushes and highlighters to your makeup to draw attention away from pimples
Accentuate other aspects to draw attention to them.
Method 2: Preventing Acne
At night, take off your makeup.
Wash your makeup tools.
Opt for acne-safe products.
Look for cosmetics that contain acne treatment.
Method 3: Treating Mild Acne at Home
Use a mild cleaner on troublesome areas twice daily.
Avoid skin-irritating products.
Use sunscreen and an oil-free moisturizer.
Keep an eye on what touches your skin.
Take a shower after working out.
Method 4: Treating Moderate to Severe Acne
Buy over-the-counter goods that contain components to treat acne.
For stronger drugs, speak to your doctor.
If your acne is severe or persistent, see a doctor.
Understanding Acne Medications:
Sometimes, acne will go away on its own. To address them, though, you could occasionally need medication. Many people's initial choice is over-the-counter medicine. However, when contacting Acne Cosmetica, certain drugs must be taken.
The following are some of the treatment options for acne:
Nonprescription Treatment for Acne:
Sanitizer and water Acne can be treated by gently washing your face no more than twice daily with soap and water.
Many soaps and cleansers feature acne treatments in their advertising. Benzoyl peroxide, glycolic acid, salicylic acid, or sulfur are frequently found in them.
Benzyl peroxide You could try using a non-prescription medication that contains benzoyl peroxide to treat minor acne, or your doctor might advise it. It is thought that this substance eliminates acne-causing bacteria.
Salicylic acid aids in reversing abnormal cell shedding on the skin. Salicylic acid aids in pore cleaning for milder acne to treat and prevent outbreaks.
Acetone can take oils from the skin's surface, while alcohol has a moderate antibacterial effect. Some over-the-counter acne medications contain a combination of these ingredients. Dermatologists typically do not advise using these substances since they cause the skin to become dry and have little to no impact on acne.
Prescription Treatments for Acne:
Topical antibiotic usage and oral antibiotic use are also options (systemic). The way that antibiotics treat acne is by getting rid of the bacteria that cause it and calming the skin.
Both topical and oral versions of these medications are offered. By altering the skin's growth and shedding patterns, topical retinoids can treat moderate to severe acne.
Another topical that contains antibacterial and anti-inflammatory qualities is azelaic acid, which is available as a gel, cream, or foam.
When to Consult a Dermatologist?
When the trigger is eliminated, the most severe type of acne, also known as acne cosmetica, can be treated. Finding the cause is the key issue that arises. Only a skilled dermatologist is qualified to perform this. If you're thinking about visiting a dermatologist in Islamabad for an acne consultation, Dr. Abida Sardar is the best option available. She can assist you in sorting it out so that your skin is more visible.
Book Your Consultation With Us!
You can consult us if you have acne-prone skin and wish to get rid of pores and imperfections brought on by acne. The top dermatologist in Islamabad is Dr. Ayusha Khan. She will treat you by giving you the clear skin you've always desired. She will also address your most thought-out questions like Can I Use Make-Up If I Have Acne? Thus, schedule your initial consultation with us. Fill out the form below or give us a call.