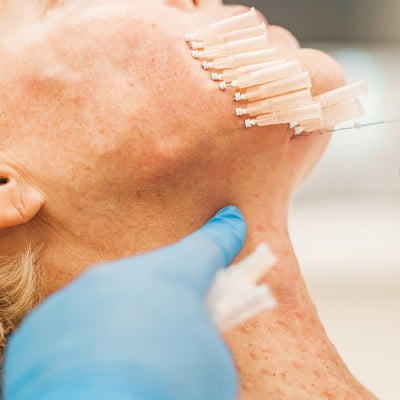 Everyone Will Notice But No One Will Know. 
Have you had enough of your sagging skin? Do you also desire to smooth out wrinkles, improve skin texture, and tighten and thicken the skin? Then PDO mono threads also known as "mini facelifts" in Islamabad are the finest option for you. A thread of polydioxanone (PDO) is injected under the skin as part of the treatment. The sutures stimulate your skin's natural collagen production as they dissolve. Since collagen is essential for maintaining the health of your skin. This procedure increases the production level of collagen and may have long-term advantages. This blog will explain to you about PDO mono threads- what you need to know. 
What is a PDO Mono Thread?
A PDO mono thread is a transient cosmetic procedure that is especially good at lifting and tightening the skin. PDO mono threads, which were first popular in Korea, are now widely used worldwide. This procedure is well-liked and is a substitute for conventional cosmetic surgery. As no fillers or invasive surgery is utilised. 
How do PDO Mono Threads Work?
Dermatologists

are using these threads for tightening the skin and giving it a firmer appearance. 

The skin has various layers and your dermatologist inserts these threads in the 

subdermal level. 

The mesh-like pattern is best for the insertion of threads. 

Skin trauma will promote the production of collagen in the skin. 

This will give skin a firm appearance along with giving it rejuvenating effect. The results appear gradually. 
The expert at Royal Cosmetic Surgery Clinic Islamabad uses this treatment for a variety of purposes. They use it for the treatment of fine lines, wrinkles, skin sagging, loss of volume and general ageing concerns.
Is the Process Painful?
Dermatologists use a local anaesthetic to numb any discomfort patients may feel during the procedure. Some tenderness may develop after the first few hours. But this is still significantly less than the amount of discomfort that would result from a surgical face-lift. You can achieve the best results while using this less invasive, quicker, safer alternative to many surgical procedures.
Who Is the Candidate?
This treatment helps the patients for rejuvenating their skin. You are an ideal candidate if you have:
If you are of 18 years and mentally healthy

You have saggy skin with dropping facial features

You have positive assumptions regarding the outcomes of the procedure 

You have fine lines and wrinkles 

Your droopy skin is giving you stress

Your muscle tone is weak
Following are some of the contraindications for the usage of PDO Mono Threads:
Autoimmune disease

If you are Pregnant

You are suffering from any active infections or illness
Aim of the Treatment:
This treatment of PDO Monolift in Islamabad aims to give your skin a natural glow with rejuvenation. Earlier, microneedling was used but now, with the advent of new technology PDO Monothreads are being utilized. This performs its function by facial retightening. This process also improves the facial features where volume depleted already. 
When Do the Results of PDO Mono thread Become Visible?
Results start to show at six weeks and last for up to a year. Depending on the areas being treated, the process typically lasts 30 to 60 minutes. This treatment involves very little downtime. You might experience a few minor skin irregularities, bruising, and localised swelling. Within a week, these problems ought to be resolved.
How Long Does the Procedure Take?
The treatment only takes 15 to 30 minutes, which is one of the most incredible advantages. On a case-by-case basis, the anticipated treatment time varies. The majority of our clients receive treatment in less than 20 minutes. You can resume your regular activities after that. There is no recovery period or downtime with this procedure, unlike a traditional facelift. Please give yourself 20 minutes to apply the topical anaesthetic before the procedure.
Cost of Mono Thread Lift in Islamabad:
The Cost of the Mono Thread Lift in Islamabad, Pakistan is upto 1.5 lac rupees depending on the area being treated. The majority of clinics in Pakistan that perform cosmetic surgery charge for Thread lifts by area. It is like the nose is one area, the cheeks are another area, and the full face is the third. Larger areas require more treatment, which ultimately costs more than smaller ones.
Book Your Consultation:
Royal Cosmetics Islamabad is the best option for you if you're looking for a reputable and reliable clinic that can provide you with a memorable experience. Our specialists know what you're looking for and can skillfully deliver results that are both efficient and appealing. What are you still holding out for? Call us on the given number or fill out the form given below. We are delighted to serve you.