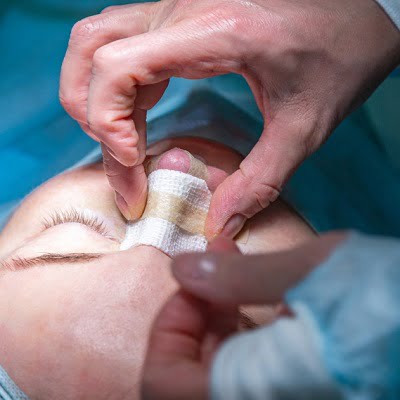 Nose Surgery or also known as rhinoplasty, septoplasty, septorhinoplasty, nose reshaping, or nose job is a process in plastic surgery used to rectify and reconstruct the form and restore the functions. It aesthetically enhances the nose by fixing any deformity or nasal damage. Dr. Naveed Azhar is an experienced and well-known rhinoplasty surgeon in Pakistan who has over 10 years of experience. He has performed various nose reconstruction and nose reshaping surgeries. He has also performed successful correction of congenital defects. This article will explain to you Nose Surgery Cost in Islamabad, its benefits, and its results.
Reasons to Get Nose Surgery:
You may benefit from nose surgery if you are dissatisfied with the way your nose looks or if it is causing you difficulty in breathing.
Some advantages of having a nose job are listed below:
You should work on your nose's size, shape, and angle.
Make your face look better-proportioned.
Repair breathing-related structural issues
Gain a better sense of yourself and more self-assurance
Shrink the nose's size.
Modify the nasal bridge or tip form.
Narrow the nostrils' openings.
To change the top lip and nose angle differently.
Pre-operative Preparations:
The following points must be kept in mind before booking your consultation:
You must be in generally good health.
For your face characteristics to mature, you should be at least seventeen years old. Surgery can be performed at younger ages, but because of continuous facial growth, revision rates are greater.
For rehabilitation, you may need to take up to two weeks off.
At the base of your nose, scars could form.
The Procedure of Nose Surgery:
Your aesthetic cosmetic surgeon will make cuts to gain access to the bones and cartilage that support the nose after local anesthesia.
Your cosmetic plastic surgeon can shorten or lengthen your nose, increase its size, and change its shape by adding or removing bone and cartilage and modifying the supporting components inside the nose.
With the use of cartilage tip grafts, you can alter the shape of your nose's tip, giving it a more elevated appearance or changing its length, width, or depth.
The shape of the underlying structure will be reflected in the way that your skin and other soft tissues change.
To add volume to the desired areas in some individuals, tissue fillers or fat grafts might be used.
Results:
The outcomes of nose surgery may alter with time. For swelling to entirely go away, it may take many months or even up to a year. Depending on the type of repair you seek, the outcomes of a rhinoplasty procedure could be minimal or significant.
Cost of Nose Surgery:
The price of  Nose Surgery Cost in Islamabad may range between PKR 120,000 to PKR 300,000 following factors may influence the cost:
Prices may change depending on the procedure of the person.
Regardless of whether you are having a new or revision operation
The anticipated time frame for the procedure
The location where surgery is performed
If grafting rib or ear cartilage is necessary for the process
Discuss the dangers, the process, the procedures, the recuperation, the cost, and the likely degree of change with our best rhinoplasty surgeon in Islamabad. Make an appointment right away.
Despite the fact that cost is a constant worry for everyone, insurance may pay for surgery to correct breathing problems (such as a deviated septum), but not for cosmetic procedures. Prior to carrying out any procedure, we let patients know what to expect in terms of costs.
Nose Surgery Complications:
Although rhinoplasty is normally safe, there is always a chance of infection, bleeding, or scarring.
Follow the pre-and post-operative guidelines provided by your care team to prevent them, and during the healing process.
You can consult with us about any worries you may have.
Sometimes after surgery, tiny red patches (damaged blood vessels) develop on the nose.
Even the most skilled surgeons can produce these spots because they occur randomly.
Discuss your choices with your surgeon during and after your recovery if this is a problem you are experiencing or are concerned about.
Why Choose Us:
Royal Cosmetic Surgery Clinic Islamabad is blessed to have the services of the best rhinoplastic surgeon in Islamabad. We understand that it is imperative for anyone to choose the best surgeon for any procedure. If you are thinking to get nose surgery then don't worry; Nose Surgery Cost in Islamabad is affordable.