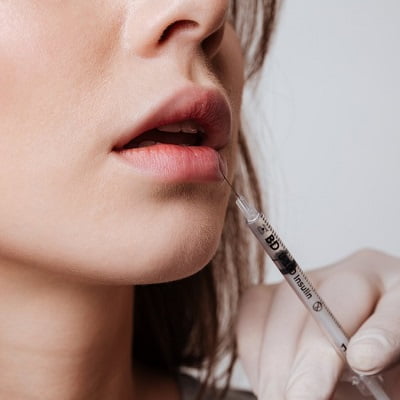 Aging affects the motor characteristics of the masticatory organs, including the tongue, lips, cheeks, and mandible, which has an impact on masticatory function. Gel-like substances called dermal fillers are injected beneath the skin. They are designed to produce smoother, fuller, or both types of looks. It has been shown that anything from the size, symmetry, and shape of our lips to how easily we smile can affect how we view ourselves to be beautiful as a smile increases the aesthetics.
What Is Lip Augmentation?
However, some people are depressed because of their lips; this could be because they are excessively thick or too small. Lip fillers can be used by persons who want to add volume to their lips or who have small lips. You might get bigger, plumper lips through the cosmetic procedure of lip augmentation. The most often utilized method of lip augmentation today is an injected dermal filler. Lip filler's cost in Islamabad will be explained in this article.
Why are Lip Fillers Used?
Lip fillers can increase the size or volume of your lips. They cannot stop the aging process, but they may help delay the need for more invasive surgical lip augmentation, such as lip implants or a lip lift.
They can also help you achieve your ideal appearance, which boosts your confidence.
Your lips may gradually become thinner over time as a result of genetics, smoking, and sun exposure. The use of lip fillers can help to remedy these issues.
Ideal Candidate:
You must be 21 years or above
You have a positive perception of life
You do not smoke
You are physically healthy
You have realistic expectations from the results
Lip Fillers Price in Pakistan
Lip Fillers Cost in Islamabad may range from 15,000 PKR to 50,000 PKR. but this cost may vary depending upon various factors:
The shape and condition of the lips
The location of the faculty
The experience of the service provider
Other secondary costs
Book an appointment with us for an exact cost determination for the whole procedure.
Pre-opt Preparation:
Smoking, drinking, using blood thinners, and using supplements like St. John's Wort, vitamin E, and fish oil within 48 hours of the procedure are prohibited because they thin the blood, which increases the risk of bruising and swelling.
During The Procedure:
Four types of dermal fillers that are approved by the Food and Drug Administration (FDA):
Hyaluronic acid
Calcium hydroxylapatite
Poly-L-lactic acid (PLLA)
Polymethylmethacrylate (PMMA) beads suspended in bovine (cow) collagen
Your physician will anesthetize you and inject the filler directly into your lips. Lip Botox can be used by cosmetic professionals to produce a similar appearance, but it is not a dermal filler. Lip filler is a minimally invasive procedure that takes only a few minutes. However, the procedure is not permanent, and further injections will be required to preserve the filler's created lip fullness.
Lip Fillers Before and After Results:
You'll be pleased to learn that the preliminary results of lip injections happen immediately, However, after getting your lip injections, you may find out about your final results after few weeks. This is because it will take some time for the dermal filler to bind to the smooth tissues of your lips.
Aftercare Instructions:
Hydrate yourself. Water helps your body repair, so drink plenty of it.
Consume a lot of vegetables and hydrating fruits, and try to limit your intake of extra sodium, which can worsen edema.
Use of aloe vera or vitamin K can be helpful if you have bruises on the site of injection.
Use an ice percent or an ice dice covered in a thin towel to sometimes apply ice to your lips.
When getting lip fillers or other dermal fillers, wait for twenty-four to forty-eight hours before engaging in any vigorous exercise. Exercise-induced elevated blood pressure and heart rate might further exacerbate bruising or swelling. Walking is a good example of a light exercise that promotes interaction.
Lip Filler Benefits:
Benefits of Hyaluronic Acid Fillers
Bumps will disappear quickly. Any lumps and bumps that were formed by the movements of the lips may be readily removed.
Fewer bruises compared to other dermal fillers.
Hyaluronic acid fillers are unlikely to trigger an allergic reaction because they are created from materials that are comparable to those found in the body.
The treatment pace is gradual. The injections may be administered repeatedly throughout various appointments until the desired results are obtained.
The gel inside the filler once injected aids and molds the tissues of the lips.
The amount of material injected can be managed, giving the doctor greater control over how much lip volume is produced.
Lip Filler Side Effects:
After obtaining lip filler injections, adverse effects may appear hours, days, or even weeks later. They usually go quickly, but occasionally they could possibly reappear weeks, months, or even years later. Following are some of the common adverse effects of lip fillers:
Bruising
Itching
Swelling
Pain and sensitivity
Redness
Rash
Botox vs Lip Fillers:
The FDA has also approved products containing botulinum toxin to treat facial wrinkles. They are injectable capsules that work by preventing the muscles from tightening, which makes the wrinkles less obvious. The FDA has approved the use of those injectable capsules for the temporary appearance of one or more types of facial wrinkles, including frown lines, brow lines, and crow's feet.
Why Choose Royal Cosmetic Surgery For Lip Fillers:
Now you can have FDA-approved fillers in RCS at affordable rates. You will get healthy and plump lips that will help in boosting your self-confidence. You can call us on the given number or fill out the form below.