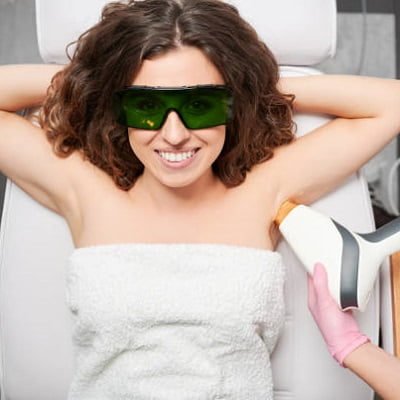 Undesired hair may cause discomfort or disconnect to many of us because of the irritation or psychological effects they produces. This irk incites people to remove these unwanted hair, achieve a flawless skin texture and redefine the beauty of an individual. Laser hair removal in Islamabad is an effective treatment to get rid of displeasing body hair.
Now, we are going to discuss questions that you may have if you are thinking about laser hair removal! Look over it, educate yourself and make an informed decision!
What Is Laser Hair Removal?
This is a cosmetic procedure that involves the use of laser technology to remove undesired hair follicles from different areas of the body. Melanin located in the hair absorbs light, which later on converts into heat. Heat destroys hair follicles and gradually reduces the follicle's ability to grow again. This is quite a popular procedure because it is effective and customised, and it also eliminates the need for other hair removal procedures.
What Are The Benefits Of Laser Hair Removal?
Removes unwanted hair from the body and improves the skin's texture

Offers precise and targeted results, and its results are also enduring

It is a quick procedure, and it does not cause pain or discomfort

Provides desired results while it has minimal downtime
Does Laser Permanently Remove Hair?
If you get a specific number of sessions based on your unique requirements, then you will experience its long-lasting results. This treatment offers enduring results and abolishes the need for other hair removal treatments.
What Areas Of The Body Can Be Treated Through This Procedure?
This procedure is applicable to every body part. You can remove undesired hair from any of your body parts, such as the face, neck, arms,  bikini area, back, chest, etc. Before getting that treatment, you must consult with a professional to ensure your suitability for this technique.
How Many Sessions Are Needed For Effective Hair Removal?
The number of sessions varies from person to person based on their unique requirements. The normal range lies somewhere between 2 to 6 sessions. An expert mainly decides the number of sessions based on an individual's specific needs.
Should I Laser My Public Areas?
Yes, you can. There is no harm in doing that. Many people find it even less irritant than waxing. It is a quick, safe and effective procedure that removes undesired hair and eliminates the soreness or irritation associated with unpleasant hair.
Does This Hair Removal Procedure Hurt?
Some people may experience a minor sensation of discomfort and pain. The intensity varies from person to person. Normally, this procedure does not hurt, and the level of pain and discomfort is easily manageable. 
Are There Any Potential Side Effects Of This Procedure?
Normally, patients who undergo this procedure experience swelling, redness, bruising and mild discomfort. These effects are negligible because they do not last long and fade away in a matter of a few days.
What Must I Do After Getting Laser Hair Removal?
Protect the treated area from the sun or do not expose the treated area to the sun

Do not scrub or exfoliate the treated site, as it could cause damage or infection

Avoid using products that could irritate the skin

Keep visiting your practitioner and inform him if you observe any side effect
Can You Bleed After Laser Hair Removal?
No way! There is no risk of bleeding. Laser therapy does not cause any injury to the skin, nor does it lead to bleeding. This is a minimally invasive procedure that does not cause any significant problems.
Does Hair Grow Back After Laser?
To get permanent results, everyone needs a specific number of sessions. Laser therapy gradually eliminates the ability of hair follicles to grow again. If you get this treatment and complete your required sessions, then you do not need to worry because your hair will not grow back.
In general, we can state that laser therapy in Islamabad improves the appearance of the skin and makes it flawless by removing undesired hair from different areas of the body. This procedure deals with targeted body parts such as the face, neck, arms, legs, etc. The application of laser targets melanin pigment located inside hair follicles and then damages follicles. Furthermore, this procedure also inhibits their ability to grow again.
Schedule your appointment at Royal Cosmetic Surgery Islamabad to permanently remove undesired hair from the different body areas. At RCS, you will get precise, effective and custom-made treatments. Visit our clinic and let us unfold the inner beauty of yourself!