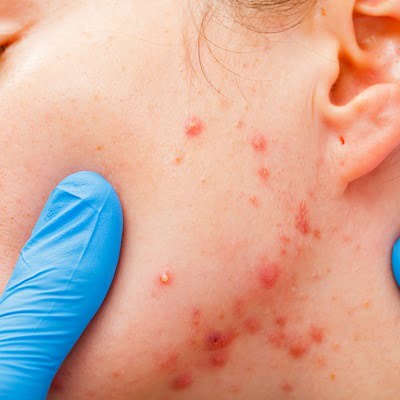 According to Dermatologist, Scarlett is a new and revolutionary treatment that employs Radiofrequency and microneedling. This will help in rebuilding the collagen in your skin. This treatment will help in correcting fine lines and wrinkles. Additionally, it will also tighten the skin, decrease pore size and improve the texture of the skin. The condition of skin suffering from acne scars or acne also improves by this process. RF Microneedling combined with PRP is another method to enhance the results and speed up the process of recovery. This blog will help you explain How to treat cystic acne-According to Dermatologist. 
Earlier, only microneedling was used but now a more advanced technology has come forward. Now you can get this FDA-approved treatment for cystic acne scars at Royal Cosmetic Surgery Clinic Islamabad. 
How a Dermatologist Can Help You Get Rid of Cystic Acne:
It's time to contact a Dermatologist in Islamabad for treatments if home treatments aren't working to relieve your cystic acne flare-ups. Stronger drugs than those you can purchase over the counter can be prescribed by a dermatologist.
A dermatologist may recommend any of the following treatments, depending on what is triggering your acne flare-ups:
Antibiotics

for battling infections and easing pain

Accutane

, a brand name for isotretinoin, is used to treat extreme instances.

Spironolactone

to control the production of oil

Steroid injections

directly into cysts to alleviate discomfort and reduce swelling
Not every patient responds well to every treatment, and certain drugs may have undesirable side effects. Also, not every patient responds well. The best solution for you will be discussed with you by your dermatologist based on the cause(s) of your cystic acne. It can take a few treatment options for you to find one that works best for you.
What is The Scarlet RF System?
If you are fed up from all those medicines and they are also not working then you may go for Scarlet RF micro-needling in Islamabad. This is a cutting-edge, short-pulse radiofrequency (RF) skin treatment that incorporates micro-needling. It enhances skin collagen to promote firmness, lessen drooping, and reduce the signs of ageing. Essential elements of younger skin that have been restored are rejoined for improved dermal health. Compared to other treatments, there is less downtime, and they are also less unpleasant.
Scarlet, an FDA-approved anti-ageing treatment, uses specialized micro needles to inject radiofrequency energy beneath the skin's surface. Collagen, the primary structural protein of skin, is produced at a higher rate by the body in response to this, which helps to tighten and heal the skin.
Can Scarlet Help Me in Any Way?
Scarlet Treatment for Acne may help you in:
Treating active acne and acne scars

Restoring lost collagen

Improving rosacea

Lifting, firming and tightening the skin

Shrinking pores

Diminishing the appearance of spider veins

Softening fine lines

Evening out skin tone by minimizing hyperpigmentation.
Who are the Ideal Candidates for Scarlette Acne Treatment?
Almost anybody can gain something from this process. Scarlet RF is compatible with all skin types since it uses radio waves. They are independent of skin tone. Although radiofrequency microneedling is thought to be safe, not everyone should use it.
You are an ideal candidate if you:
possess good health

have realistic expectations and early signs of ageing
Instead, you should forego the procedure if you:
have taken Accutane recently or currently

have a cold sore outbreak

have a skin infection
To learn what the Scarlet RF System can do for you, please get in touch with us for a free consultation. 
What's the Radiofrequency Microneedling Procedure?
The cosmetic surgeon at Royal Cosmetic Surgery Clinic Islamabad explains the procedure in the following way:
Firstly, he will clean your area with an alcohol swab

Then A topical anaesthetic is applied to the treatment area an hour prior to starting the procedure.

They may choose to inject a local anaesthetic in some circumstances. 

You won't feel any pain because the anaesthetic numbs the area. 

The microneedling tool creates microscopic skin wounds. 

The needle's tip simultaneously injects radiofrequency waves into the wounds. 

10 to 20 minutes are needed for the procedure. 

To aid in cell regeneration, a healthcare professional applies a growth solution. 

They end with a calming remedy to lessen any discomfort.
Key Benefits:
Following are some of the benefits of the Scarlet RF System in Islamabad:
Treats the knees.

Inner thighs.

Arms.

Chest.

Belly.

Scalp.
FDA-cleared for skin rejuvenation, scalp tightening, treatments of pores, scars, and photoaging. US and globally patented in more than seventy countries. Safe for all skin types. Safe for lips and eye area.
Cost of Scarlet RF System in Islamabad:
The cost for Scarlet RF System in Islamabad may vary depending on several factors. There are certain factors that decide the price of the procedure. These factors are as follows:
The reputation of the clinic

The quality of the instruments used

The type of technique used

Experience of the doctors

Facilities available at the clinic

The fee of consulting a physician
Book Your Consultation:
Now you can book your consultation at Royal Cosmetic Surgery Clinic Islamabad for Scarlet-S RF Microneedling in Islamabad, Rawalpindi & Pakistan. We use this revolutionary method to treat your wrinkles, fine lines and age spots. Our Royal clinic is offering this treatment at the most affordable rates. Call us directly or fill out the form given below to grab your opportunity.