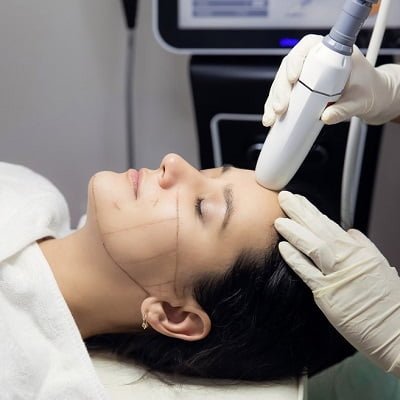 High-intensity focused ultrasound or HIFU Treatment for facelift in Islamabad is an innovative, painless and non-invasive way to lift your face. It is used to reduce wrinkles and provide skin lifting that lasts up to two years and is skin-friendly. It is a non-surgical treatment with no downtime. Usually performed in an office for lifting and tightening sagging skin. brows, cheeks, lower face (jowls), jawline and neck. With age, there is a loss in skin elasticity. The treatment of droopy skin with laser ultrasound has become one of the most sough-out procedures. The results will be long-lasting but will occur over time.
HIFU Facial:
Skin is made of several layers. The skin layers close beneath the surface are the focus of HIFU, which uses concentrated ultrasound energy. Rapid tissue heating is brought on by ultrasonic energy. A specific temperature causes cellular damage to occur once the cells in the targeted location have reached it. Despite what might seem contradictory, the damage actually encourages the cells to make more collagen, a substance that gives the skin structure.
Since collagen production has increased, skin is tighter, firmer, and less wrinkled. Since the high-frequency ultrasound beams are focused on a particular tissue area beneath the skin's surface, neither the top layers of the skin nor the neighbouring problems are harmed.
What to Do Before Treatment?
Skin that has been exposed to the sun will burn, and HIFU cannot be used to treat skin that has recently burned or tanned.
Additionally, it is best to stay away from any chemicals that irritate the skin since they could make therapy more difficult.
Your skin may become more light-sensitive if you take certain drugs, such as antibiotics.
You might have to wait two weeks to start your treatment in this situation until the antibiotics have finished working.
The procedure of HIFU Treatment:
This is the procedure that is utilized at Royal Cosmetic Surgery Clinic Islamabad:
In order to pass the UV energy, face cleaning is performed by doctors.
Prior to beginning the treatment, an anaesthetic cream must be used.
On the treated area, an ultrasonic gel is then applied.
To transmit the energy, the HIFU gadget is now placed onto the skin.
The gadget is placed according to the appropriate setting after being adjusted by medical professionals.
The skin is subsequently exposed to ultrasound energy for around one minute and thirty seconds.
Once the tissues have attained the proper temperature and the process of collagen formation has started, the gadget is withdrawn.
HIFU Aftercare Checklist:
Avoid The Sun
Don't Scratch Your Skin
Don't Have Hot Showers or Baths
Drink More Water
Remember: Aftercare Is Almost As Important As The HIFU Facelift Treatment Itself
HIFU Vs Threadlift:
Without requiring surgery, HIFU uses high-energy ultrasound to lift and tone the face, neck, and eyes. It will give the appearance of a dramatic yet natural uplift. Results are frequently long-lasting. A thread lift or threading facelift is a straightforward treatment that includes raising the skin. Adjusting face volumes and raising drooping tissues, it helps to restore our facial shapes and give us a more youthful appearance.
Benefits of HIFU Treatment:
Following are the benefits of HIFU Treatment in Islamabad.
Tightens loose skin, minimizes wrinkles
Promotes cheek, brow, and eyelid augmentation
Sculpts the jawline and sculpts the décolletage
Long-lasting outcomes that look natural
Safe and efficient, with no downtime
Cost of HIFU Treatment:
The final price will be determined by the area being treated, your location, the total number of sessions required to get the desired outcomes, and other factors.
For a price quote, you can call us directly or fill out the form below. Your medical insurance will not pay for HIFU and all the expenses will be paid out of pocket.
Book Your Consultation:
You can book your consultation at Royal Cosmetic Surgery Clinic Islamabad by calling us directly or filling out the form below. Our expert team will help you get the desired results. So what are you waiting for? We will be delighted to serve you.