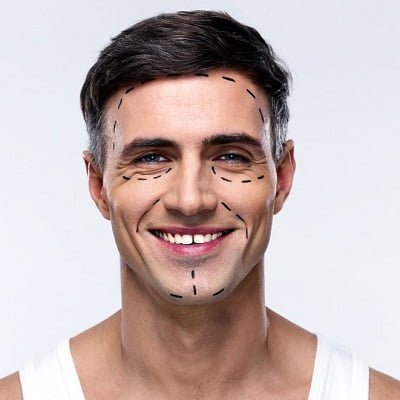 With more men than ever opting to go under the knife (and needle!)
Some time ago, it was a common thought that only women's bodies need refinement and perfection. But, with the passage of time, more men have been inclined toward reshaping and refining their bodies. They also want to make their appearance better. So if you are also wondering about the reason for Men Having More Male Plastic Surgery: then Here's Why. Both awareness and advancement in technology have caused a lack of complacent behaviour in men. Now men also want to look best with greater acceptance of cosmetic surgery in society. We have a steady inflow of more male patients in our clinic for cosmetic and plastic surgery reasons.
What is Daddy-Do-Over Treatment?
Although men remain silent, but the statistics speak volumes. Now more men also want to go under the knife for aesthetic reasons as compared to women. This is because they also want to improve their appearance and boost their confidence. "Daddy-Do-Over" also consists of a single sitting both surgical and non-surgical cosmetic and plastic surgery procedures that men undergo. This is why these procedures are becoming more popular among men as men also want an assist in enhancing their looks and physique.
Popular Cosmetic Procedures Among Men:
Goals for men can include a more proportionate nose, a refreshed face, and a slimmer midsection. These objectives must be accomplished using methods that account for things like body type, beard development, and skin thinning.
The major and most commonly requested cosmetic procedures among men include:
1.    Male breast reduction
Gynecomastia surgery can enhance the contouring of the chest. This includes the reduction of chest size in men and includes the correction following a surgical procedure. This condition may occur at any phase in life and may be followed by many factors like hormonal changes or hereditary, obesity or use of certain Drugs.
2.    Blepharoplasty
This is a type of surgical procedure that removes the excess skin from eyelids. Skin stretches with age and their muscles become weak. This plays a vital role in facial rejuvenation, with direct aesthetic relation to the brow and the cheek. This is done to treat excess orbital fat.
3.    Rhinoplasty
Patients who are dissatisfied with the size or form of their nose frequently choose rhinoplasty, sometimes known as a "nose job." However, rhinoplasty has developed to have a lot more uses other just the procedure's well-known cosmetic advantages. For example, it can help with breathing issues that impact sleep and the capacity to exercise, or it might enhance nose function after a severe injury or sickness.
4.    Liposuction
When diet and exercise don't seem to be working, liposuction is a cosmetic technique that eliminates stubborn fat. Your hips, belly, thighs, buttocks, back, arms, beneath the chin, and/or face are typically treated by a plastic or dermatologic surgeon to improve their shape. However, liposuction can also be combined with other cosmetic procedures such as facelifts, breast reductions, and stomach tucks.
5.    Abdominoplasty
Cosmetic surgery called abdominoplasty, sometimes known as a stomach tuck, is performed to change the way the abdomen looks (abdomen). The abdominal muscles may also need to be tightened after removing extra loose skin, fat, and stretch marks.
6.    Hair Transplant:
In order to cover bald or thinning scalp areas with hair again, hair transplant surgery is performed. Various surgical procedures can be used to replace hair. These most frequently include scalp reduction surgery, although other hair restoration techniques include flap surgery, scalp tissue expansion, and hair transplantation.
7.    Neurotoxins:
Botulinum toxin in its cosmetic version, also known by patients as "Botox," is a well-liked injection that temporarily smoothes out or minimizes facial wrinkles and fine lines.
Book Your Appointment:
Men also want to have non-invasive procedures. They need more botox than women as their facial muscles are larger than women. They also do not like downtime. So, if you are a man and you also want to enhance your appearance and improve your aesthetic appearance, you can contact us. Dr. Naveed Azhar is a world-renowned surgeon who has completed thousands of successful surgeries. He is the symbol of trust among his patients. You can trust our well-trained team at Royal CosmeticSurgery Clinic Islamabad. Call us directly or fill out the form below to book your appointment.