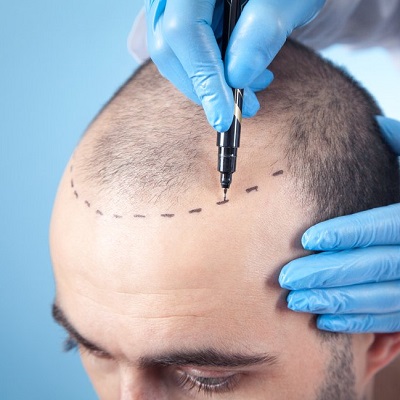 In addition to serving a number of physiological purposes for the body, scalp hair is an important physical characteristic contributing to one's overall appearance. It is one of those features of our body that is most easy to alter and can have a significant impact on one's identity and how they are perceived by the rest of the world. So, having a balding head may be quite damaging to one's emotional and psychological state. So, If you're saving up for 4000 Grafts Hair Transplant Cost in Islamabad, Pakistan, Royal Cosmetic Surgery offers the best packages!
What Is A 4000 Grafts Hair Transplant?
Although there are several other treatments for hair loss and balding, hair transplant is the most reliable of them all, providing lasting results. Hair transplant surgery involves the extraction of healthy hair follicles from the scalp and implanting them into the balding regions. This is achieved by utilizing either of the two widely used techniques, FUT (Follicular Unit Transfer) or FUE (Follicular Unit Extraction). Both techniques are effective and are recommended based on the candidate's level of hair loss, desired results and grafts to be implanted.
On average, 4000 hair grafts are required to correct a good amount of baldness and increase the hair density. Yet, how many grafts are needed for a transplant depends on the region to be covered.
How Beneficial is a 4000 Grafts Hair Transplant?
The safest, best, and most efficient method of hair restoration, particularly for baldness, is hair transplantation since it produces outcomes that last permanently.
In case of FUE hair transplant:
Due to the fact that no cuts or sutures are involved in the FUE technique, the tiny scars from the incisions made are hardly visible post-surgery.
The hair follicles are extracted randomly by the choice of the surgeon from the donor area and are implanted in the target area in their natural pattern with the lightest scarring. This ensures that the FUE outcomes seem natural.
No stitches or complex surgical procedure involved means no extended period of down-time. People usually continue with their routinely life within 3 to 5 days' time.
The FUE procedure guarantees only the slightest bit of discomfort after the surgery is complete.
In the case of FUT hair transplant
The FUT technique is the least costly with equally, if not more, promising results.
You don't need a greater number of grafts for covering of larger bald spots.
To avoid damaging the hair follicle during extraction, the surgeon performing FUT has to be very skillful.
When it comes to FUT, the graft typically has a 95% probability of growing as anticipated.
What will 4000 Grafts Hair Transplant Costs in Islamabad, Pakistan?
The price of getting hair restoration surgeries can fluctuate significantly based on a bunch of factors, hence there is no definite fixed pricing. However, the 4000 Grafts Hair Transplant Cost in Pakistan, on average, ranges from 120,000 PKR to 200,000 PKR
What are the potential Factors Contributing to the Treatment Cost:
1.       Clinic Location:
Different clinics in varying places will have different prices. Some may even offer additional services post-procedure. This impacts the procedure's cost.
2.     Surgeon Fee:
The surgeon's fees will increase in direct proportion to how skilled and experienced they are. However, hiring an expert surgeon with a high success record in hair transplantation can ensure that you obtain the greatest outcomes with little to no side effects.
3.    Method of Transplantation:
Depending on whether you opt for FUT or FUE, the costs will change. FUT is more affordable than FUE as it requires less skilled hands and can be performed by any qualified surgeon.
4.      Donor Area:
You may have weak hair follicles on your scalp. In such a case, the hair follicles will need to be extracted from elsewhere and based on the difficulty of extraction from the donor zone, the surgical charges may be impacted.
5.     Required Number of sessions:
You may require 3-4 sessions for complete transplantation. These number of sessions will determine the overall cost. Most hair restoration procedures only last 1 session but in special cases, they can take more sessions.
6.   Additional Expense:
Other than the treatment cost itself, some clinics will also charge you an extra amount for the anesthesia and other equipment. This can include the extra cost of surgical equipment and assistant's fee.
Although almost every clinic in the country will charge extra for the services and products, Royal Cosmetic Surgery does not practice that. Our transplant packages include all the charges and you will not have to worry about paying even a rupee extra!
What is the Insurance Policy for Hair Transplants:
There are a few rare cases where insurance companies will pay for your transplants. This can be the case of losing hair due to cancer, diabetes or any other chronic illness. There are only some companies that will pay for the entire process, while most will pay for partial charges. In that case, it is essential that you save up beforehand.
Why Pick Our Clinic?
Royal Cosmetic Surgery team of experts will ensure that you receive the best services and treatment. We treat all our patients with a warm welcome and our hospitality is what makes us so unique! So sign up today and get a complimentary consultation session for your 4000 graft hair transplant!